Is your hound Baskerville-ish? You know, red eyes, threatening small towns with his menacing canine stench, growling at the UPS guy?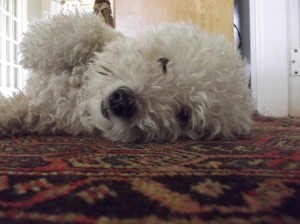 Meet Buster, The Bad Office Dog. He's my dog, and he stays with the staff and me all day in our office. Sometimes he's good, but sometimes he lives up to his moniker.
Every August he becomes more menacing than usual. Needy, whiny, his eyes inflamed, droopy and watery, especially after a bowl of raw milk, which is part of his diet all year. This is when he goes into a scratching frenzy, and he takes on an odor that is instantly noticeable on walking past him. Whoa, Buster, that's awful!
---