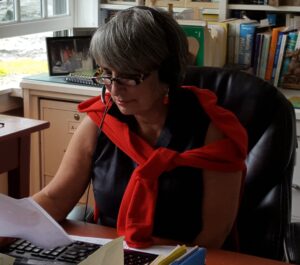 Joette Calabrese, HMC, CCH, RSHom(NA) is a distinguished American homeopath, public speaker and author.
She began her studies in classical homeopathy in 1986 and completed her five-year degrees in the North American Homeopathic Master Clinician Course and the Dynamis School of Advanced Homeopathy in Toronto.
She has studied with world class homeopaths, including Lou Kline, Vancouver; Jeremy Sherr, London; Jan Scholten, Netherlands; Andre Saine, Montreal; Richard Moskowitz, MD, California; Dr. A.U. Ramakrishnan, India; and Dr. Prasanta Banerji and Dr. Pratip Banerji, Kolkata , India.
Ms. Calabrese is nationally certified by the North American Society of Homeopaths and the Council for Homeopathic Certification, accrediting organizations that are dedicated to maintaining high standards of homeopathy in North America.
In January and February of 2013, 2014, 2015, 2016 and 2017 Joette was awarded a fellowship at the Prasanta Banerji Homeopathic Research Foundation.
There in Calcutta, she studied side by side with the world famous team of Drs. Prasanta and Pratip Banerji.  She observed and recorded 7285 cases in their homeopathic methodology, including cured cancer and AIDS cases.
This experience spurred her to teach the Prasanta Banerji Protocols of Homeopathy in her webinars and at national homeopathic and nutritional conferences, such as the National Center for Homeopathy in Washington, D.C. to homeopaths and students.
Ms. Calabrese is a renowned and lively speaker at annual, as well as regional, conferences of the Weston A. Price Foundation, where she often draws crowds of more than 500 attendees. She has also presented as the keynote speaker at the National Center of Homeopathy and other international homeopathy and holistic conferences.
In addition to regular radio and TV engagements, Ms. Calabrese is published in Homeopathy Today, Treatment Options and authors the column The Homeopathy Journal in Wise Traditions.
She publishes a widely followed blog and is a regular contributing columnist on numerous nutritional and mothering blogs including Healthy Home Economist.
She has been on staff at Daemen College, Amherst, New York, and Chautauqua Institution, Chautauqua, New York, and has been a tutor with the British Institute of Homeopathy since 2008, where she taught homeopathy principles to nurses and other healthcare practitioners.  She is presently a faculty member of the American Medical College of Homeopathy, Phoenix, Arizona.
Her CD Perform in the Storm, a homeopathic first aid training tool, is used at homeopathy schools in the U.S. and Canada and her CD Secret Spoonfuls, Confessions of a Sneaky Mom, or How to get Healthy Foods into Your Kids Without Getting Caught is devoted to nutrition for busy parents. She has also produced Cell Salts: The Easy Homeopathy. Her book, Cure Yourself and Family, has been used in homeopathy colleges as well as for her course The Laws and Principles of Homeopathy, which was the first credit-bearing course on homeopathy in New York State. 
Ms. Calabrese draws large numbers of followers to her courses, which are presented in webinar format with accompanying texts and recordings to students throughout Australia, Europe and North America.
Ms. Calabrese has been a vocal advocate for homeopathic and nutrient-dense nutrition and directs her message to mothers and grandmothers because she believes that they are the healthcare stalwarts of the family.
Joette is a member of the honorary  board of the Western A. Price Foundation.
In 2013, Ms. Calabrese was awarded the Activist Award by the Weston A. Price Foundation.
_____________________________________________________________________________________________________
­­­­­­­­­­­Joette has not always been a homeopath.
She raised and home-schooled her children for 15 years while studying to become a professional homeopath. Meanwhile, she made her family's foods from scratch and raised her children solely with homeopathy.
Because of her commitment to traditional and whole foods, she followed the principles of the international nutrition organization, Weston A. Price. Joette subsequently became a speaker for the Weston A. Price Foundation and later a member of the honorary board.
She was awarded their Activist Award in 2013 and writes a column in their quarterly journal, Nourishing Traditions.
In 1987, Joette spearheaded the city of Buffalo, New York, to become the first city in the United States to eliminate or minimize pesticides in and on public property.  She worked with city council members, the mayor's office and every hospital in the Buffalo vicinity to halt their lawn pesticide practices.
Joette and a group of city council members organized the Pest Management Committee of the City of Buffalo, the first team in the nation dedicated to this issue. It became the prototype for other American cities with the same concerns, and the team received national media recognition for their efforts.
Joette has always been engaged in community work. She was a director on the board of the Buffalo Philharmonic (1984-85), president of the Friends of the Philharmonic (1983-85), Community Dispute Arbiter with the Buffalo Better Business Bureau (1982-85) and director of the board of Professional Communications (1984-86).
During the same years, she served as an account executive with NBC in Buffalo, New York, and before that with WUTV, Grand Island, New York .
From 1976-1979 Joette worked in Washington D.C. with a broker's license as a real estate investment agent with Snyder Brothers Real Estate and Reuter's Real Estate Agency.
As a graduate of the University of Buffalo, with a B.A. in Fine Arts, she non-matriculated at University of London, England, Birkbeck College, State University College in Buffalo, University of Illinois at Circle Chicago, Villa Maria College and Georgetown University in Washington, D.C.
Joette was born and raised in Buffalo, New York.
______________________________________________________________________________________________________
What do the letters after Joette's name mean?
(And Other Professional Information)
HMC: This designation was awarded to Joette in 1998 after having studied two years in-class with Master Homeopath Louis Klein of Canada. It stands for Homeopathic Master Clinician and is a post-graduate degree.
CCH: Stands for Certified Classical Homeopath through the Council for Homeopathic Certification (CHC). It means Joette is a member of an accrediting organization that is dedicated to maintaining high standards of homeopathy in North America. Requirements for admission are rigorous. They include proof of completed college and post-graduate schooling in homeopathy, member recommendation, minimum five years clinical experience with notarized confirmation letters, professional references, written and oral exams, essays, written proof of cases and peer review.
RSHom (Na): Stands for Registered Member of the North American Society of Homeopaths (NASH). Requirements are proof of completion of the above-mentioned education and adherence to rules and ethics of practice.
The British Institute of Homeopathy diploma is a three-year post-graduate course given in person by Dr. A.U. Ramakrishnan and BIH USA LLC. This diploma was awarded in 2008. Dr. Ramakrishnan is the Honorary Homeopathic Physician to the President of India.
Post-Graduate diploma, awarded in 1997 from The Dynamis School of Advanced Homeopathic Studies, represents the completion of a three-year post-graduate course taught in-class by world-class homeopath Jeremy Sherr of England.
Joette's work with the British Institute of Homeopathy was as a tutor to students of homeopathy from 2009-2012.
Joette was on faculty at Daemen College, in the Health Science Department  where she taught Laws and Principles of Homeopathy. This was the first credit-bearing course on the subject of homeopathy in New York State.
From 2006-2010, Joette was a faculty member of the highly esteemed, world-class Chautauqua Institution where she taught classes on homeopathy.