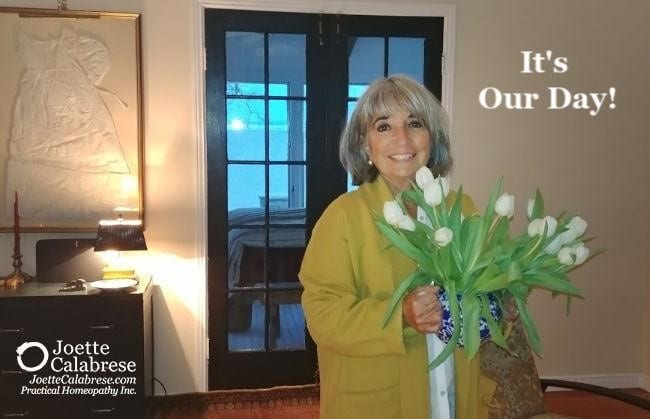 I've said it before: We are the lionesses of our families. The guardians at the gate. The protectors, the teachers, the nurturers, the healers.
We are mothers …
And today is OUR day!
Happy Mother's Day to all of my fellow moms out there. I am so proud to be counted among you as we stand ready to protect our families against whatever the world throws at them.
What better way is there to prepare to go into battle than to be armed with as much education as possible?
Last week, I conspired with you to cleverly drop a little "gift-hint" to your family (in case they were stymied this year), suggesting a course that you've had your eye on.
Truth be told, taking a course is a gift for you and your family. Homeopathy is intellectually delicious! You'll feel accomplished and fulfilled learning specific aspects of protocols too complex to discuss in mere blog posts.
After purchasing a course, you'll be granted entrance to my students-only Facebook page where you can develop lifelong friendships with like-minded mothers and others. With your new knowledge and strong support network, you'll gain power and confidence.
And your family? They will benefit from a much more adept homeopathic healer at home! You'll be ready to tackle chronic conditions that have plagued them in the past or beat back acute situations that may unexpectedly arise.
Flowers and chocolates are lovely, but they certainly don't do all that! In my opinion, courses are the perfect gift!
But which course? In case they left the choice up to you, I'll take this opportunity to briefly describe my courses — right here in one tidy place — so you can choose the topic most applicable to your family. Click on the titles to learn even more.
And don't forget to scroll to the bottom of this post to retrieve a free Remedy Card.
This week's remedy addresses a "hot" topic (pardon the pun) amongst us middle-aged mothers: hot flashes!
When we need to temper our internal infernos: Lachesis 30, twice a day. We stop when very much better and resume if hot flashes return.
(I discuss this topic more fully in my Feminopathy course, including the fact that Sulphur may also be used for hot flashes.)
Again, Happy Mother's Day! Enjoy your day, and don't forget to pass on the good news of homeopathy.
Be prepared for infections — they're inevitable.
After you take this course, instead of freaking, you'll be confidently armed with methods of homeopathy that have been proven effective against infections for centuries. You'll know how to balance your bugs without the drugs.
There is nothing vague about the method I teach. Practical Homeopathy® teaches you the remedy, potency, and frequency. Through these proven protocols, you'll learn to provide your family with an efficacious, safe, homeopathic alternative to antibiotics and their nasty side-effects.
This course covers:
Recurring infections

Childhood diseases

Dental infections

Sinus and respiratory infections

Strep throat

Bone infections

UTIs and Cystitis

Sepsis and blood poisoning

Conjunctivitis and eye infections

And so much more…
Sneezing. Itching. Burning. It's time to escape the misery of allergies, chemical sensitivities, food intolerances, and more.
Whether you're desperate to get your own life back or want to end a loved one's allergy-induced suffering, this course will teach you proven protocols that you can learn today and start using tonight—with confidence.
Imagine waking up tomorrow with a renewed sense of hope. Believe me, I've been where you are; I know this works. Your allergies will be no match for this Practical Homeopathy®.
This course covers:
Chronic asthma

Eczema

Asthma

Fatigue from an allergic state

Sinusitis

Hay fever

Food allergies

Animal allergies

Chemical sensitivities

And too much more to list
The Survivalist Guide to Homeopathy
Arm yourself for the inevitable forthcoming emergency!
You'll find more information tucked in this essential homeopathy guide than most people will ever need.
Whether your emergency is a sudden infection or providing support on the way to the ER for a family member's injuries, this will become your mainstay—your plan of action for the care of your family during desperate situations.
If, due to a large-scale emergency, the infrastructure fails, you can easily cure yourself of many ailments without doctors, hospitals, or drugstores.
For peace of mind, never leave home without the guide in your luggage, backpack, or bug-out bag.
This course covers:
Basic first aid

Shock, panic attacks, phobias

Allergic emergencies, stroke, appendicitis, diarrhea, parasites

Epidemics (how to treat many)

Radiation, poisoning, drug overdose, chemical exposure

Pregnancy, infancy, and the elderly

What to do whether on the way to the hospital or when there is no help available

Making homeopathic remedies

Bach flower remedies, herbs, tinctures, and essential oils

And much more…
A Homeopathic Strategy to Uproot Seemingly Unrelated Illness in Body and Mind
Stop!
Stop worrying about what food you and your family can and cannot eat.
Stop searching for the perfect food source, the most organized diet, the ideal way to eat.
Do as I did.
Stop spending your life catering to your food intolerance; uproot it!
This course provides unique homeopathy knowledge that has corrected the most frightening and discouraging food intolerances and other GI conditions. 
The freedom that my family and I—as well as hundreds of students and clients—gained from the Practical Homeopathy® contained in this course can belong to anyone. It's up to you!
This course covers:
GERD

Colitis

Moodiness related to the GI system

Food intolerances and allergies

Liver and gallbladder complaints

Sugar and other addictions

Constipation and diarrhea

Chronic bloating
Safe, Effective Treatment of Skin Ailments, Chronic or Acute, with Homeopathy
"Basta!" which in Italian means, "Enough!"
Enough of the creams, steroids, food restrictions, allergy shots, and avoidance of wool, down, dust, pets, or the sun. I know exactly how those of you with chronic skin issues feel. I've been there. You've had enough of these treatments that don't work—and so had I, until I discovered homeopathy.
Let me teach you the same Practical Homeopathy® that cured me of decades of chronic eczema. Even if you don't currently suffer from a skin ailment, statistics show that someone in your family will likely be affected by a skin ailment at some point in their life. Have this knowledge well-entrenched in your arsenal before you need it.
This course covers:
Impetigo

Acne

Eczema

Rashes

Dry or oily skin

Shingles

Warts

Psoriasis

Dandruff

Wrinkled skin

And more…
How You Can Correct Female Ailments Using Safe, Inexpensive, and Effective Homeopathy
This course is for all women: for your daughters, your mothers, your female friends and relatives, and YOU!
We are the lionesses of our families. The guardians at the gate. The protectors, the teachers, the nurturers, the healers. But, we also have special health needs—not only at different times of the month but also during different stages in our lives.
Practical Homeopathy® addresses the issues most prevalent among us; those ailments and concerns that are specific to women and girls. Don't suffer in silence. You can't care for your family if you don't care for yourself first!
This course covers:
Vaginal pain/dryness

Menopause, including hot flashes and more

Problems during pregnancy

PMS

Urinary Tract Infections

Breast tenderness

Menstrual cramps

Varicose veins

And more…
How to Raise a Drug-Free Family
A "Go-to, How-to" Taught by a Mom for Moms
British royalty, American presidents, and world leaders such as Gandhi and Mother Teresa relied on homeopathy for themselves and for the people under their care. Impressive, right?
By studying this course, you can do the same—quite effectively.
With confidence, you can take your family off the treadmill of endless drugs, antibiotics, steroids, and their side-effects, which cause as many problems as they "solve."
Through my system of Practical Homeopathy®, you'll learn how to:
Be self-sufficient in taking care of your family's health

Know when to seek professional care and when to address a problem yourself

Treat the common illnesses and injuries that face most babies and children

Anticipate your child's crisis and counter with a pre-planned strategy

Oh, and cure your husband, too!
Practical Protocols for Mental and Emotional Conditions
 "More Americans than ever before are suffering from mental and emotional distress."
—  Amanda Macmillan writing for Health.com
There are few places in the world we can turn to assuage our most persistent fears. Practical Homeopathy® offers a calm cadence. The gentle, yet oh-so-powerful little pills of homeopathy can become a powerhouse of stillness and comfort.
For decades, I've been observing homeopathy's astounding success in uprooting mental and emotional problems. I'll teach you the protocols I've used — my secret sauce that keeps me buoyant, energetic, productive, and optimistic. We'll also observe sample cases where I show you how I laid out and combined those protocols.
Struggling with the burden of mental ailments can tear your family apart. This course is designed to help you have more control over your and your family's lives.
This course covers:
Anxiety disorders

Depression

Eating disorders

Addictions

Phobias

Autism, ADD/ADHD

Developmental delays

Alzheimer's & Dementia

Brain fog & memory problems

Post-traumatic stress disorder (PTSD)

After-effects of stroke or head injury

And much more (see the course syllabus for full listing)