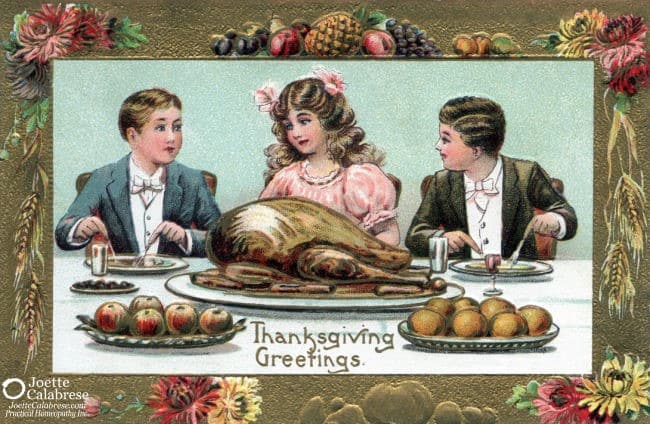 Ahhhhh, Thanksgiving is upon us. In just a few days, the entire family will surround a beautifully decorated table with delicious food you've toiled over for days. It's shaping up to be a picture-perfect gathering.
And then Great Aunt Concetta asks why you feel the need to homeschool your kids.
It begins.
Over the years, Thanksgiving dinner has earned the reputation of being a potentially contentious occasion. As a result, we may find ourselves forced to cope with opinionated family members we might not agree with or swallow our reactions to Aunt Concetta's and Uncle Bruno's "suggestions" on how we live our lives.
Staphysagria is an excellent medicine for stifling emotions and suppressing feelings and ideas.
So, should we bake some Staphysagria into the stuffing? Perhaps sprinkle a little over the green bean casserole?
Granted, that idea is giving me a hearty laugh as I write. But no, I'm most assuredly not recommending it!
Homeopathy is medicine. We never use it "just because." We only call upon this medicine when there is a presenting pathology — just as with a pharmaceutical.
Plus, ethics dictate that we shouldn't force our unsuspecting dinner guests to ingest homeopathic medicine. We only provide homeopathy to others after knowing their ailments inside and out or having taken their case!
But, when Uncle Bruno demands to know why you decided long ago not to own a TV when you clearly should own one, feel free to look wistfully at the undoctored green beans and snicker under your breath.
My friends, this scenario is all tongue-in-cheek!
Unless Thanksgiving causes an actual trauma that results in symptoms of a true pathology — like being freaked out to such a great extent that upset, shaking and insomnia ensue — we have to rely on more traditional coping mechanisms.
People are too quick to say, "I'll just take this medicine in case I might get upset." No. That's not how homeopathy ought to be used.
However, Staphysagria is a wonderful medicine when needed; for example, for resulting ailments from:
when someone gets fired from their job and can't tell their boss what they think

when someone feels publicly ridiculed

in cases of spousal abuse

in situations of sexual abuse of children (especially when the child innocently believes they are at fault for the abuse)

when an individual has been putting up, and putting up, and putting up with a situation or perpetrator, causing them a deep, deep sense of shame
If the sufferer doesn't have the agency to defend themselves and speak their mind, if they are experiencing stifled emotions and suppressed feelings, if their nervous system has taken a major hit, then Staphysagria 200 can be a tremendous medicine. It's generally taken every three days until very much better.
For instance, years ago, a parent brought their adolescent child to my practice. She would come home from school crying but wouldn't —or couldn't — explain what was happening.
Eventually, we uncovered that her teacher had been berating her mercilessly every day, and she was repressing her feelings because of a deep sense of shame. Indeed, Staphysagria 200 worked beautifully to help her recover from the trauma.
So, here's my point. While you may have to repress your feelings at Thanksgiving dinner, that is not called pathology. That's called family. Just stuff your mouth with more turkey and pass the yams.
But here's a great Thanksgiving idea! Let's introduce the family to homeopathy in the right way.
Eating all that food — gravies, spices, ultra-pasteurized cream — is hard on the gut. So, why not include a little homeopathic gift to send home to each guest with their leftovers?
Do you remember my blog post in the Cell Salt Series, David vs. Goliath? In it, I described my father's success in breaking his dependence on Tums by employing Natrum phosphoricum 6. The principal function of Nat phos is to break down lactic acid; thus, it is an exemplary antacid.
So, why not tuck a small bottle of Nat phos 6 in with the Tupperware containers and plastic bags each guest takes home with them? Maybe tie a bow around it! Make it festive! (To make your gift even more educational, include a copy of David vs. Goliath.)
I LOVE this idea! It's the best way to pass on the good news of homeopathy!
My family, my team and I wish you a wonderful Thanksgiving, my dear reader! I am, indeed, thankful for you and your support of our grassroots homeopathy movement.
Don't worry, I'm sure your dinner — and your Thanksgiving Day — will be a huge success! 
Warmly,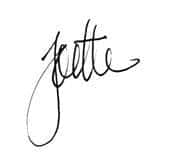 P.S. As Thanksgiving approaches, our minds naturally turn to preparations for Christmas and Hanukkah. Make your gift-giving practical this year by giving the gift of homeopathy — Practical Homeopathy®, that is.
I want to help you make holiday shopping easy! Click through to Joette's Learning Center and peruse the various courses I offer. Perhaps one topic will fit precisely with what a friend or loved one has mentioned they're searching for. Or, if nothing jumps out at you, allow them to choose whichever course they want by giving a gift certificate (also available with a simple click on the same page).
(And it's not a bad idea to leave a few hints around the house for courses you'd like to take yourself!)
Homeopathy education is a gift that always fits, never has to be returned, and will benefit your recipient and their family for years to come. Now that's practical!