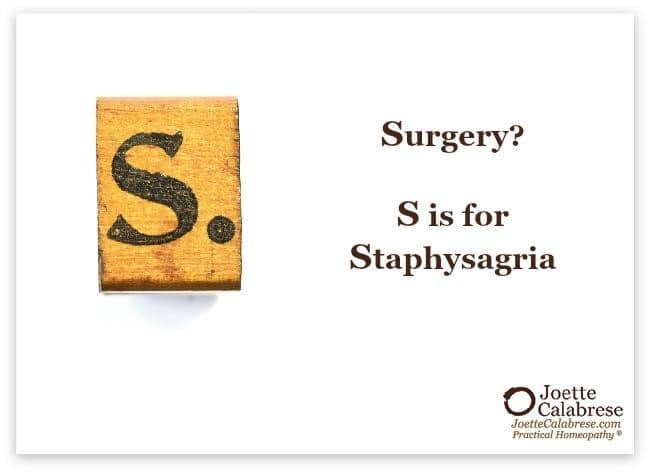 Back in December, I answered some of your questions about using homeopathy in conjunction with a necessary surgery. At the end of that post, I promised to give you one more surgical protocol after the New Year! Well, not to worry — I didn't forget.
But, when we're stressed, sometimes it is hard to remember things — especially which remedy we should have on hand. So, I've found any little memory device helps.
When faced with surgery, it helps to remember the "S" also stands for Staphysagria!
Staphysagria is a powerful remedy that effectively addresses two very common post-surgical issues. So, it would unquestionably be a key component of the homeopathy kit I would take to the hospital with me.
The first issue it addresses? The surgical incision itself. Staphysagria is indicated for clean-cut injuries, and what is more clean-cut than a surgical incision? It may surprise you that post-surgical pain is not always strictly the result of deep tissue disruption or from the surgeon moving organs around to gain access. Many times, the majority of the pain results from the incision itself.
So, in this case, S is for Staphysagria 200 — as an SOS (as needed) every 3-12 hours, depending on how often the pain appears. (Remember to scroll down for your free, downloadable remedy cards.) The power of this remedy is it not only eliminates  pain but also prevents infection of the incision. That's an amazing (and much-needed) double-whammy!
The second issue Staphysagria addresses is difficulty urinating after catheterization. This commonly occurs post-surgery, especially in men. Women experience it occasionally as well, but men seem to suffer from it most often.
Frequently, one of two things can cause this difficulty: 1) either an injury from the catheter's insertion or removal or 2) spasms triggered by the unnatural event of catheterization itself. Urine flowing very slowly in spurts is a key indicator there is a spasm.
But no matter which of these causes is behind the inability to void properly, in this case, S is for Staphysagria 30 — twice a day. And, I have to tell you, in my experience, it works almost every time!
We certainly try to avoid having surgery through our use of homeopathic medicines. But sometimes, surgery cannot be prevented. For those necessary times, it is important we have all of our remedies at hand, allowing us to begin our path to wellness as soon as possible.
P.S. With the arrival of the New Year, is there a better time to commit to continuing your homeopathic education — both for yourself and your loved ones? Hopefully, you have learned a great deal from the free information provided in my blogs and podcasts. But, if you are ready to take the next step, I offer an affordable guided study group curriculum called Gateway to Homeopathy.
I know, for me at least, I learned so much more efficiently and effectively in a study group atmosphere. Plus, it is a lot more fun to learn with friends and family in the relaxed environment of your homes or online. My curriculum takes you by the hand each step of the way. I hope you'll join our movement of helping 100,000 families discover homeopathy by the year 2020!
---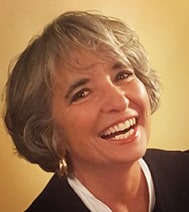 I am a homeopath with a worldwide practice working with families and individuals via Zoom. I'm also a teacher and most importantly, a mom who raised my now-adult children depending on homeopathy over the last 31 years. I lived decades of my life with food intolerances, allergies, and chemical sensitivities until I was cured with homeopathy, so I understand pain, anxiety, and suffering. You may feel that your issues are more severe or different than anyone else's, but I have seen it all in my practice and in my work in India. My opinion is that nothing has come close to the reproducible, safe and effective results that my clients, students and I have achieved with homeopathy.
Call today and learn how homeopathy might just be the missing piece in your health strategy.
---
Joette is not a physician and the relationship between Joette and her clients is not of prescriber and patient, but as educator and client. It is fully the client's choice whether or not to take advantage of the information Joette presents. Homeopathy doesn't "treat" an illness; it addresses the entire person as a matter of wholeness that is an educational process, not a medical one. Joette believes that the advice and diagnosis of a physician is often in order.
---
We've provided links for your convenience but we do not receive any remuneration nor affiliation in payment from your purchase.