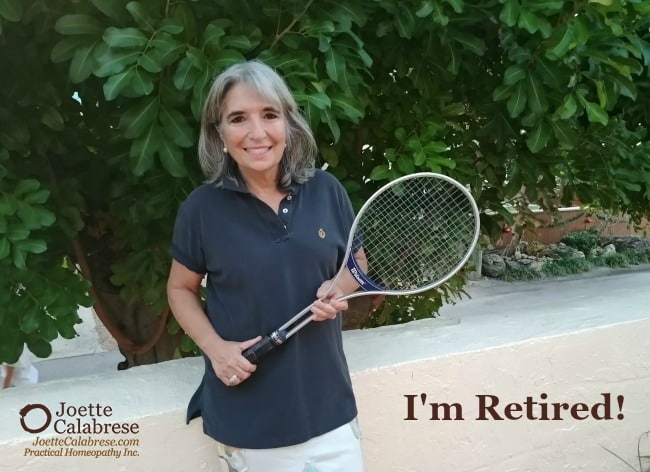 You already know I've moved to Florida.
Well, today, I'm announcing I'm retiring. I'm taking up tennis, quitting my work, and calling it quits.
I'm done with homeopathy.
No more study groups; no more classes; no more blogs or articles offering information on how to treat yourself and your family.
I'm not even going to take private cases anymore. I'm done.
Okay, wait.
Just kidding!
(I had ya there for a minute, didn't I?)
For those who don't use homeopathy, those who don't like me, or those who think what I teach is hooey, it wouldn't matter one bit if I retired, would it?
Some people (and organizations) might even be tickled pink if I were no longer in the market square promoting homeopathy instead of conventional drugs.
To them, it wouldn't matter what I did with the rest of my life as long as I stopped doing what I'm doing now.
But for you who have fallen in love with this heady medicine and have come to depend on it, it would be quite a different story.
You'd have to think twice if a source of your information were suddenly halted.
Stopped on a dime.
Just like that … gone.
So, forgive my little practical joke, but I needed to find a way to deeply impress upon you that you must take this opportunity — while you can — to learn homeopathy for yourself instead of depending on me or others.
I've told you before, I'm in the empowering business, but I can only empower those of you who make the effort to take up the mantle.
I have gone through this exact scenario myself, so I know the panic of suddenly losing a trusted source of information all too well.
Long ago, after decades of allopathic treatment, I saw a homeopath who single-handedly cured me of about 40% of my near life-long conditions: severe allergies, chemical sensitivities, depression, chronic fatigue and much more. 
I talked about my experience in more detail in a blog I posted called, "I Want That: Confident Mothering."
Over a period of a few years, I learned to depend on her for my own needs, as well as my family's.
Then suddenly, she informed me she was moving and would no longer be available to my family and me.
It scared me right into action. "Yikes!" I thought. "Now what?" I didn't want to go back to allopathic doctors as my first recourse.
It had been so many years since I had depended on them for anything. I had no interest in going backward!
You know that feeling of being consumed day and night when you're faced with a problem you're not sure how to solve? This was one of those times. 
I ate: "What am I going to do?" I slept: "What if someone gets sick?" I couldn't even breathe without pondering: "Now what?"
I was suddenly on my own, and I obsessed over my perceived abandonment.
But, as it is with most problems, a solution usually presents itself — one that had been there all along and had merely gone unnoticed.
Here is the solution I came up with: I had to learn homeopathy for myself. 
I had to learn it from stem to stern. From soup to nuts. From materia medica to repertory. I had to immerse myself in what would become the second most powerful commitment in my life (the first, of course, being the commitment to my family).
But if you think about it, this actually WAS an extension of my commitment to my family. In fact, it was a seamless fit!
So, if I have given you a pause for thought with my mischievous little prank, consider this: 
Thoroughly read my blogs.
Listen to my podcasts.
Download all of the remedy cards I've attached to them.
Look for other articles I've published.
Start or join a study group soon. (When I meet with your study group at the end of your curriculum, you'll have an opportunity to ask me your most burning questions.)
Or even take a course or two. (More advanced material is contained in my courses.)
I'm willing to bet your effort to learn homeopathy may give you the supreme satisfaction of fulfilling your commitment to your family even more deeply — the same satisfaction it gave me. 
And along the way you will build a new confidence – believe me on this one – your life will change in wondrous ways.
Let's face it, the intellectual deliciousness of diving headlong into homeopathy sure beats retirement and tennis.
Let's both continue to pass on the good news of homeopathy!
Warmly,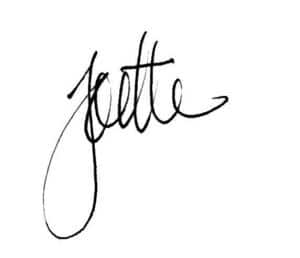 P.S. Next week, we'll talk about another important reason you need to learn homeopathy for yourself: the danger of getting the answer without doing the work.
So, see you next week …  that is … unless I'm playing tennis. (Kidding! I'm kidding!)
P.P.S. I've restarted my 8 p.m. Eastern, Monday night Facebook Live presentations. About 20 minutes of my tips and methods along with a featured remedy you'll want for your toolbox. See you there!