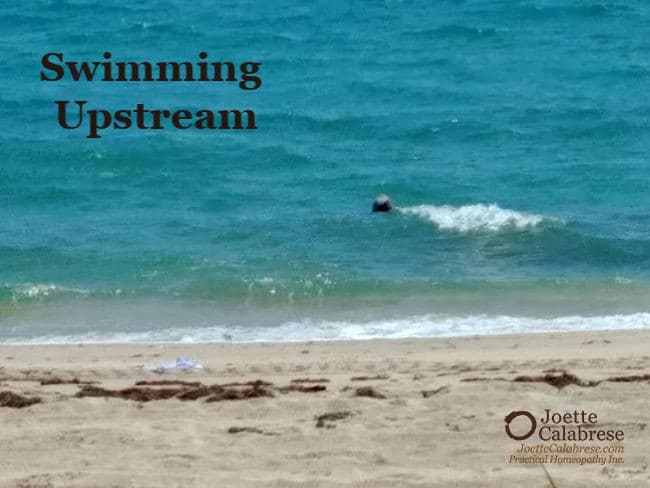 Yep! That's me in that picture — that little head bobbing in the water. You could say it's my idea of social distancing!
Months ago, I would wake up, make coffee and get to work on my computer. After a while, I'd shower, sit down and get back to my desktop.
My husband and I would have a late breakfast, and then — you guessed it — back to my computer for meetings, appointments, writing, and drafting the rest of the day until dinner. And after dinner? Yep. I was back to work with clients from the other side of the earth, teaching Gateway to Homeopathy Study groups and more writing.
I was (as my father used to say) on my keister all day long.
But just about three months ago, I started doing something every day just for me — swimming.
They say (whoever the "they" are who seem to know all these things) that if you find a form of exercise that turns you on, then the rest is easy.
Well, at first, I thought about dancing. I love dancing! Love it! But my preferred kind of dancing requires another person. I needed something I could have complete control over. Something that was my own. Something just for me.
Swimming is all mine.
I sleep better, yet it's given me more energy! I swim in the morning, and after dinner, I feel as though I could do it again — I have that much energy remaining.
Keep in mind, I'm not an athlete. But I'm amazed at what I've been able to accomplish in such a short period (12 weeks or so). I'm now swimming a minimum of an hour a day — in open water!
I started by swimming in a pool. But sometimes the pool smelled of chlorine — and the residual chemical odor was hard to get off even with vigorous washing. (I'd take a shower, and an hour later, my skin would still smell of chlorine.)
So, although this is not a homeopathic remedy, I will share my solution with you!
Before swimming in the pool, I smeared my entire body and hair with lard — from head to toe. With apologies to Eleanor, I was as slick as a little fat piglet squealing out of a mud pit.
That did the trick! Of course, it took hot water and a washcloth to get it off. But the chlorine didn't penetrate my skin!
And even though I looked diligently for it, there was never a layer of oil around me in the pool — not like there can be with most suntan lotions. (Even the pool man didn't notice a problem!)
But I don't use lard when I swim in open water. No need. I want the salty water, loaded with minerals, to absorb through my pores. I even wash my mouth out with it! Ocean water is one of nature's many cure-alls.
Swimming in the ocean provides everything a person needs for a healthy pastime: action, movement, sun, minerals and peaceful, solitary time for focused thought; I actually do my prayer work while I'm stroking along. Yet I run into others who swim at about the same time and we've become a wave and smile acquaintances. 
I've only missed a few days because of the weather. Now, you know me; I'm no milksop. I'll happily swim in a bit of rain. But during a torrential Florida rainstorm when the lightning begins, I have enough sense to stay indoors!
But otherwise, yes, I am swimming in the Atlantic Ocean — currents, tides, seaweed and all. Just this morning 3 small nurse sharks greeted me for a brief moment. 
You might say I'm swimming upstream!
We can use this for a metaphor in life. Swimming upstream is harder work, but the benefits are greater.
Sure, you can take it easy. But treading water yields much less reward.
I prefer to get the most out of whatever I do.
Whether swimming or educating myself or fighting for things I believe in, I don't take the easy path. I prefer to push myself and propel myself further than I'd ever imagined.
Anything worth its salt is worth your increased effort.
Learning homeopathy can feel like swimming upstream at times.
There is much to learn and currents that sometimes push against you. But with each stroke — each blog post, podcast, Facebook Live, Gateway to Homeopathy group meeting or course of study — you push yourself harder and further until you can do more than you ever dreamed possible to safeguard your family's health.
Pass on the good news of homeopathy!
Warmly,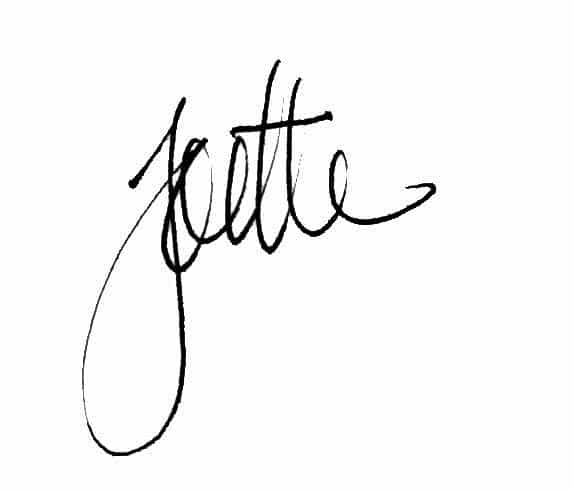 P.S. Ladies, I wish I could find a perfect bathing cap to keep my hair dry. I've tried so many, but they don't work every time. If you have a suggestion for me, I would love to hear it!
P.P.S. I encourage you to consider joining my new exclusive group, Joette's Mighty Members. We're like a little club! I share a quote with my members every day, as well as weekly Memos (just like my At Home with Homeopathy tips), and occasional informal videos I call my "musings." I feel I can be more candid in our own private playground.  
Plus, if Facebook is not your cup of tea, I've provided a private forum for you to discuss thoughts with your fellow like-minded friends, old and new. And, you can also watch my Facebook Live events from within the membership site — without having to register for Facebook.
There are so many reasons to join us. Learn more details by clicking here, and then come join in the fun with my Mighty Members! We may be small, but we are mighty!