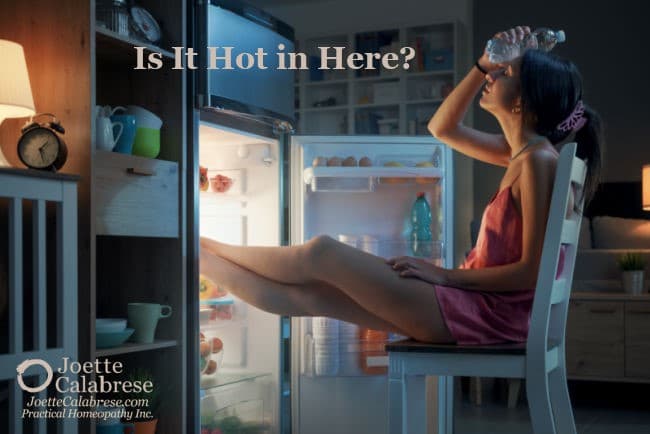 Is it hot in here?
How many times do perimenopausal and menopausal ladies check the setting on the air conditioner only to discover that the room is not hot — it's just them? Plenty!
Hot flashes can range from annoying to downright debilitating! So, here's something of a follow-up on last week's blog post, Death, Taxes, and Menopause.
(But men, don't turn away yet! This blog post holds some educational tidbits for you as well!)
Last week, we added Boiron's Cyclease® Menopause to our list of must-have remedies. However, as you've come to expect from homeopathy, there's more than one way to cook an egg! (I thought I'd give my feline friends a break from the age-old "skin a cat" proverb.)
Today, let's discuss another must-have homeopathic medicine that addresses hot flashes as well as numerous other conditions: Sulphur.
Sulphur occupies a significant entry in the materia medica because it has so many uses. Even in A Materia Medica: Practical Homeopathy® for Busy Families (my abbreviated materia medica written in everyday language for moms and dads), the entry for Sulphur takes up two pages!
I've discussed it before in Podcast 76 as a medicine to consider for skin eruptions, especially when one has tried many other remedies and nothing is acting.
Sulphur 30 may also be worth considering for anyone who exhibits unusually foul body odor — even animals. For example, I employed Sulphur successfully with a sickly little smelly cat named Carmelina adopted by my family back in 2012.
Sulphur may also be a choice for folks who are pathologically messy, especially those who suddenly begin doing their bathroom duties in inappropriate places. (Read more about these conditions in my blog post, Living with a Pig.)
Certain gastrointestinal ailments may benefit from its use. Plus, Sulphur is my go-to inside trick for lingering colds and flu.
The depth and breadth of homeopathic medicines are astounding.  But you already know that.
Even for hot flashes, we have several choices from which to choose. There's Cyclease® Menopause, Glonoinum and Lachesis mutus, to name a few. But let's get back to our featured medicine of the day.
Sulphur's keynotes are "hot and smelly," which makes sense when we consider the substance from which homeopathic Sulphur is derived. So, what's a clever way to remember this? Why, with the common match tip (made in part with the chemical sulfur). The sulfuric odor, the heat and the burning capabilities of the match are all qualities of Sulphur as a potentized remedy as well.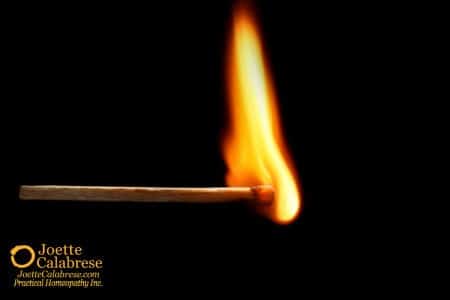 In keeping with those keynotes, Sulphur 30 has been shown to address hot flashes, particularly when the sufferer notices any unusual odors emanating from the body, hair or breath. Odor doesn't have to be part of the picture, but its presence confirms we're on the right track with our medicine choice.
For this condition, Sulphur 30 is generally employed twice daily, until very much better. However, as always, if no improvement is noted, halt its use and reconsider a different medicine.
You know, sometimes people know just enough to be dangerous, yet they forge ahead as though they're experts. Case in point: Many folks think one should get worse before getting better. To a certain extent, a sufferer may infer that idea from classical homeopathy. Classical homeopathy often states that an aggravation (or a distinct worsening of symptoms) in a condition indicates that a medicine was well-chosen.
Then there is the Herxheimer reaction, in which it's considered a good thing when the condition gets worse (especially in skin conditions) because that means it's going to get better. The body is purging, cleansing itself of toxins. This is especially notable in the naturopathic paradigm.
Now, I'm not saying those practitioners are wrong; I'm simply stating that it doesn't apply in Practical Homeopathy®. Instead, if no improvement is observed, the wrong medicine may have been chosen.
But it's a matter of degrees. For instance, if a sufferer addresses a skin issue, it's one thing if a pimple or two pops up. It's quite another to have a rash everywhere that's so itchy it's maddening.
Yet, those two paradigms confuse people by declaring that a condition has to get worse to get better. Their tacit advice? "Just put up with it."
No, no, no. In Practical Homeopathy®, when there is no improvement after giving the medicine an adequate amount of time to act, or if a worsening of the condition to a high degree is experienced, we've likely chosen the wrong medicine, and it should be halted.
And while we're on the subject of "degrees," let me add this. An occasional hot flash now and then is not a pathology to be addressed. Instead, I say we should just ride the wave. It means we're moving through to the next stage in this glorious life God created.
However, if hot flashes become debilitating to the point that they impair our ability to accomplish our daily duties or sabotage our sleep, homeopathic medicines can be an appropriate response.
Again, it's all a matter of degree.
I have been where you are now. I've dieted and taken supplements, essential oils and herbs, but nothing — nothing — has ever come close to the reproducible, safe, and effective results I and my clients have achieved with homeopathy. To read the syllabus for my Feminopathy course and the testimonials of other women who have been helped by my Practical Homeopathy® methods, click here.
And pass on the good news of homeopathy!
Warmly (but not hot, thanks to Sulphur 30),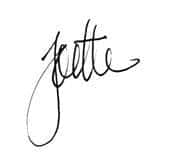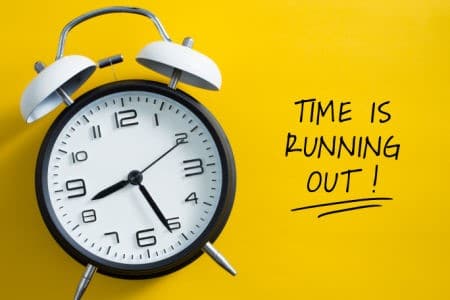 P.S. Tick tock, tick tock! The alarm is just about to sound …
Tomorrow, June 5, is the last day to submit an application to join
The Academy of Practical Homeopathy®.
Over the last several weeks, I've provided behind-the-scenes looks into the unique lectures, interviews, teaching and training included in this one-of-a-kind curriculum. Plus, I've shared glimpses into the special Academy culture — where you will be inspired, supported and create lifelong friendships.
Don't wait until next year! Now's the time … whether you want to join the next graduating class or set your sights on joining in the future.
There's no obligation to learn more. Just join my Founders' List to receive additional information. 
The Academy of Practical Homeopathy® may be precisely what you're looking for to raise your skills and abilities to an exceptional level. You will be ready.
Over 300 graduates are now Practical Homeopaths™. You can be too! Sign up on the Founders' List to determine if you have what it takes.