Homeopathy is Purr-fect
Joette Calabrese, HMC, CCH
June 7th, 2012 | 32 Comments
Twelve years ago, I received a call from someone who knew we were in the market for a cat and asked if I'd take a sickly kitten.  Foolishly (or perhaps not), we took on this project and named the little waif Carmelina.
From the onset, the kitty showed signs of weakness but not until a week or two later, did she become seriously ill.   She was so thin that her ribs showed through her skimpy fur.  Since she was not able to get up to eat, we fed her raw milk and egg yolk through an  eye dropper.  Her eyes were weepy with a vague look and she never purred.
Our boys lined a small basket with an old lamb's wool and gently placed her in it. For days, Carmelina hardly moved and we were certain she'd die.
Based on research in my homeopathic repertory (a list of symptoms that correspond to specific remedies), it became quite clear to me that she needed Sulphur.
How did I know?  Her symptoms clearly matched the keynotes of this remedy.  Her odor was unpleasant and her fur looked ratty.  I also selected this remedy because it's
often a good choice for simple animals like barn cats that are not bred nor vaccinated.
It was around this time that we planned to drive to Florida for a vacation.  In preparation for the trip, the boys packed Carmelina in the back seat between them.   As we traveled on Route 90, they gave her a dose of
Sulphur
30 every 2 hours.
That night, when we pulled into our hotel stop, Carmelina was carried in her basket into the room with us.  By this time she had already received 4 doses of
Sulphur
30.  For good measure she was given one more before we retired to bed.
Sometime around midnight we were awakened by an unfamiliar scurrying sound.  We quickly snapped on the lights and found Carmelina under the bed on her back clawing the undercarriage of the mattress while whirling herself all over the slippery floor.  Suddenly, she leaped up and started pawing at our hands.  She was playing for the first time in her life with such passion that you could practically see her smiling!
Except for one other incident later in her life (that I'll write about in a future post), she's remained full of the dickens ever since the day she was treated with Sulphur.
Carmelina is a tiny cat, but she's a great mouser, purrs daily, has sparkling, inquisitive eyes, and a rich and robust life.
Vet bills?  No way. Just a bottle of Sulphur that cost me $13.
Curing my family with homeopathy…..now that's the cat's meow.
_______________________________________________________________________________________________________
Would you love to know how to personally treat your family as well as your pets with homeopathy?  Consider joining my 12-month long class How to Raise a Drug Free Family. Each month, our private webinar focuses on a different topic, including pet care.  To learn more, click here!
---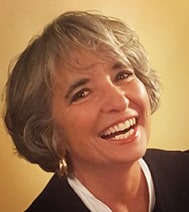 I am a homeopath with a worldwide practice working with families and individuals via Zoom. I'm also a teacher and most importantly, a mom who raised my now-adult children depending on homeopathy over the last 31 years. I lived decades of my life with food intolerances, allergies, and chemical sensitivities until I was cured with homeopathy, so I understand pain, anxiety, and suffering. You may feel that your issues are more severe or different than anyone else's, but I have seen it all in my practice and in my work in India. My opinion is that nothing has come close to the reproducible, safe and effective results that my clients, students and I have achieved with homeopathy.
Call today and learn how homeopathy might just be the missing piece in your health strategy.
---
Joette is not a physician and the relationship between Joette and her clients is not of prescriber and patient, but as educator and client. It is fully the client's choice whether or not to take advantage of the information Joette presents. Homeopathy doesn't "treat" an illness; it addresses the entire person as a matter of wholeness that is an educational process, not a medical one. Joette believes that the advice and diagnosis of a physician is often in order.
---
We've provided links for your convenience but we do not receive any remuneration nor affiliation in payment from your purchase.
---
The Author disclaims all liability for any loss or risk, personal or otherwise incurred as a consequence of use of any material in this article. This information is not a substitute for professional medical advice, diagnosis or treatment.