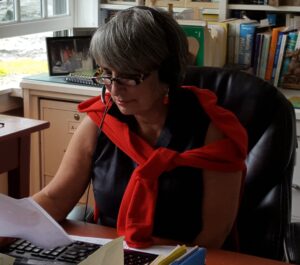 Joette Calabrese, HMC, CCH has practiced as a homeopathic consultant since 1997. She began her studies in classical homeopathy in 1986 and completed her five-year degree with the North American Homeopathic Master Clinician Course and the Dynamis School of Advanced Homeopathy in Toronto, Canada. She has studied with world-class homeopaths such as Lou Kline (Vancouver), Jeremy Sherr (London), Jan Scholten (Netherlands), Andre Saine (Montreal), Richard Moskowitz, MD (California) and Dr. A.U. Ramakrishnan (India).
In addition to her own weekly blog at www.joettecalabrese.com/blog, Ms. Calabrese was the nine-year-running inaugural author of the column The Homeopathy Journal in the quarterly journal of the Weston A. Price Foundation. Joette has also been a regular contributing author to Liberation Wellness and has sat on the honorary board of the Weston A. Price Foundation, having won numerous awards for her continued work with them.
Ms. Calabrese is nationally certified by the Council for Homeopathic Certification – accrediting organizations that are dedicated to maintaining high standards of homeopathy in North America. She has been a tutor for the British Institute of Homeopathy, a professional associate with the Prasanta Banerji Homeopathic Research Foundation in Calcutta, India, a professional presenter at the National Center of Homeopathy's Annual Meetings and the Council for Homeopathic Certification.
After years of full-time practice, Joette has focused her attention on teaching what she has learned both clinically and in her 1.5 cumulative years as a fellow at the Prasanta Banerji Homeopathic Research Foundation in Kolkata, India. This has influenced and inspired her to teach the Banerji Method, as well as Joette's own personal brand of homeopathy, Practical Homeopathy®.
Joette turned her back on conventional drugs over 36 years ago, became a full-time homeopath, has met with and taught tens of thousands of mothers, grandmothers and others in her practice and teaching career, and more importantly, raised her now-adult children without a single visit to a doctor using only homeopathy, nutrient-dense meals, and guts, spunk and moxie.
Joette is the author of a Materia medica, several homeopathic CDs, two study guides, and, at the time of this writing, 10 online courses teaching folks how to use her easy method of Practical Homeopathy®, where she offers simple protocols for both basic and more complex ailments. Currently, Joette has a homeschool curriculum for kids and teens in the works.
Joette believes that health care should be focused in the home with the mother and grandmother at the helm, and that the most efficient method of learning to do so is by immersing oneself into homeopathy and self-reliance by starting or joining a study group. Joette's study groups are called Gateway to Homeopathy and may be found on her website.
Joette's free weekly blogs are an easy read, integrating stories and tips explicitly directed toward everyday conditions. Here, she offers specific homeopathic information, including potencies for the conditions most families face on a regular basis.
Her inspirational Mom's With Moxie podcast series features real women from Joette's community – moms who have taken Joette's courses are interviewed and asked to share their successes and failures. Most listeners report they find this method of learning valuable and inspirational, as they are able to absorb the information while still tending to their daily duties.
Visit Joette's website PracticalHomeopathy.com, search through and read her free blogs, listen to her podcasts, and tune in to her weekly Facebook Live events to take your homeopathic knowledge and understanding to the next level.
Contact Joette:
email : contact@joettecalabrese.com
Web: http://www.JoetteCalabrese.com
Twitter: https://twitter.com/joettecalabrese
Facebook: http://facebook.com/joettecalabrese