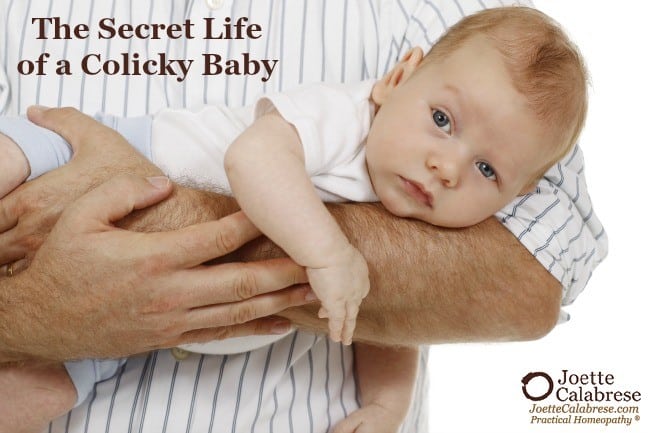 It's not that they won't talk; it's that they CAN'T talk. So, babies are relegated to their own little secret lives.
When babies are obviously suffering, their inability to speak or express themselves seemingly makes it so much harder for new moms to read the situation.
But it's actually not hard — if you know what to look for.
We can get a glimpse into their clandestine world by paying attention, by honing our skills of observation:
A baby who is raising his legs up and close to the chest is communicating that he may have gas that wants out.
Babies who like to be held like a football — you know, like a lion resting on a branch, with their arms and legs dangling down and their bellies firmly pressing on their parent's arm — are very often communicating a gastrointestinal upset that craves pressure.
An inconsolable baby who scooches up onto his parent's shoulder while being held, trying to get more pressure on the belly, is usually communicating colic.
A bonus from having to interpret these "secret" messages, is that new moms become observationally intelligent.
Once you are able to crack the code of a new baby, you become much more in tune with your older children and adult family members.
To be honest, sometimes asking adults how they feel can lead down the wrong path.
But if you couple your direct questions with sitting back and watching their behavior, you'll have a much more complete picture.
It may seem to the uninitiated as simply intuition, but it's actually a scientific process that works seamlessly with homeopathy.
Observation … remedy choice.

Observation … remedy choice.

Observation … remedy choice.
That's quite empirical, flying in the face of modern medicine's criticism that homeopathy is just anecdotal. (Even though that's what life is — one anecdote after another!)
Anyway, just be proud of yourself as a mom-scientist.
You study your small sampling … your family.
After using your senses to peer into the secret world of your baby, you begin to get a feel for what your entire family is experiencing but may not be able to express. (And let's face it, your baby's life might very well get secret again when they become a teenager, so get ready to be able to read behavior now!)
If in your observation, you've determined that you have a colicky baby: Colocynthis 200C is called for when the key indicators are gastrointestinal pains ameliorated by (or simply seeking) pressure.
That couldn't be more perfect for colic. I have had great success using Colocynthis twice a day until very much better. If the symptoms return, then I resume its use.
Additionally, I use Nux vomica 30C with the Colocynthis for colic, particularly if the baby experienced a medicated birth or is extremely irritable late at night. (See last week's blog.)
It may not always be necessary, however, as Colocynthis may be enough.
Don't forget, even though you may not be able to communicate verbally with your baby, you can be in-tune to their secret life. Your family is your laboratory. 
My kids used to call themselves my lab rats.
If you are eager to continue learning, check out my Good Gut, Bad Gut course for more about gastrointestinal issues. I also highly recommend all moms consider my course How to Raise a Drug-Free Family.
Hopefully, you've already registered for the free, online Thriving Child Summit that is coming up next week (September 18-25, 2017). I strongly recommend you register to listen to my free interview on September 20th, entitled, "Using Homeopathy Instead of Drugs for Ear Infections, Sore Throats, and More."
If you haven't registered yet, there's still plenty of time. Learn all about it and register here.
I created a special info-graphic; Powerful Family Remedies.  
For those new to homeopathy let it give you hope there are real medical solutions with homeopathy.  
(This is the medicine you thought you were getting from your doctor.)
---
I am a homeopath with a worldwide practice working with families and individuals via Zoom. I'm also a teacher and most importantly, a mom who raised my now-adult children depending on homeopathy over the last 31 years. I lived decades of my life with food intolerances, allergies, and chemical sensitivities until I was cured with homeopathy, so I understand pain, anxiety, and suffering. You may feel that your issues are more severe or different than anyone else's, but I have seen it all in my practice and in my work in India. My opinion is that nothing has come close to the reproducible, safe and effective results that my clients, students and I have achieved with homeopathy.
Call today and learn how homeopathy might just be the missing piece in your health strategy.
---
Joette is not a physician and the relationship between Joette and her clients is not of prescriber and patient, but as educator and client. It is fully the client's choice whether or not to take advantage of the information Joette presents. Homeopathy doesn't "treat" an illness; it addresses the entire person as a matter of wholeness that is an educational process, not a medical one. Joette believes that the advice and diagnosis of a physician is often in order.
---
We've provided links for your convenience but we do not receive any remuneration nor affiliation in payment from your purchase.
---
The Author disclaims all liability for any loss or risk, personal or otherwise incurred as a consequence of use of any material in this article. This information is not a substitute for professional medical advice, diagnosis or treatment.