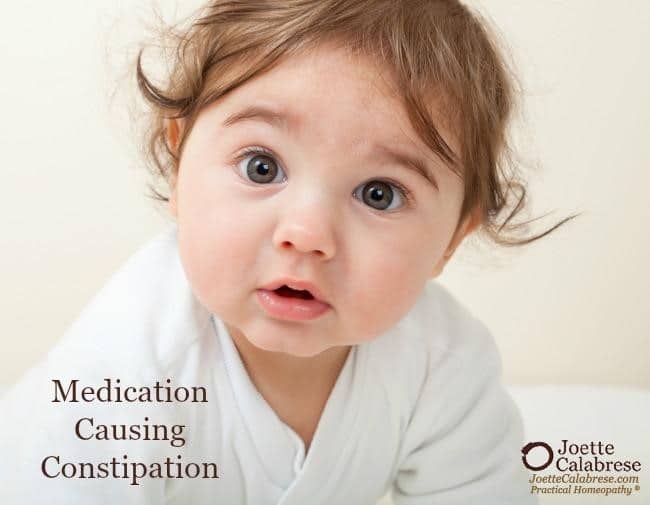 Constipation can start at birth. That is certainly an unpleasant way to start your new little life! In my experience, the most medicated births result in the most constipated infants.
A drug-free birth — along with all its other benefits — is your child's best chance for avoiding early constipation. However, I've also seen a couple of cases in which the infants from non-medicated home births have had constipation.
So, it's good for all new moms to have homeopathic medicines on hand.
Now keep in mind that immediately after coming into the world, infants' tiny bodies are still adjusting.
Don't get overwrought if your infant doesn't "go" twice a day (as is recommended for children and adults).
In fact, in my experience, brand new babies can go several days without a bowel movement without being sick.
However, if you notice what you consider signs of constipation (incomplete stool, failure to move for several days, dry stool, exaggerated straining), it may be time to consider your options.
In my course, Good Gut, Bad Gut, I cover the subject of constipation in much more detail, but for today let's cover this often simple condition. 
In toddlers and young children, I turn to Nux vomica 200 twice a day until constipation improves … which is usually within a week.
If it improves sooner, the medicine is halted. If there's no improvement after a few days, a different homeopathic ought to be considered.
If the baby is under one year old, I like to use the Banerji protocol that starts with one dose of Aconitum napellus 200 on the first day.
Then the next day, the Nux vomica begins (as previously described) until improved.
When a child experiences a medicated childhood from birth through infancy and into toddlerhood, his chance of having constipation from medication is significantly increased. You know what I'm talking about … children who every time they turn around are given another medication, another antibiotic, another antihistamine.
Their pure bodies are constantly trying to adjust to the side effects of medication.
To help avoid this vicious circle, we offer the course How to Raise a Drug-Free Family to provide you the education and the confidence to use homeopathy instead.
Also, I'm pleased to tell you that I will be participating in the upcoming Thriving Child Summit. If you want to learn how to help your child achieve optimal health, this free, online conference might just be for you! It takes place September 18-25, 2017. I will be speaking on September 20th. Click here and register today to reserve your space!
Remember to scroll down and download the free Remedy Card for this week so that you remember how to use Nux vomica.
I'm happy to tell you that because you have responded so enthusiastically to these Remedy Cards, my staff has gone back and added them to all of my blog posts over the last 10 years!
You can help, though. If you see an older blog post that is missing a Remedy Card, please let us know at contact@joettecalabrese.com. We may have overlooked it!