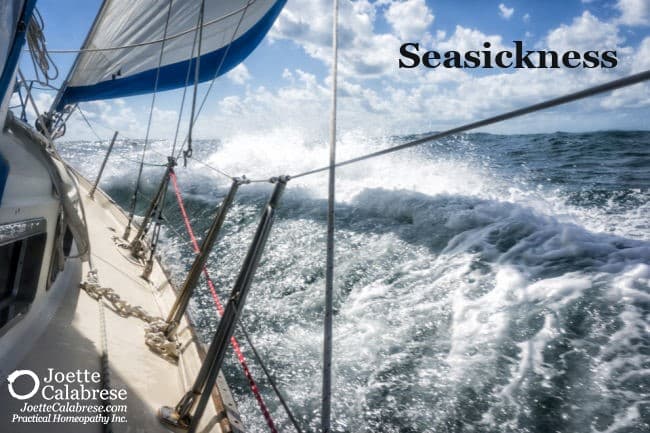 What goes better with a hot summer day than water sports? Whether swimming, splashing, floating or boating, it all sounds refreshing.
But …
(and this is a very big but …)
Boating can bring on a ruinous issue: seasickness.
For some people, the dream of taking a vacation cruise is a nightmare. Sure, for some, boating is no problem. Certain folks, however, are so psychologically sensitive to motion that they can become seasick at the mere image of a boat on the water.
My husband and eldest son recently helped deliver a friend's sailboat from Ft. Lauderdale, Florida, to New Bedford, Massachusetts. You read that right: they had to travel almost the entire length of the Eastern seaboard — 1,200 miles! And believe me, they don't hug the coast. Instead, they are way out at sea, taking the shortest, most efficient route possible.
Before they left, I put together a collection of potential homeopathic medicines they might need.
Indeed, during the first leg of the trip, they navigated 12–15-foot waves! That was a recipe for relentless seasickness. Not very comfortable!
Early on, my son took the remedies I supplied, and he was up in a jiffy. My husband didn't need anything. (He's an experienced sailor — an old salty dog.) 
So, what did I pack in their ditty bags?
Tabacum might have initially come to your mind as one answer to queasiness. Good idea! I previously discussed its use in my blog post, It's Nauseating: Peer Pressure and Your Cure for Nausea. So, yes, I did include a tube of Tabacum for my sailors. However, it's not the only potentially helpful medicine in cases of seasickness.
As you know, in homeopathy — say it with me — there is more than one way to skin a cat!
Therefore, I'd like to call your attention to two others:
Cocculus indicus: This medicine is called for in cases of motion sickness that is spurred by watching moving objects and is accompanied by nausea, fatigue, vertigo and weakness, or a "hollow" sensation in the stomach. The nausea will also result in an aversion to the sight or smell of food. Dizziness, weakness and headache may force the sufferer to lie down. Generally taken in the 30th potency, Cocculus may be taken every 15 minutes for the first hour after seasickness strikes and then once every hour after that until very much better.
Petroleum: For persistent nausea that may also be marked by excessive salivation, vomiting, dizziness or headache, Petroleum is an outstanding choice. This type of seasickness is uniquely indicated when symptoms are reduced by eating. Also used in the same manner, Petroleum 30 may be taken every 15 minutes for the first hour and again once every hour after until the condition is resolved.
If your chosen homeopathic medicine generates no improvement after four or five doses (which, according to this schedule, would be after the first hour or so), it most likely was not the best fit for your specific condition. Move on to the next remedy. (And there are even more potential homeopathics you might consider. I'll add those to the list in this coming week's Memo to Mighty Members.)
Homeopathy may sometimes be used prophylactically. For someone who consistently experiences motion sickness, these medicines may be taken in advance.
So, before embarking on a boat trip, tossing the best-chosen remedy under the tongue is a good plan.  Should a bit of motion sickness still creep in, the remedy should be begun immediately.
Remember to bring an assortment of seasickness medicines on board so you can offer assistance to anyone else suffering. What a clever way to pass on the good news of homeopathy, right?
It's boating made perfect, thanks to homeopathy! (Now, if only there were a homeopathic remedy to repel pirates and attract fish!)
Warmly,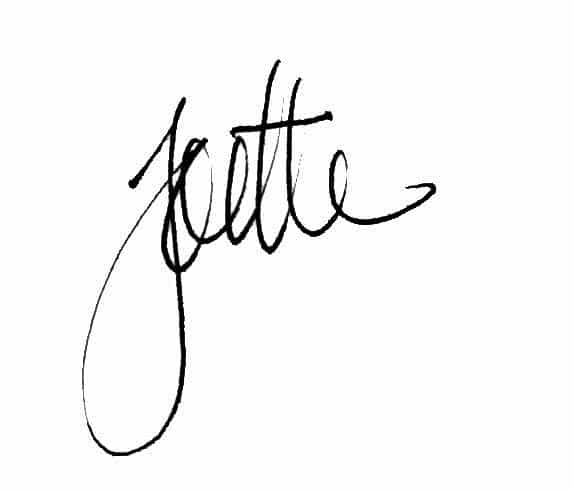 P.S. Have you ever wondered what you're missing by not taking part in a Gateway to Homeopathy study group? Let me tell you, you're missing a LOT! Not only will you receive a foundational education in homeopathy, but you'll also learn specific medicines and their keynotes, along with potencies and frequencies. Plus, you'll make lifelong friends, a camaraderie to enhance learning and practice.
Over 9,000 mothers and others — just like you — have joined a study group. That's a lot of people honing their homeopathy skills, meeting other like-minded people and having fun doing it. So, no more fear of missing out!! The cure for FOMO is Gateway to Homeopathy!
P.P.S.   Remember the famous line from the movie "Field of Dreams": "If you build it, they will come"?
Well, we built it! We now host a Students of Joette group in our Social Center on our own servers, away from the prying eyes of Facebook censors.
The next step is up to you! You have to come!
This group is free of charge to students of my courses. You don't have to be a Mighty Member (they have their own separate social group to post in), but you do have to be a paid-in-full student. A students-only membership allows for open discussions of slightly more complex topics with other students who possess a similar knowledge level.
Right now, there is only a little bit of activity in this group. Instead of being discouraged by that, look at it as your opportunity to help form this community and flesh out our dream of a dynamic, safe, private discussion group. Be a pioneer! I know that you can make the Students of Joette group just as robust as you did our Facebook group.
Look, the writing is on the wall, folks. I'm not sure how long we can stay on Facebook without falling victim to their crushing interference.
Let's be ready! I urge you to get posting in this new private environment. To help spur you on, I will be more attentive to items you post in our Social Center than on Facebook. You never know when I might stop by to comment on your questions or experiences. So, come and play in this private sandbox with me today. I'll be looking for you!