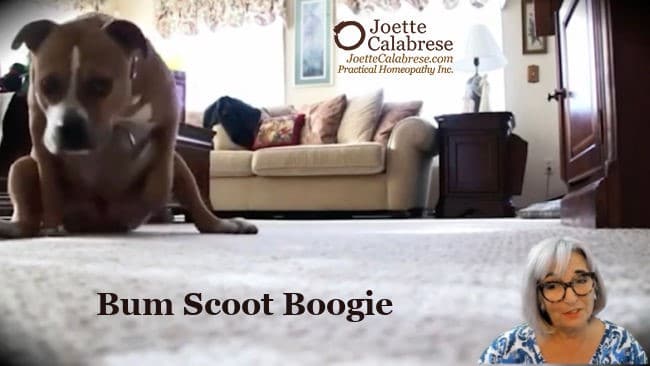 Hi Folks! Buster, the Bad Office Dog, here.
Wanna know something really cool? My mom has produced a Practical Homeopathy® course for human puppies. Or … what do you call them?
Oh, yeah. You call them "kids!"
And it's not just for any kids. This course is for the COOL kids! Kids who want to grow up to be self-reliant, independent thinkers.
Revolutionary kids.
Your kids.
I'm particularly excited because, in this curriculum, Mom uses a lot of examples of how homeopathy helps pets. Anything that helps my fellow pets makes me very happy — heck, I'm running around in circles just thinking about it.
Whoa. Dizzy.
You see, Mom believes when your adolescent or teenager gets their first positive result by treating their dog, cat, or goat with homeopathy, their sense of accomplishment will circle back to reinforce their studying.
From there, the sky's the limit.
You know that homeopathy works just the same on humans as it does on animals. So, just think about how much your kids could learn from this course that will eventually help them care for themselves and their future families.
Here's an example — although I'm kind of embarrassed to talk about this. You humans seem to get endless giggles when we dogs do the Bum Scoot Boogie across your carpet.
But sometimes it's itchy down there! What else are we supposed to do?
Well, in Lesson Seven of The Ultimate Cool Kids' Guide to Homeopathy: Become a Revolutionary, Independent Thinker with Practical Homeopathy®, Mom instructs that symptoms are gifts!
The symptom of our scooting across the floor to scratch our itchy bums is an excellent opportunity for your adolescent or teenager to develop their observational skills. They'll begin to learn what certain behaviors mean and how that translates to finding the precise homeopathic answer.
It's a big lesson, so I certainly can't repeat everything Mom says in it. (Besides, I got distracted because a squirrel passed by the window. I have my priorities, you know.)
But when that area is itchy in us pups, it can indicate parasites. I guess that's super common.
Even though it sounds icky, thankfully, it's usually not very dangerous. And my mom likes to teach people how to treat this. 
In this case, Mom likes to use Cina "Mother Tincture" (MT) which has been used for centuries to get rid of parasites in both humans and animals.
Mom usually administers this Mother Tincture daily for at least two months. I remember her saying to stop using it once pets are very much better, if there's no change in symptoms or the symptoms get worse.
There are other ways to approach parasites, but Cina MT is where Mom likes to start.
Now, you know how Mom feels about real medicine being in the hands of the family. So, she takes great care to remind your kids that homeopathy is medicine! 
So, as long as your child is working closely with your supervision, they can learn homeopathy and even help their pets! 
I've noticed that you spend a great deal of time teaching your pets to sit, stay and fetch. I'm willing to bet you spend even more time teaching your kids! (Do they fetch as well as we do, though? Do they?)
So, wouldn't it be amazing to allow your children to feel empowered to help their pets as they learn?
I'm so excited at the prospect that I think I'm going to run in another circle.
Sorry, folks … I've got to go.