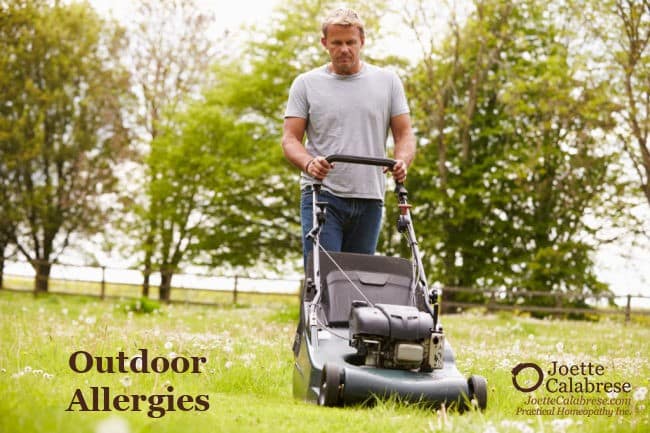 Happy Father's Day! We say a loving thank you to the men who keep our families safe, secure and loved. You mean the world to us.
Now, please go mow the lawn.
Only kidding. Today is your day. The lawn can wait until tomorrow.
In all seriousness, though, mowing the lawn can be a dreaded chore made worse by allergies. So, wives, instead of sending our husbands and fathers out into the allergens with no defenses, let's take today to look at an easy way to relieve their discomfort.
As is generally the way with homeopathy, you address allergies depending on how they present — how you're suffering.
Unfortunately, however, outdoor allergies can cause different symptoms in different individuals. For some, the allergens head straight to their eyes — they itch, water, turn red and swell.
Still other people experience more symptoms in their noses — clear, runny noses that drip, drip, drip like a leaky faucet, along with relentless sneezing.
And then there are those poor souls who suffer it all — red, itchy eyes, runny nose and a general feeling of fatigue.
Given all those differing symptoms, what should you have on hand to counteract all the various discomforts stemming from a beautifully maintained lawn?
Our friends at Boiron have the answer. (They usually do!)
RhinAllergy® is a combination remedy that warrants a place in every medicine cabinet.
Perhaps the use of RhinAllergy® will help you narrow down which single remedy might be most beneficial for your husband in the future. So, let's look at the back of the box to see the ingredients. (This is how I encourage you to learn from any combination remedy.)
So, while your husband is out mowing the lawn, you sit inside and read and research. (It's only fair that you're working, too!)
To relieve allergic eye symptoms, you'll note RhinAllergy® contains the homeopathic remedy Euphrasia (whose common name is eyebright). Euphrasia is not the only homeopathic remedy that can relieve eye allergies, but it is a stellar place to start.
(I'll be talking more about Euphrasia in my Memo to Mighty Members later this week … so, stay tuned.)
For someone who is suffering the nasal symptoms, RhinAllergy® contains Allium cepa (red onion). Think about the symptoms cutting onions causes — weepy eyes and runny nose. Allium cepa is a capital idea for those symptoms.
For an individual who experiences general allergic symptoms along with a prevailing feeling of fatigue, RhinAllergy® offers both Histaminum and Ambrosia. These are both sweeping remedies for overall allergic conditions.
RhinAllergy® will cover your husband's immediate needs (when he comes back in the house covered in grass, sniffling and rubbing his eyes). However, we want to go further — deeper.
We want to uproot the allergies, not merely address the symptoms. That's why understanding the keynotes and details of single remedies is essential.
Unfortunately, I can't accomplish extensive teaching in a short-form blog post.
That's why I wrote my course, Allergic?! Escape Allergies, Sensitivities, and Intolerances, With Homeopathy. Practical Protocols to Get Your Life Back.
If you're ready to take a deep dive into learning efficacious, safe, alternative solutions to outdoor allergies — actually, any allergy for that matter — this course is for you.
Not only do I cover these common outdoor and seasonal allergies, but I also teach homeopathic medicines for skin allergies, pet allergies, chemical sensitivities, and food intolerances. This sweeping course ties many of my other courses altogether.
If you truly want to get to the bottom of your family's allergies, the Allergic?! course is exactly what you've been waiting for.
Here's what one of my students had to say:
"The Allergic?! course is one of my favorite courses that Joette has offered. It was the first course that I took live when she launched it on Zoom. It was a springboard to my falling in love with homeopathy. I have been able to overcome many allergies within my immediate family, including dog allergies and seasonal allergies. I have even overcome lifelong asthma for myself and my son. I was so excited about this course that I got together a bunch of ladies from our Gateway group and went through it again. Thank you, Joette, for sharing. It truly was a gift to myself and my family.❤️ "
— Michele K.
Learn as much as you can — not only for yourself and your family, but so you can pass on the good news of homeopathy! Imagine the lives you could change by uprooting your loved ones' allergies!
Warmly,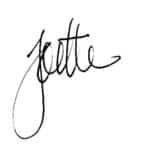 P.S. Remember — all of my Mighties (Joette's Mighty Members) qualify for a 10% discount on course purchases. If you need assistance getting your discount, email contact@practicalhomeopathy.com for more information.
When you purchase any product on Boiron's site, be sure to use my 1st name (Joette) in the coupon window for a discount.