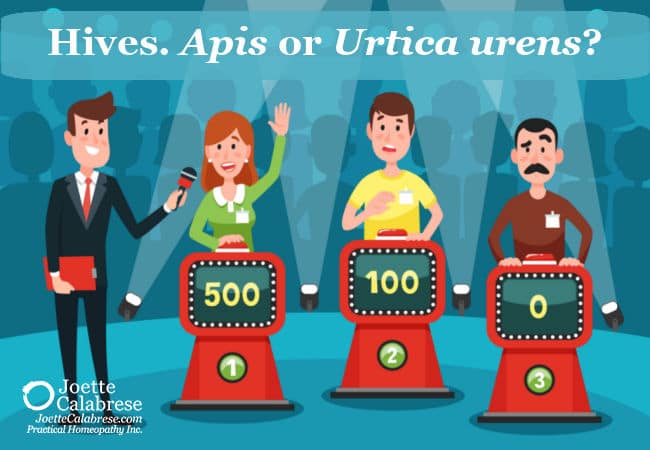 When we hear "allergies," many people think only of hay fever in the spring.
But allergens are year-round. Some present as minor annoyances, while others can be downright dangerous.
Are you or a loved one Allergic?!
If so, perhaps you've experienced the madness of hives. The medical term for hives is urticaria. Conveniently, urticaria can help you remember the name of an effective homeopathic remedy for hives: Urtica urens.
Apis is generally the first remedy most people think of for hives. However, Apis is more often effective in cases of hives (and the resulting edema) that occur in mucosal areas — the eyes, lips, tongue, uvula, throat, nose.
Because of this, Apis is generally called upon in more dangerous allergic reactions, such as mucosal hives causing the throat to swell or begin to close. (Most often, I choose Apis 30C for emergency intervention. It would generally be used as often as every 5 minutes, depending on the severity of the reaction, until noteworthy improvement is made — as taught in the blog post, Answering Questions: Homeopathy During Pregnancy).
Urtica urens, however, is a secondary medicine chosen more often for reactions in non-mucosal areas of the body.
For instance, Urtica urens is a good choice for hives on the body from an allergic reaction to shellfish. However, if the problem is present within the throat (a mucosal area), a better choice would likely be Apis. See how we make our distinction?
Urtica urens is derived from stinging nettle — a fascinating plant. Cooked, it's called a "pot herb," and you can add it to your meatball soup. Dried, it makes a healthful tea with wide-ranging applications, from reducing inflammation to lowering blood sugar levels (certain studies have shown).
In its gross form, stinging nettle is a fabulous botanical for vitamin K. I personally drank stinging nettles tea daily during each of my pregnancies. (Vitamin K shot at birth? Don't be silly; nature's got you covered. I'm going to talk more about this topic later in the week in my Memo to Mighty Members.*)
But when prepared homeopathically, it excels in addressing hives.
Here's another example: Some individuals are allergic to snow! Can you imagine? There they are, bundled up tight in their snowsuits. Yet if a bit of snow gets caught in between their mittens and their cuffs, suddenly, their wrists are covered with hives.
Besides moving to Florida, what are they to do? What is the solution for their snow-induced urticaria?
Yes! Urtica urens.
Generally, we would choose Urtica urens in the 30th potency. If severe, it would be employed every 15 minutes or so until the reaction calms down. After that, then we continue to use it every 6-12 hours until very much better.
Now, you may be thinking, "Why is that? Why do they have an allergic reaction to snow on their skin?"
I say, "Who the heck cares?!"
Many of the most profound things in life don't have definitive answers. As long as we can address the problem with the right homeopathic medicine, the "why" is not germane to the discussion. We need only go straight to the solution and move on with enjoying life.
The secret is to know the solution! And, you may have noticed, I'm terrible at keeping secrets about homeopathy!
I want every household to know how to address allergies — no matter the source or severity — with the appropriate homeopathic medicine.
As I've expressed time and again, there is usually more than one way to skin a cat in homeopathy. For instance, in addition to Apis and Urtica urens, several other remedies can successfully address hives. You just need to learn how to make the correct assessment for your particular symptoms.
That's why I wrote my course, Allergic?! Escape Allergies, Sensitivities, and Intolerances, with Homeopathy. Practical Protocols to Get Your Life Back. I'm relaunching the course this month and encourage you to consider what this knowledge could mean to you and your family.
The chronic allergies I suffered from as a child and young woman were imprisoning. The more drugs the doctors prescribed, the more imprisoned I became. But homeopathy provided the relief I desired — not for just itchy hives, but for all the various symptoms allergic reactions can generate.
Imagine the freedom you would gain if you could Break Out of Your Allergic Prison as I did.
But you don't have to believe me. Here's an inspiring story from one of my students who reclaimed her life:
"I have a true victory from the Allergic?! course!
My extreme chemical sensitivity has plagued me for 20+ years.
If I was around a strong odor, I would get allergic/chemical bronchitis, and sometimes, it would turn into pneumonia. 
I started Calc carb 1M last May and have not had one bout in a year! 
My husband jackhammered out the sewer pipes in our basement 3 months ago. With the dust, fumes, etc. … all of our smoke detectors went off … I was scared … Nothing!!!!"
— Tina
Now, that's what I call passing on the good news of homeopathy!
Warmly,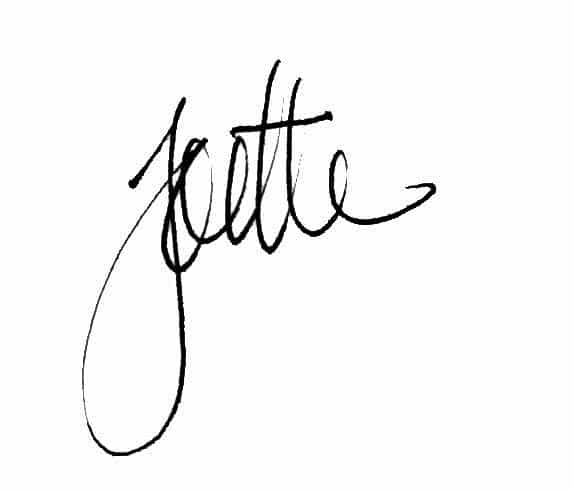 *P.S. If you're not a Mighty Member yet, what are you waiting for? Join me for more candid conversations in weekly emails and occasional videos. Plus, get to know other Mighties in the discussion group hosted on our private server. (No prying eyes from Facebook or spammers.) So, join today, and you can read more later this week about using stinging nettle.
And remember — all of my Mighties (Joette's Mighty Members) qualify for a 10% discount on course purchases. If you need assistance getting your discount, email contact@practicalhomeopathy.com for more information.