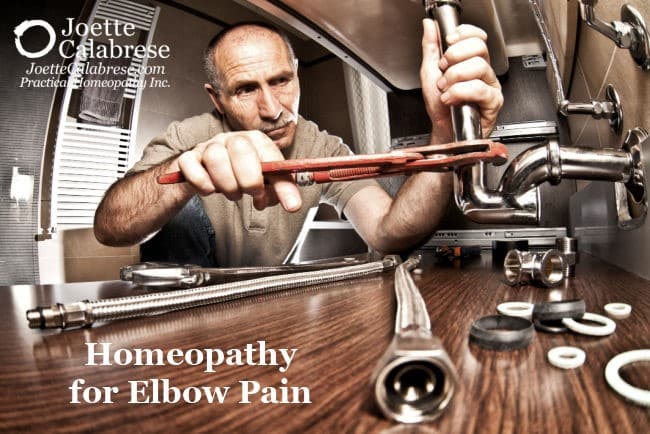 Some joints are easy to ignore — until they cause problems. That's true in plumbing, and it's certainly true in our bodies.
For instance, how often do you think about your elbow?
Well, okay, okay. Maybe you do when you hear your mother's voice inside your head saying, "Take your elbows off the table!"
But if you hit your funny bone, I guarantee you that your elbow will be the only thing on your mind. (Hopefully, you'll quickly recall what you learned in the blog post The Funny Bone is Not Funny.)
If you think about it, the elbow is one of the hardest working joints in our bodies. As such, it is quite susceptible to injury from overuse.
Mike worked as a plumber in a busy community. He suddenly began experiencing burning pain on the outside of his elbow. This was an entirely new sensation for Mike. Heck, the only elbows he ever thought about were the elbow joints he installed under sinks!
But now he couldn't get his mind off his excruciating elbow pain. He could barely hold his wrench and grimaced when he tried to tighten a fitting. Finally, it got so bad that he could hardly turn a doorknob! Each day, it was getting more and more challenging to do his job.
That's when his wife convinced him to go to the doctor for a diagnosis.
Now, Mike wasn't athletic. In fact, he considered himself about as athletic as his wife's lazy cat. So, imagine his surprise when he was diagnosed with tennis elbow!
"Tennis elbow? I don't even watch tennis on TV!" he argued.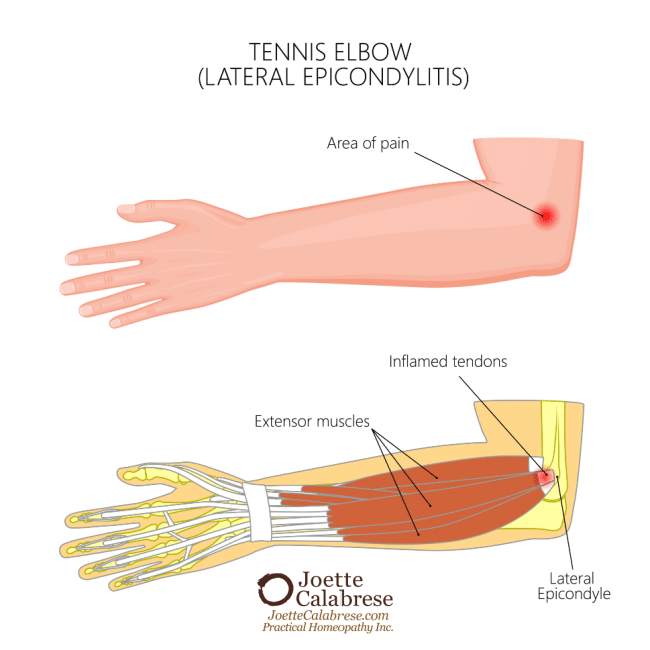 Let me assure you, you don't have to step on a court to suffer from tennis elbow. It's just vernacular for lateral epicondylitis (slight tears and inflammation of the tendon that attaches to the bony bump on the outside of the elbow). Tennis elbow is a fairly common condition, especially among those whose occupations require repetitive forearm motion.
Plumbers are especially susceptible, as are butchers, manicurists, mechanics, housekeepers, gardeners, dentists, construction workers, and even those who work all day on a computer (especially if they use a mouse).
Luckily, Mike's wife had studied homeopathy. So, she started him on a schedule of Symphytum officinale 200 twice daily. As I discuss in A Materia Medica: Practical Homeopathy® for Busy Families, Symphytum is useful for injury to the bones, sinews, tendons, and joints. So, it's a perfect fit for this elbow tendon condition.
And, rather than overload her husband's sensitive stomach with ibuprofen for pain (as the doctor had suggested), Mrs. Mike put a little purple tube of Hypericum perforatum 200 in his pocket as he went off to work. When the pain increased during the day, instead of reaching for Advil, Mike took a dose of Hypericum as an SOS (only as needed). And boy, did it work!
Mike was stunned that his "plumber's elbow" (he refused to give tennis top billing) gradually relented over time.
If the symptoms recur because of an unusually physical plumbing job, Mike simply starts the homeopathic medicines again, and the condition diminishes in short order. Each time his elbow feels very much better, he stops the medicine. That's how homeopathy works! But more importantly, no synthetic drugs, no surgery, no agony, and over time as the homeopathic is used, (only as needed)  a few doses will be required less and less frequently and the pain will diminish. 
That's what I mean when I say that homeopathy uproots conditions.  It may take time but, so what? My personal goal is to stay off of drugs of commerce for as long as possible.  It was Mrs. Mike's idea too. 
But what if the pain had been on the inside of the elbow rather than the outside? Well, there's a name for that, too … Golfer's Elbow also called medial epicondylitis. (Remember, in medical terms, lateral means away from the midline of the body and medial means towards the midline of the body.)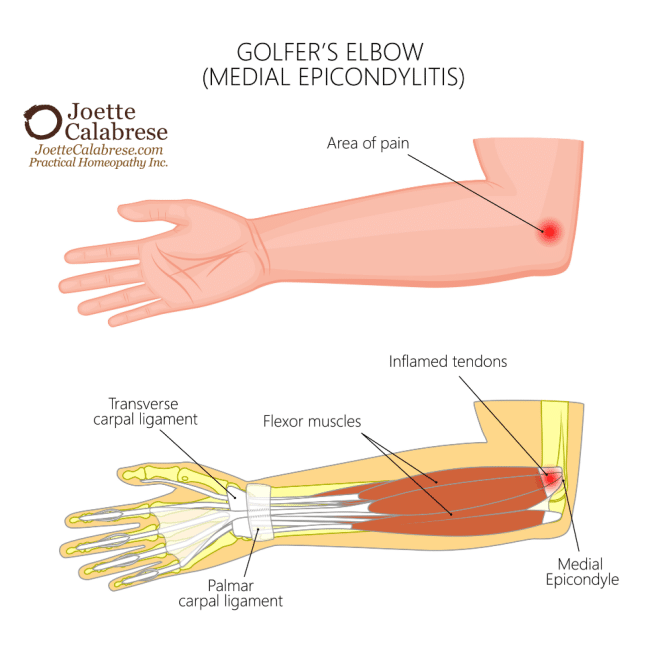 The pain of Golfer's Elbow symptoms is similar except that it occurs on the connection of the tendon to the bony bump inside the elbow. And, as with tennis elbow, you don't have to be a golfer to experience this condition. It seems to stem from repetitive motion of the fingers and wrists, especially when excessive force or weight is involved.
Because both conditions involve tendons, the homeopathic medicines would be the same.
So, whether you're a tennis player or a golfer — a plumber or a manicurist — homeopathy adroitly addresses elbow pain.
The next time you see someone wince and grab their elbow, why not consider passing on the good news of homeopathy?
Warmly,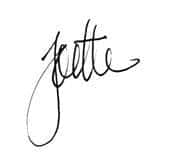 P.S. Where can you learn homeopathy like Mike's wife did? I suggest you join one of my online study groups! Sharing information in a group setting can turbocharge your learning. Your group will not only explore the topics that interest you but also will examine subjects you may not have considered if studying alone. Don't know anyone to start one with? Call my office and we'll get you set up with an online group. 
So, for a well-rounded homeopathy education, start with Gateway to Homeopathy: A Guided Study Group Curriculum. Even if you already know a bit about homeopathy or even a lot, a study group will provide lifelong friends who can share your journey, trials, and successes. Consider it a strong foundation on which to build a lifetime of homeopathic healing.