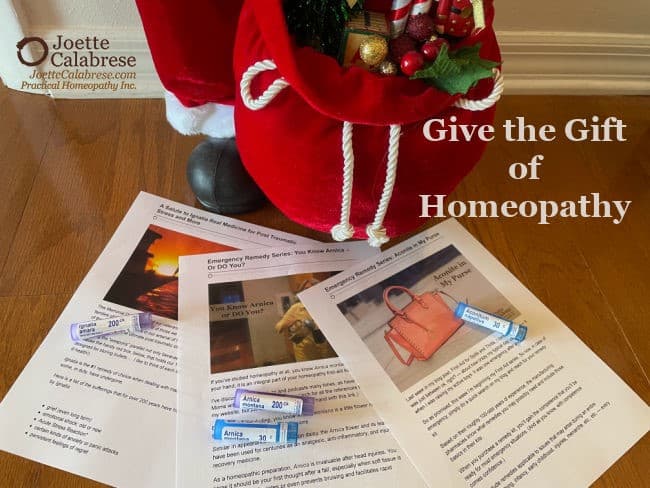 As we approach the holidays, the idea of gift-giving invigorates some of us while it paralyzes others.
What makes the difference?
I believe it's giving gifts with purpose!
If you're simply ordering out of a catalog for a loved one, there can be too many choices leading to too many quandaries. Instead, if you'd prefer to wrap a bow around something that can improve the health of your recipients— and the lives of their families — then gift-giving becomes a labor of love.
I'm sure you're ahead of me here … I'm talking about giving the gift of homeopathy.
Let's say you buy four or five of your favorite homeopathic medicines and perhaps a couple more that you deem appropriate for your recipient. Is that enough to put in the gift bag? Hmmm, I don't think so.
If they have little or no experience with homeopathy, they'll wonder what on earth they're supposed to do with those tiny tubes of pillules!
"What are these?" they'll ask. "Like … Tic-Tacs® or something?"
Well, rather than try to explain the science of homeopathy while balancing a cup of eggnog on your knee on Christmas Day, I suggest you print out a few of my blog posts — one pertaining to each remedy — as an educational accompaniment in their gift bag.
However, there's a good chance they might look at you with skeptical eyes and say, "Who the heck is this Joette Calabrese?"
So, while you may be able to gather all of this information from different places on my website, I'm going to give you my history with homeopathy in this one post. Print this blog post out and include it in your package. With any luck, it will lend some credibility to your exquisite gift of homeopathic health. At the very least, your recipients will know that I was once in their position — searching for elusive answers to plaguing health problems.
After my first vaccine at six weeks old, I developed chronic, blanketing eczema that lasted for 14 years. My mother sought conventional medical help resulting in the use of steroid creams and allergy shots.
My initial condition was accompanied by repetitive ear infections and the requisite rounds of antibiotics. After various medicaments and years of "treatments" with no improvement, my mother sought alternatives: dietary changes, botanical methods, chiropractors and reflexology.
But my story is not unique. You can fill in the blanks with other conditions and describe the experience of countless lives on this earth over the past many centuries. Many of us have experienced the failings of conventional medicine in the treatment of chronic disease — and worse yet, the long-term side effects of its attempt at a solution.
My list of conditions was long. I developed asthma, food intolerances, migraines, anxiety attacks, UTIs and chronic fatigue.
I swallowed and smeared drugs daily — week in and week out — whatever was prescribed. I grew skeptical of conventional medicine but knew no other way.
At the age of about 32, I realized what I had been doing wasn't working; my health was declining. So, I made a bold move — something that forever changed the direction of my life.
I deduced that I was quite sick from taking drugs. It seemed the more I took, the worse I got — despite what my doctors declared. And declare they did! Not one doctor ever whispered the idea that perhaps the drugs were potentially the cause of — or at least exacerbating — my ills.
But I had a hunch, so I abruptly put an end to the daily practice of dutifully taking drugs. I simply stopped. I emptied out my purse, cleared out my bedside table and chucked every single conventional prescription and OTC drug in my cabinet. It was bold. It was defiant. Even scary.
But it was freeing.
Soon after this decision, I replaced the drugs with vitamins and supplements.
After some time, I became suspicious of them, too. Why? I realized most vitamins are synthetic and are manufactured by the same industry that manufactured the very drugs I had just eschewed! Later, I learned that the manufacturer of many vitamins, supplements and drugs also manufactured the very first vaccine that likely set all my ills in motion at the tender age of six weeks old. And that's when I dropped the vitamin regimen as well.
I then turned to the study of botanicals and wildcrafting from around my home. I was getting warmer, but I wasn't there yet.
By the time I was about 35 years old, I finally found my cadence: homeopathy. One single dose of Nux vomica, prescribed by a homeopath, gave me about 50% relief from all I had suffered for three and a half decades under the "care" of conventional MDs.
This initial improvement was accomplished in less than a month or so. The remaining 50% of my conditions took a bit longer. But in less than a year, I was so much improved that I decided to study homeopathy.
Fast-forward.
I had been practicing classical homeopathy full-time for nearly 15 years when I grew to recognize how frustrating it was. Over time, I began to incorporate a few protocols into my practice. It was reproducible! One medicine could be chosen for the same condition, and the results were successful.
My thinking was further solidified a few years later when I met Drs. Prasanta and Pratip Banerji. Their methods neatly tied up all the observations I had just barely touched upon.
I was granted a fellowship with them in Kolkata at the Prasanta Banerji Homeopathic Research Foundation, where I spent months at a time for eight consecutive years.
They were treating difficult cases of tuberculosis, leprosy and AIDS. But I also observed how they treated more common conditions such as autism, depression, IBS, arthritis and eczema. In short, I was watching them successfully address health issues that a mother, a father or a grandmother could learn to treat in relatively short order.
I sat in on 100 cases every single day — six days a week. Over the span of eight years, I came away with what the world needs to know: much of homeopathy can be learned at home, including chronic conditions, without the arduous study of classical homeopathy.
I fully recognize some conditions and cases require the expertise of a fully trained homeopath. Still, much healing can be achieved at home — an individual can be charged with their family's care without resorting to unsavory conventional treatments.
And that is my mission: teaching others that homeopathy is not as difficult, recherché, or elite as one might think. 
So, now, I spend my days and nights passing on the good news of homeopathy.
I hope you will, too!
Warmly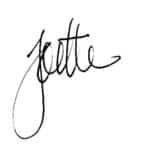 P.S. Don't forget, if you order medicines from Boiron, use my name (Joette) in the coupon box to receive a 20% discount! And I should mention that I do not have an affiliate program with them. This means (and this is important) that I don't get kickbacks from them or anyone. My desire to get you going in homeopathy is not driven by percentages that come back to me. 
If you want to give your loved one more than a few homeopathic remedies, might I suggest A Materia Medica: Practical Homeopathy® for Busy Families. I wrote that book with my readers in mind — no vague terms — just plain talk, memorable stories and a lot of education!
And for that very special loved one (or maybe you can drop this as a hint for yourself), I'm introducing new gift cards you can purchase through The Learning Center! Just pick out the dollar amount and select an applicable photo to personalize the card.
An email will then be sent to your recipient with all the information they'll need to finalize the choice of their course, pay with the gift card and register themselves as a student! Before long, your loved one will be taking care of their family's health with competence and confidence.
Just click here! It's so easy, Santa and Mrs. Claus can get all their shopping done, put their feet up and eat a few more cookies before the big day.