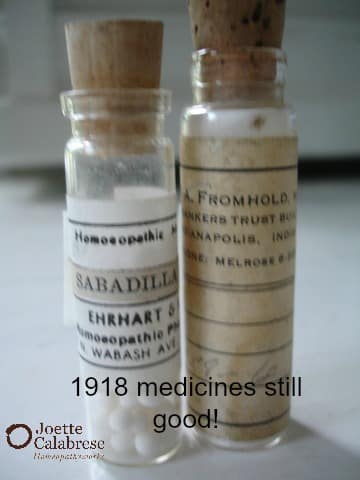 From an early age, I was enamored with fabrics and sewing; I made many of my clothes in grammar school and high school. I worked in a fabric store and could barely resist purchasing textiles I later came to realize I'd probably never use.
Today, and for the last 30 years, my passion is homeopathy. I've come to recognize that a true investment is not one made for my own pleasure, but for the overall well-being of my family.  
I know you understand because we share the same burning desire to take care of our families by using the most effective medicine we know: homeopathy.
I'm often asked which homeopathic remedies most families should own. My answer is that it depends on the following factors:
How much knowledge of homeopathy the family has

Their level of passion and commitment to the use of homeopathy

How much their budget allows for homeopathic healthcare

The types of illnesses and injuries they're currently experiencing, or are likely to encounter in the future

The ages of the family members and where they live. For example, if you're raising six kids in the countryside, I would recommend owning particular remedies that are specific to a broad array of scenarios including animal bites, farming injuries, insect bites, etc. I would also recommend owning a healthy selection of homeopathics that cover infancy and early childhood diseases as well.

While large city dwellers might have access to pharmacies and health food stores, they too ought to own remedies that cover those unexpected illnesses occurring in the middle of the night. It's much easier to open the medicine closet knowing you have the right remedy for a child suffering from croup than it is to trudge into the cold dark evening with the hope of finding the exact one you need.
Given the low price of homeopathic remedies, I can't think of anything more reassuring than knowing you always have what you need on hand, whether treating a condition entirely on your own or administering a remedy on the way to the hospital.
Homeopathic medicines may have expiration dates written on the label as required by the USFDA and other governments, but when properly stored, they will actually last for years (decades even!) I own homeopathic remedies manufactured in 1918 that are as effective today as they were back then. I know, I've taken the pills from those very bottles and used them.
I have them proudly framed in my office. This is quite impressive because it means these medicines are an investment that can be passed down from one generation to the next. "Here Honey, take this Belladonna 30C. It's from the bottle Great Grandpa bought when Grandma had a fever in 1946."
In my mind, this qualifies as one of the most valuable investments a person can make.
Where to start? Let's begin with cost. It's a greater bargain to purchase homeopathics in kit form. The more remedies there are in a kit, the lower the cost per bottle becomes.
The kit we sell in my office is just like the one I purchased for my family nearly 20 years ago.
I still own it, and would never travel without it. Originally, I purchased it as my mainstay, at-home kit but soon discovered I wanted to save it for road trips and international travel so I was always assured I had what I needed, no matter where I happened to be.
That's why I suggest that all families own a kit of at least 100 everyday remedies in a 30th potency. From there, I advise purchasing a kit that includes 200 potencies. Additionally, it is wise to own all 12 cell salts.
Once you've accumulated these underpinnings of self-care, the next step is to own those homeopathic remedies for more extreme situations.
When it comes to more severe conditions, there are certain core remedies every family should have at the ready. Hypericum perf 1M is not only the best remedy I know for pain following a dental extraction or procedure, (even as often as every hour, if necessary) it's also useful for injuries sustained to nerve-rich areas of the body. When it comes to sports-related accidents, both Arnica 1M and Aconitum 1M are invaluable.
Although there is good reason to own single remedies, I also encourage all families to own a handful of combination remedies manufactured by the likes of Boiron.
In my area (New York), these can be found at grocery stores, pharmacies and health food stores. Every year, new products are added to the inventory.
Today, homeopathy is much more prevalent, as evidenced by the sheer size of the homeopathy section in many of these locations. It can become quite the shopping experience when standing in front of so many remedies looking to peruse the latest combination remedy for sinusitis and sleep.
I'm particularly fond of Boiron because they are world leaders in the production of homeopathic products and as such, offer a number of interesting and effective combinations.  
Some count the number of available homeopathic medicines at about 3,000, while others figure it's closer to 6,000 worldwide; don't let these numbers intimidate you.
Remember, homeopathy is and has been used in hospitals, clinics and government programs around the world for over 230 years.
All you need is a variety that will protect you and your family in the present that you can then hand down to your grandkids in the future.
Starting with the top 100 remedies and adding specific ones here and there will prepare you and your family for many expected (and unexpected) medical events.
The natural next question is, "How do I use these medicines?" For those who have been reading this blog for some time, you already know the answer to that question. For those who are new, read the archived copies from this blog. You may just find the answer you're looking for.
Consider my little store filled with the most important homeopathic remedies your starting point and me your friendly guide ready and willing to help you along the way.
_____________________________________________________________________________________________
Do you consider yourself one of the smart, the prepared, the fiercely independent?  
Are you prepared for a medical emergency when a doctor, hospital or drug store is nowhere in sight?
Click here to learn more and download a FREE informational gift! The Zombie Apocalypse Remedies Poster: 23 Homeopathic remedies for when disaster strikes.