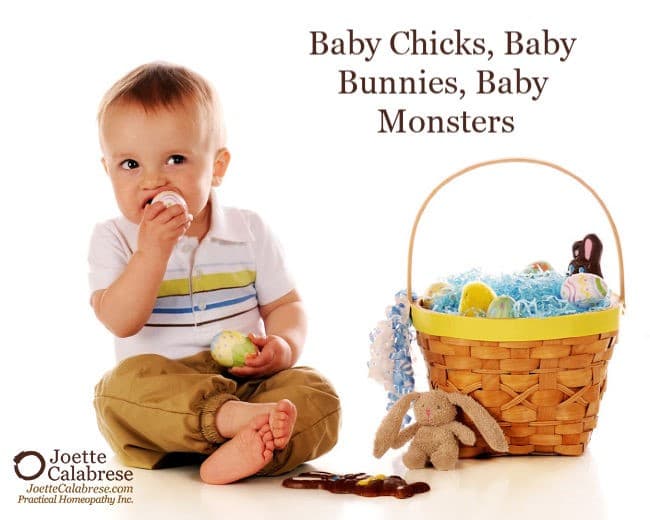 Happy Easter! Today is a special — and meaningful — day to share with family.
I want to take this opportunity to appreciate you, as a member of my extended homeopathic family. It's gratifying to know how many of you have incorporated Practical Homeopathy® into your loved ones' healthcare.
To watch you become confident and empowered is remarkable and invigorating.
Often, I read a testimonial that just stands out. Recently, one of my students posted this on Facebook: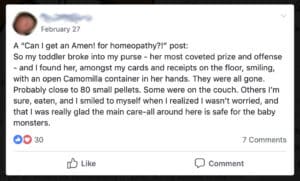 Amen!
Right she is!
Can you imagine the panic if her "baby monster" had broken into a container of Advil? Allopathic drugs are unforgiving.
But homeopathy is a beautiful medicine, indeed. It is gentle and polite, as well as effective.
So, while eating a full tube of pellets is not recommended, it is comforting for this mother to know that her family's "main care-all … is safe for the baby monsters."
This student's confidence is what I hope — what I know — each of you will gain as you continue your homeopathy education.
So, on this Easter Sunday, let me say thank you for following me on the journey toward self-reliance, allowing me to teach you about my passion — homeopathy.
While I couldn't resist the adorable-ness of the baby chicks and bunnies, kitschy things are not what Easter is about.
Today is a holy day, commemorating the resurrection of Jesus Christ. And for our Jewish friends, this weekend marks the beginning of Passover.
So, I wish you and your family a very Happy and Blessed Easter and joyous Passover.
Let's use these sacred days to renew our personal faiths and reaffirm our responsibility to live life with purpose, commitment and confidence.
God bless!