The other day, I overheard a young mother in the grocery store tell her friend that her six-month-old had "spiked" a fever of 103, so she called the doctor who prescribed Acetaminophen and an antibiotic.
I had to bite my tongue.
Really? What's wrong with a fever? And more importantly, giving such monumentally controlling drugs to an infant? Drugs that have never been tested on children?
How could a pediatrician be so wrong??
And with impunity?
I must remind myself that it's not unusual for medicine to offer botched-up advice. In fact, I contend that most everything after the diagnosis is tendered is twaddle.
Not only is the practice of pediatrics in lockstep with this, but they often lead the way.
This is where a mother gets her training, and a child learns that the only person to trust for health is the doctor.
Mothers have learned how not to learn.
Where did this all start? One germination field was with the Father of American Pediatrics, L. Emmett Holt, M.D.
In his popular book, "The Care and Feeding of Children," he instructed mothers to let their newborn infant cry so that the lungs can expand.  And this should take place every day from 15-30 minutes.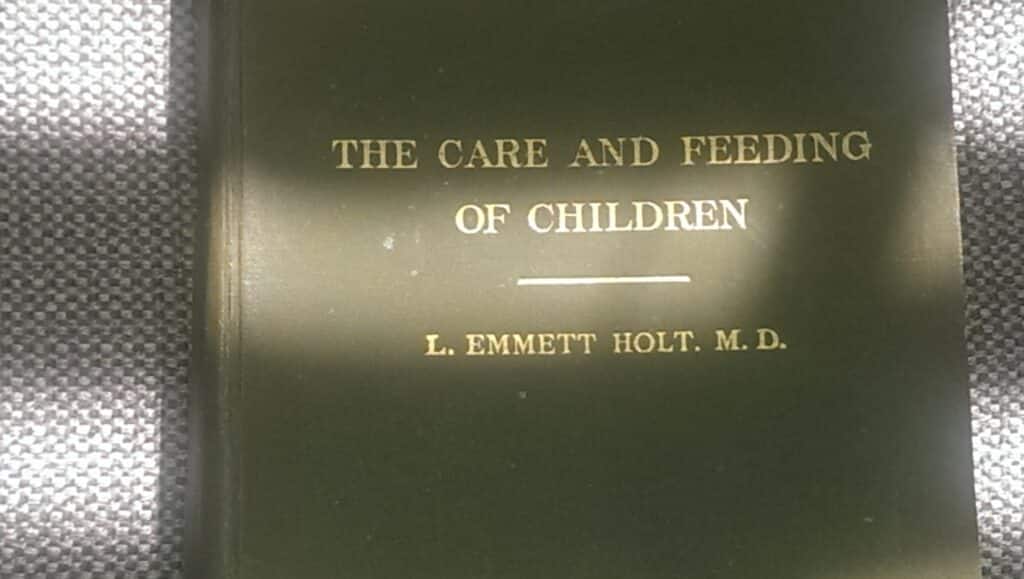 He says, "This is necessary for health. It is the baby's exercise."
More importantly, this American pediatric terrorist offered his readers a glimpse into what he thinks babies are.
"A nursery fence two feet high, made to surround a mattress, is an excellent device and makes a convenient box stall for the young animal" (my emphasis) "where it (my emphasis again) can learn to use both its (there it is again) arms and legs without the danger of injury."
Gotta love those pediatricians. They may get it wrong, but they act like they know anyhow.
What else have they gotten wrong?
Well, there's the tonsillectomy craze that has lessened only slightly over the last century for any tonsil that dares to stand proud.
Then there were the warnings to mothers that nursing their babies was barbaric and unscientific.
This medical opinion influenced two generations of mothers to commit to sugary baby formula instead of offering precious breast milk.
Something about these guys makes me think they were disdainfully viewing mothers and their offspring like they were members of a lost barbarian tribe or something.
Lest we forget the Accutane debacle; allow me to remind you that it was regularly prescribed by pediatricians for any pimple that tried to imitate a tonsil.
The drug was eventually yanked from the market, but not before it caused birth defects and suicides.
And now we have the birth control pill or shot (whichever your child prefers) for anything from menstrual pain to acne to an opportunity for the docs to train young girls to, "take control of their sexuality as young as possible."
It makes me nauseous just writing this.
But not to worry, I can get Compazine suppositories from a pediatrician for that, too.
These, my friends, are the reasons I learned how to treat my children's ailments myself.
This was my 3-part strategy:
I purchased a stethoscope. And no, I didn't wear it like a badge around my neck to elevate my status but rather taught myself to use it to listen for lung infections. Read below about what I used for bronchitis.
I had planned to buy an otoscope, but since every time one of my kids got an ear infection and I gave them the homeopathic, the problem was resolved within 3-6 hours and the need was simply no longer necessary, so I went no further. This saved me a few hundred dollars.
   2. I read and studied everything I could get my hands on related to the subject of homeopathy and curing my family myself.
   3. I sought out mentors and studied their works unceasingly.
One of my favorite books that had a weighty influence on my thinking back in the early 1980s was Dr. Robert Mendelsohn's book, "How to Raise a Healthy Child in Spite of Your Doctor."
One of his chapter subtitles underscores his position further.
It's titled, "The Key to Health: Stay Away From Doctors!"
Ok, you get the idea. I was fixed on not allowing an antibiotic, Tylenol, nor steroid to touch my animal's (Ahem. I mean child's) lips.
I also made the commitment early on that to leave my infant alone for 15 minutes per day to scream was cruel and might be considered child abuse.
Instead, I often nursed them when they cried. I at least tended to them.
Indeed, I was like a beastly savage with a stethoscope, books and remedy kit.
You can be one, too. 
The remedy I found most useful for when my kids got bronchitis 
With my stethoscope, I listened for crackling sounds in the lungs. (Not a difficult thing to master, by the way). Then, I'd administer Kali carb 200, every 3-6 hours. Sometimes, I'd consider Antimonium tart 200 if Kali Carb 200 didn't show improvement within about 24 hours.
Not perfection, just improvement.
That usually followed days later.
Ipecac 30 was often my choice for an accompanying nagging cough.
Contrast this with a pediatrician or pulmonologist who would have ordered x-rays, followed by drugs, drugs, drugs.
Whether it was pneumonia, or simply a chest cold, the above remedies would be correct.
No x-rays, no drugs, no more lung infection.
And at home.
________________________________________________________________________
My passion is to get homeopathy into the hands of mothers across the world.
I have been where you are now. I've dieted, taken supplements, bioidentical hormones, essential oils, herbs – but nothing, nothing has ever come close to the reproducible, safe, and effective results I and my clients have achieved with homeopathy. To see the full syllabus for my Feminopathy course and read the testimonials of other women who have been helped by my Practical Homeopathy® methods, click here.
Together we can get the word to mothers and grandmothers across the globe while curing our loved ones.