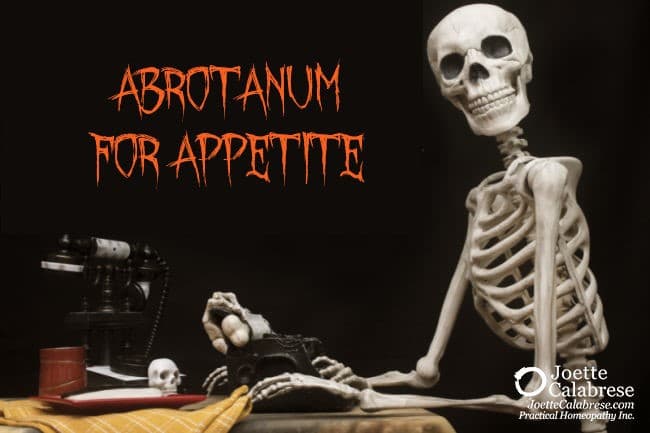 Today is traditionally met by eating too much candy. If that's already your issue, I've previously discussed how to address the effects chocolate can have on your metabolism in Put Down That Chocolate.
But the thought of all that Halloween overeating (coupled with the visual of skeletons everywhere) made me think of folks who don't eat enough! Whether by nature or pathology, certain individuals may find they have no appetite. Even a meal of real food doesn't appeal to them. 
Given that homeopathy offers an elegant solution, we mustn't stand idly by and watch our loved ones become skin and bones.
A client once approached me with grave concern for his son — a handsome little toddler who was wasting away because he wouldn't eat more than a few bites of bread each day. (The thought of breadcrumbs still reminds me of Hansel and Gretel. So, to protect his privacy, let's call him Hansel.)
Hansel had no appetite except for the occasional bite of bread and water. But as we know, "Man shall not live by bread alone."
And neither can toddlers.
Poor Hansel was literally wasting away. By the time my client approached me, the situation was dire. We needed to act quickly — perhaps too quickly for homeopathy to address this chronic issue. So, little Hansel received an interventional feeding tube to preserve his life, giving his parents time to address the underlying problem homeopathically.
Simultaneously with the feeding tube insertion, his family began administering Abrotanum 6C twice daily. Over time, the Abrotanum slowly helped increase young Hansel's appetite until the doctors were able to remove the feeding tube. After that, Hansel continued to eat enough to sustain himself and eventually thrive.
Indeed, this example beautifully illustrates that there is a place for modern medicine in our healthcare. Homeopathy can work seamlessly with necessary conventional lifesaving techniques. In Hansel's case, conventional medicine provided an immediate solution while homeopathy addressed the long-term pathology.
It is important to note that this medicine is not only for youngsters. It is also appropriate for individuals of any age who experience appetite suppression. Since my last few blog posts have focused on the caregiving of seniors, let me share the experience one of my team members had with Abrotanum 6C when her elderly mother, Eleanor, was using it.
Eleanor had lost over 20 pounds in short order. You know that I always stress the importance of getting a proper diagnosis; however, in this case, no pathology was found to be responsible. Her weight loss simply stemmed from having no appetite. Even her favorite foods were left uneaten and were merely pushed around on the plate.
My team member was at her wit's end! You can lead a horse to water, but you can't make a horse — or an elderly parent — do anything they don't want to do.
The good news? After only a few days of Abrotanum 6C, Eleanor began to show interest in food again.
My team member was astonished.
In only a few days, her mother's weight began to stabilize and then increase. Eleanor devoured entire plates of her favorite foods and even volunteered to try foods she hadn't tried before. It was a complete turnaround.
And, as is always the case, the homeopathic medicine did not interfere with the conventional drugs that Eleanor was currently taking. I say it all the time … homeopathy is polite. Indeed, it's so polite that it plays well with others!
Of course, as with other homeopathic medicines, Abrotanum should be discontinued when the sufferer's condition is very much better. However, observe carefully. In Eleanor's case, when the lack of appetite would seem to return, another few days' administration of Abrotanum would again resolve the problem.
There is enough for caregivers to worry about without fretting over their charge's sustenance. Abrotanum is the homeopathic answer for young children, the elderly, and anyone in between who suffers from a complete lack of appetite — even pets!
So, the next time your friends or loved ones express concern over a diminished appetite, pass on the good news of homeopathy!
Warmly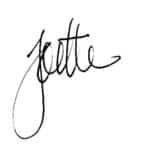 P.S. I discuss Abrotanum in my course, Good Gut, Bad Gut: A Homeopathic Strategy to Uproot Seemingly Unrelated Illness in Body and Mind and how to integrate it into a full schedule of homeopathic medicines for other concerts. In fact, I cover a great many medicines in that seminal course. Many conditions begin in the gut and can be nipped in the bud with proper use of homeopathy.
I highly encourage you to complete a Gateway to Homeopathy study group to lay a good foundation. But, when you're ready to take your first course, start with Good Gut, Bad Gut. The gut is the seat of a lot of our illnesses. This isn't a principle we learn in homeopathy (it's more naturopathic), but usually, if your gut is fine, then your brain is fine, your skin is fine and your uterus is fine (and on and on). That's obviously a broad generalization, but I often find it to be true. I also thoroughly cover case management within Good Gut, Bad Gut. It will be a valuable, comprehensive resource for your entire family.
And remember — all of my Mighties (Joette's Mighty Members) qualify for a 10% discount on course purchases. If you need assistance getting your discount, email contact@practicalhomeopathy.com for more information.