You Too Can Protect From the Flu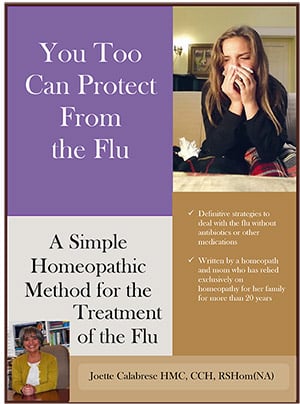 Is it a cold or influenza?
Do you know the difference? And do you know how to handle them when they strike your family? Without drugs and expensive commercial products designed to treat the symptoms without alleviating the underlying cause?
You Too Can Protect From the Flu is a definitive compilation of homeopathic strategies to deal with the flu, based on more than a century of work by the greatest minds in homeopathy.
Homeopathy has a history of effective treatment for any flu. The homeopathic hospitals that treated victims of the 1918 flu pandemic had a mortality rate of less than 1% while the mortality rates in conventional hospitals were 30-60%!
Now you can put these effective, simple and inexpensive strategies into effect to protect yourself and your family from the pain and suffering brought on by the flu. Joette Calabrese will teach you the tips and techniques she has learned from teachers across the world and in her 20+ years of homeopathy practice.
This year if the flu strikes…you'll have the tools you need at your finger tips to fight back and win!

Here's what people are saying about Joette Calabrese and You Too Can Protect From the Flu :
"I just have to share this: My daughter began to not feel well with a fever and extreme tiredness. She went to lie down and looked ghostly pale and then threw up. I gave her Nux vomica, but there was no change. I had just received Joette's packet with info on Gelsemium. I read it and the symptoms matched perfectly, so I gave her 4 little pills of Gelsemium. In 10-15 minutes, she sat with us eating, laughing and playing. Her eyes were brighter, she was up and around, and her face had color. This is incredible!"
Cathy Mahley, Houston, TX
"Joette Calabrese is a highly qualified tutor on staff at the British Institute of Homeopathy. In my association with her as a colleague and as director, I find her to be a committed, experienced and enthusiastic homeopath worthy of distinction. The British Institute is honored to be associated with Joette."
Maria T. Bohle, CCH, RSHom(NA), ACACN, DHM, DCN
Director, British Institute of Homeopathy
"Competence and integrity…these are words that best describe Joette Calabrese as a classical homeopathic practitioner/educator."
Dr. A. U. Ramakrishnan
Hony. Homeopathic Physician to the President of India