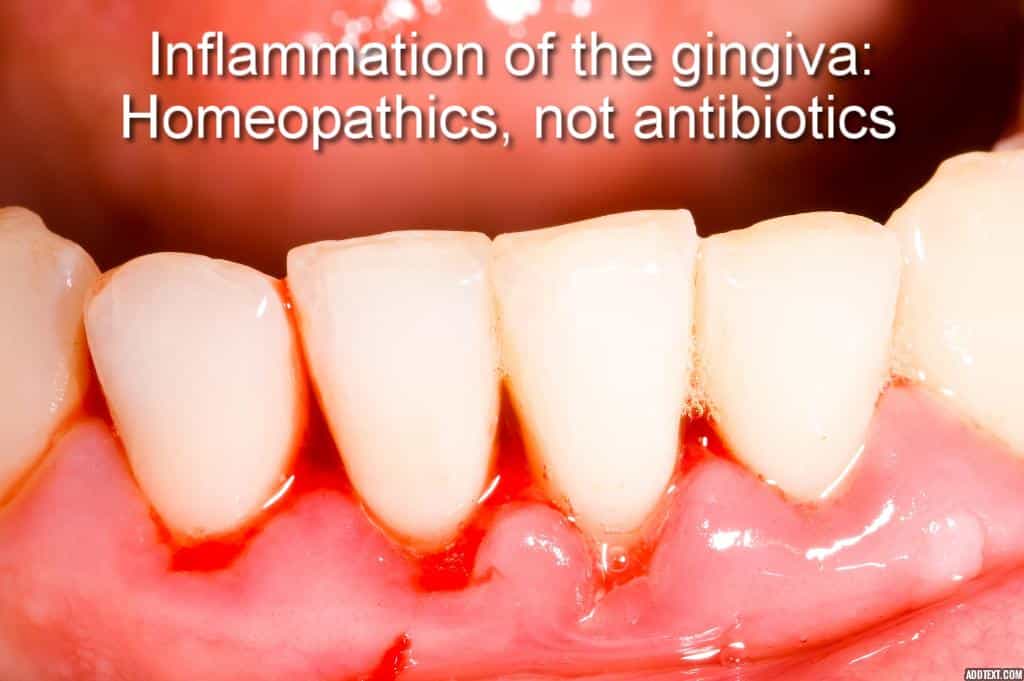 I love those "itis" diseases.  You know, the suffixes where "itis" is placed after the noun that determines the location of the disease.  Since it means " inflammation of", it's easy to determine the ailment:
Tendonitis = inflammation of the tendons 
Tonsillitis=inflammation of the tonsils
Hence, Gingivitis=inflammation of the gingiva
By breaking down the word into its components, it not only gives us information, but also comfort in knowing that the disease is often not as serious as it sounds. It's simply an inflammation.
It's true that in most cases, Gingivitis is generally not a disease of severity and homeopathy has repeated success in treating it without antibiotics. 
 Let's discover what natural medicines are available for this condition, shall we?
The key homeopathic remedy for Gingivitis is Merc Sol 30c .  This is of particular value when the tongue is heavily coated.  It can be taken twice daily.
Until I began working with Drs. Banerji in Calcutta over the last few years, I suggested using this medicine as my go-to for this condition, but they often use Hepar Sulph 30c twice daily.
There are differentiations that could be made as an argument for the choice of one over the other, but to make this super simple, try one for many weeks and if there's no improvement, (and I mean no improvement at all) then switch to the other one.
For exactly how long should one or the other of these medicines be used?
Given that this is a blog directed to thousands and not an individual case, the best answer I can offer is to use the homeopathic for 6-8 weeks.
Once the 6-8 weeks is up, it's time to assess.  This means that if improvement has begun, but is not fully complete, continue for another 6-8 week period and assess again.
If improvement is fully realized, STOP! 
This is the part that causes more problems in using homeopathy for those new to it.  I will kindly remind you that homeopathy has no relation to vitamins or supplements, where you're expected to consume the stuff for years. 
Homeopathy has the ability to address even the most severe cases of mouth disease.  It is safe, gentle, effective and carries no side effects.
The next time your yapper speaks of illness, use homeopathy; the world accepted medicine highly deserving of some good word of mouth! 
Warmly,
Joette
P.S. Check out my FACEBOOK group page for a course that my staff and I have been working on for many months entitled Feminopathy: How You Can Correct Female Ailments Using Safe, Inexpensive and Effective Homeopathy. Or if Facebook is not your pleasure, consider joining our Founders List and get a sneak peak at the course outline plus a 10% discount for early registration.