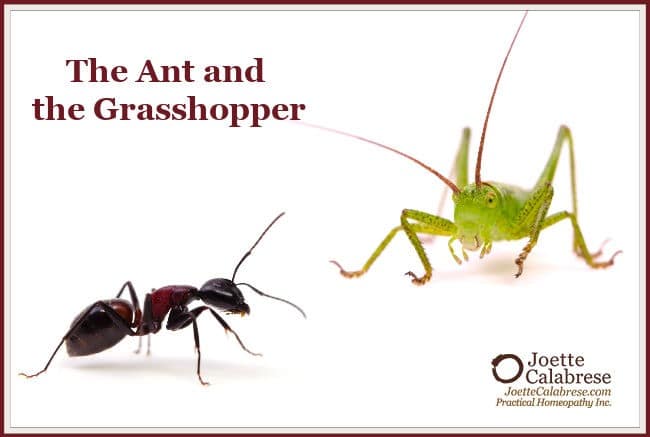 "The Ant and the Grasshopper"
One bright day in late autumn, a family of ants were bustling about in the warm sunshine, drying out the grain they had stored up during the summer, when a starving grasshopper, his fiddle under his arm, came up and humbly begged for a bite to eat.
"What?" cried the ants in surprise. "Haven't you stored anything away for the winter? What in the world were you doing all last summer?"
"I didn't have time to store up any food," whined the grasshopper. "I was so busy making music that before I knew it, the summer was gone."
The ants shrugged their shoulders in disgust. "Making music, were you?" they cried. "Very well; now dance."
They turned their backs on the grasshopper and went on with their work.
If you missed my podcast last week (Podcast 102: A Day in the Life), you didn't hear my brief discussion about this classic Aesop's fable. When I was introduced to it as a child, it caused me a bit of confusion. Coming from a musical family, I thought extended time practicing one's instrument was a good thing!
But then I understood the more profound meaning — preparedness and personal responsibility.
As I teach homeopathy, I try to stress the importance of preparation and personal responsibility as firmly and as often as I can. But nothing I could have said — nothing — has made this principle clearer than the events of this year.
Did you try to purchase a homeopathy kit during the height of the virus concern?
It was almost impossible — at least without lengthy waiting periods.
So, I'll say it again: Own the remedies you may need BEFORE you need them!
Like anything else in a free market, when you most need a homeopathy kit (or particularly appropriate medicines), they are in heavy demand and, unfortunately, quite hard to get.
You may find yourself as the grasshopper — lacking the essentials.
If you are unable to find a curated kit, be like the ants and build your own! Store something away for "the winter."
But how do you determine what you need? Well, there are a few remedies everyone should have on hand:
My gosh, there are so many, I don't want to stop!
Okay, okay, let's approach this from another direction. My suggestion is you think specifically about your family — your needs. Look at the homeopathic medicines you learned in the courses you have taken.
Was my Allergic?! course the most appropriate course for you and yours — perhaps because hay fever runs rampant through your family?
I'm sure your carefully taken notes from the course highlighted the efficacy of Calc carb 200, generally taken every other day, until very much better. (Scroll down for a free Remedy Card of this medicine.)
Wouldn't Calc carb 200 be an absolute necessity in your kit?
Of course, it would!
Did you take the Good Gut, Bad Gut course because it most applied to your family's issues? Perhaps you should stock Lycopodium if it most precisely fit the case.
What if Aurum met stood out to you for your husband as you took the Mindful Homeopathy course? You wouldn't want to be without it because you didn't plan adequately, would you? Of course not.
And if you took the Feminopathy course to discover an answer to your specific hormonal imbalances, I'm sure no one in the family wants you to be without Sepia.
Those are just a few examples out of many.
Comb the courses you have taken. If you're going to build a kit, make it personal — to you and your family. Yes, indeed, you must own the most commonly used remedies. But don't forget to include those specific medicines your family members can't do without — especially during trying times.
Here's another idea that Kate brought up in Podcast 102: A Day in the Life for building even more specific kits.
She creates a small box for whatever is going around at the time (the flu, chickenpox, whatever it might be). Naturally, she stores the condition-specific medicines in the box. But she also includes an index card listing the remedies included with instructions on how to use them.
Kate said, "Say influenza is going around, I'm going to put all the medicines that I might need with influenza in that box and write those down on the card with what symptoms that particular medicine might be useful for.
So that, when I get sick (or someone in my family does), I don't have to go to my cabinet and try to figure out all the different remedies that I might use for influenza and what symptoms that they would pertain to. I just have it all in that case, so I can take it with me near my bed. I can give it to my daughter — someone that might need it — and it's all right there and organized."
Isn't that brilliant? Many times, when we're ill, we don't think straight. So, having everything all organized together — including the instructions — takes the guess work out. Especially if you're so ill, someone with less experience in homeopathy needs to deliver your medicines to you.
When creating your condition-specific kit, consider what various symptoms might be manifested by the illness. For instance, in Kate's example, she was preparing for the flu. I'm sure she considered remedies to address coughs, fever, chills, exhaustion, body aches, etc.
And by the way, the little boxes Kate talked about utilizing for her kits are sold by OHM Pharma (available to my students) in their "Kit" section. Although they are smaller, they are very similar to the ammunition boxes that a student shared in #54 of my At Home with Homeopathy Daily Tips during the shutdown. She got hers (below) at Sportsman's Warehouse.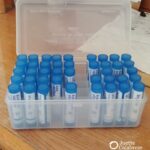 I am so captivated by this subject; I could go on forever. But I think I've made my point.
My closing words in summation are: Be an ant! Don't be the grasshopper!
Be prepared. There is no excuse for being caught unaware.
But as my family and I can attest, there's plenty of time in the day to both make music and get prepared for times of need.
OWN the remedies you may need. If you cannot purchase a curated kit, then make your own. But don't wait.
You've got this. You've got guts, spunk and moxie. The only other thing you need is your stockpile of homeopathy!
Please pass on the good news of homeopathy — and preparedness!
Warmly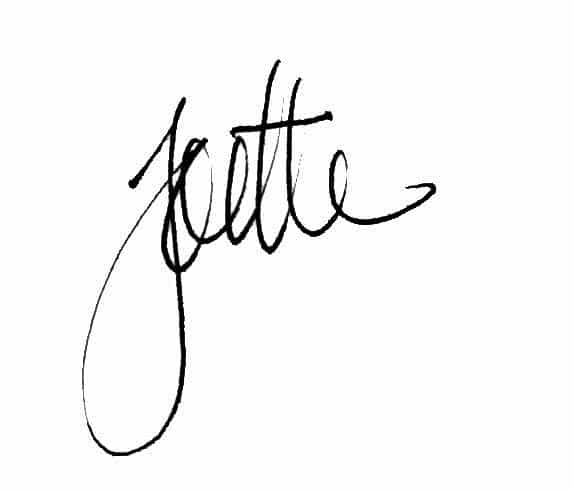 P.S.  If you have not joined yet, may I invite you again to become one of my Mighty Members! For a nominal membership fee, you will join a select group of like-minded people in an environment created just for you.
I feel I can be more candid as we share time together in our own little sandbox. To that end, I post occasional little video snippets created just for you. I simply grab my phone when I have a thought — as it occurs to me — whether I'm all made up or just going out for a walk or coming back from a swim.
I offer weekly Memos to Mighty Members. (They are very similar to my popular At Home with Homeopathy Daily Tip series.)
And there also is a private forum for members only — hosted on our servers — for you to have discussions with each other. (And I admit, I do enjoy popping in from time to time.)
Plus, those of you who do not wish to join Facebook will find access to the Facebook Live events — as they happen! No more missing out!
These are just a few of the benefits of becoming a Mighty Member. Learn more here. I hope to see you there.