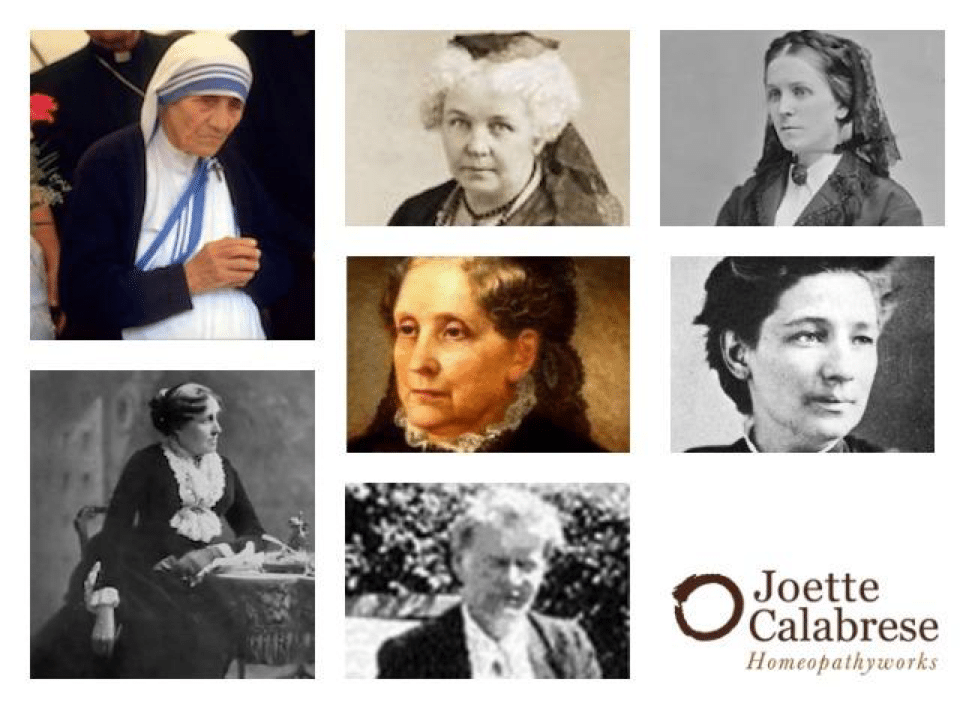 Take off those ghastly hats worn at the Women's March. Put down the signs that declare our taxes ought to pay for someone else's birth control, and cut it out that killing an unborn child is a woman's right.
Excuse me, but I find it all so petulant and immoral.
Instead, take a step back and look at what mothers, and women in general, were doing when the issues were real. You know, like taking care of children, taking care of their families and, when life allowed, taking the message out to mothers and others by opening medical schools.
Here are a few mothers who knew what was important, took charge, and did it. They are the pioneers of homeopathy who enabled us.
And what do you know. They didn't whine or need the odious third wave of feminism to do it!
Here's what was happening a century or so ago:
When allopathic doctors were offering barbaric treatments such as bloodletting, leeches, mercury, and morphine, women went looking for safer, gentler methods. They were drawn to homeopathy not only because of its effectiveness but also because it considered the emotional and mental concerns of a person when selecting the correct remedy.
Their male homeopathic counterparts were, of course, drawn to homeopathy for the same reasons. But mothers then, just as today, needed real answers that were safe and effective for their families' health conditions.
To honor a few true heroes on Mother's Day, here are some of the stand-out women of homeopathy:

Dr. Mercy Jackson (1802-1877)
Dr. Jackson gave birth to 11 children and became a mother to four more. As a girl, she had dreamed of a career in the medical field. However, opportunities for women during the early 1800s were limited to being a nurse or midwife. By her mid-50s, Jackson had lost two husbands and several of her 15 children to illness and disease, which thus sparked her to return to her dream of receiving a formal education in medicine. She received her Doctor of Medicine at the age of 58. Her success with homeopathic treatments is legendary, most notably in her specialization of Obstetrics and Gynecology. In fact, next week, we will discuss one of her amazing remedies for childbirth in depth … so stay tuned! 


Dr. Clemence Sophia Harned Lozier (1813-1888)
Dr. Harned Lozier opened the first homeopathic medical school for women in 1863 — the New York Medical College and Hospital for Women. Hers was the first hospital to offer a course in hygiene and preventative medicine. She felt that "woman was, by every instinct and aptitude of her nature, better fitted for the medical profession than man." Kinda describes how I (and probably you, too) feel about mothers being in charge of their family's health care.
Elizabeth Cady Stanton (1815-1902)
Elizabeth Stanton had seven children and treated three of them successfully for malaria — with homeopathy. She later became a lay practitioner and brought homeopathy to her community.
Louisa May Alcott (1832-1888)
Yes, that Louisa May Alcott, the author of the beloved novel Little Women. She was an advocate for homeopathy. If you haven't read it recently, you might enjoy the homeopathic references you may have missed when you read it the first time around. The character Jo treats the character Beth's scarlet fever with Belladonna.
She also treats her own headache with Arsenicum and an ankle injury with Arnica. In her later novel, "Jo's Boys," Nan, the main character, becomes a homeopathic physician! For historical reference, you might be interested in knowing that educated women of the last two centuries were noted for using homeopathy.
Victoria Claflin Woodhull (1838-1927)
Not only was she a strong advocate for homeopathy, but she was also the first woman to own a Wall Street investment firm, the first woman to own a newspaper, and the first woman to run for president (she lost to Ulysses S. Grant).
Dr. Dorothy Shepherd (1885-1952)
Dr. Shepherd was a British medical doctor who used conventional methods until she learned of homeopathy. In fact, she wrote several books that provide insight into her frustration with allopathic medicine and the solutions she found in homeopathy. She then instructed her staff in homeopathic protocols, especially for trauma and emergencies. She was known for recommending Calendula instead of conventional antiseptics. We now know that this remedy speeds healing controls bleeding and soothes pain, as well as performing as an antiseptic. Her advice holds true today. If you experience a cut, scrape, skin irritation or minor burn, don't head to the drugstore for a synthetic antiseptic. Keep Calendula Cream on hand. When your injury heals, remember to tip your hat to Dr. Dorothy Shepherd. Read her books. I've read them all at least three times and suggest you do the same. Many of her books are available on Amazon.

Mother Teresa (1910-1997)
Among her many accomplishments, Mother Teresa used homeopathy to treat the poor in India. That's what she was doing in Calcutta. She opened her first homeopathic medical dispensary in Calcutta in 1950, and her order, the Missionaries of Charity, still stand today continuing their missionary work.
These women contributed publicly and historically to advancing their own charities and the homeopathic movement, and they deserve our praise and respect. 
YOU (2017)
Despite how busy you are, you continue to study, to learn, and to share your knowledge of homeopathy with others. YOU continue to treat your family, standing up to the pressures of conventional medicine and Big Pharmaceuticals. YOU are carrying the torch of the great women who came before you … continuing to use homeopathy to make life better for yourself and those around you.
On this Mother's Day, recall your homeopathic achievements.
And I can't let Mother's Day pass without giving you a little gift. Allow me to introduce a new feature that I plan to include with each new blog post: Homeopathic Remedy Cards.
Just like kitchen recipe cards are at-the-ready when you need to pull out an appetizer for a surprise guest, so too, will your remedy cards be ready for reference when a surprise illness or injury stops by.
Enter your name and email below to download your FREE remedy card containing this week's featured remedy: Calendula
Attributions:
Photo of Dr. Mercy Jackson: By Jane Port, curator (Pilgrim Hall Museum) [CC BY-SA 4.0 (http://creativecommons.org/licenses/by-sa/4.0)], via Wikimedia Commons
Photo of Dr. Clemence Sophia Harned Lozier: http://www.findagrave.com/cgi-bin/fg.cgi?page=pv&GRid=32230947
Photo of Dr. Dorothy Shepherd: http://www.homeorizon.com/images/user-files/homeopaths/shephered.jpg
Photo of Victoria Woodhull: https://en.wikipedia.org/wiki/Victoria_Woodhull
Photo of Mother Teresa: By © 1986 Túrelio (via Wikimedia-Commons), 1986 /, CC BY-SA 2.0 de, https://commons.wikimedia.org/w/index.php?curid=2247034
---
I am a homeopath with a worldwide practice working with families and individuals via Zoom. I'm also a teacher and most importantly, a mom who raised my now-adult children depending on homeopathy over the last 31 years. I lived decades of my life with food intolerances, allergies, and chemical sensitivities until I was cured with homeopathy, so I understand pain, anxiety, and suffering. You may feel that your issues are more severe or different than anyone else's, but I have seen it all in my practice and in my work in India. My opinion is that nothing has come close to the reproducible, safe and effective results that my clients, students and I have achieved with homeopathy.
Call today and learn how homeopathy might just be the missing piece in your health strategy.
---
Joette is not a physician and the relationship between Joette and her clients is not of prescriber and patient, but as educator and client. It is fully the client's choice whether or not to take advantage of the information Joette presents. Homeopathy doesn't "treat" an illness; it addresses the entire person as a matter of wholeness that is an educational process, not a medical one. Joette believes that the advice and diagnosis of a physician is often in order.
---
We've provided links for your convenience but we do not receive any remuneration nor affiliation in payment from your purchase.
---
The Author disclaims all liability for any loss or risk, personal or otherwise incurred as a consequence of use of any material in this article. This information is not a substitute for professional medical advice, diagnosis or treatment.