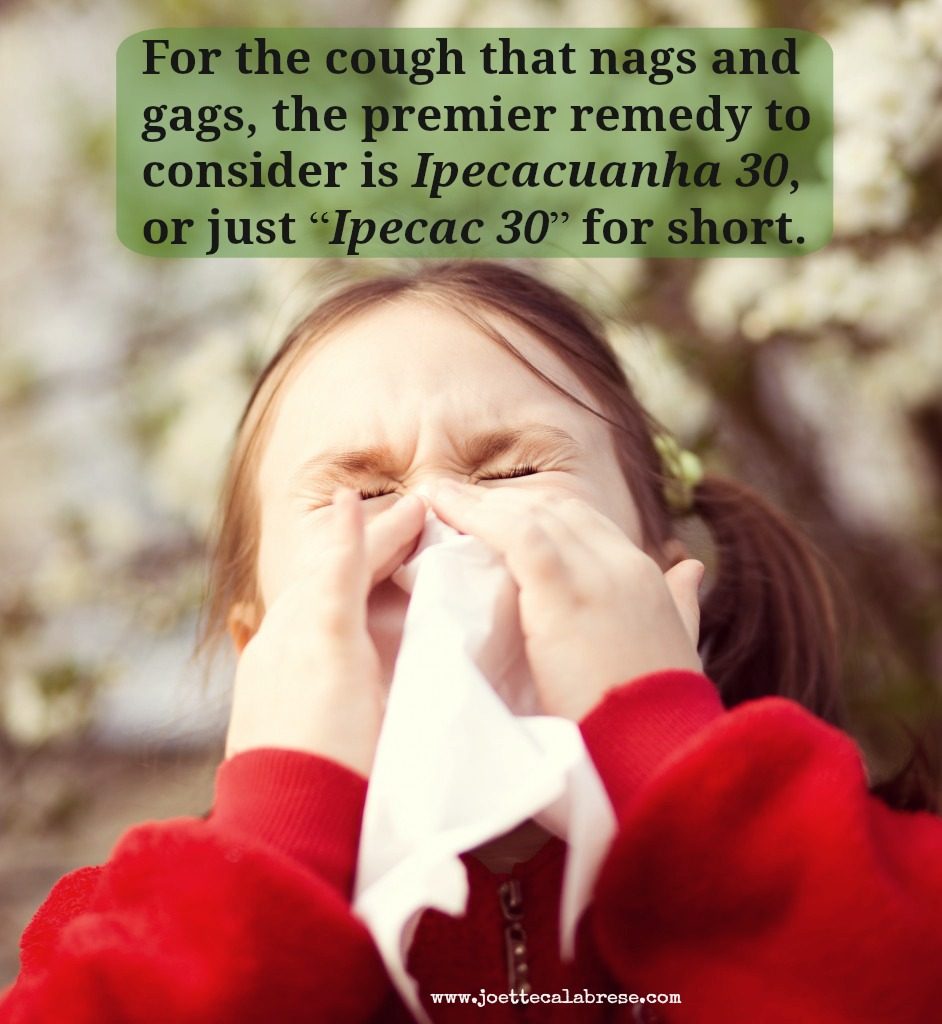 This cold and flu season has been marked by coughs, and I receive communications each week from clients/students afflicted by a cough that nags and gags. The frustrating thing about coughs is that throughout the day they tend to shift and change a bit.
In the morning, for example, the cough may be productive as the mucus has settled into the throat and chest overnight, but then by the end of the day it may sound dry. So one might ask, "Is this a dry cough or a wet one? Is it gagging if it only causes spasms in the morning?" The beginner to homeopathy is often at a loss as to which remedy to choose and on what set of symptoms to focus.
So I'll try to simply.
For the cough that nags and gags, the premier remedy to consider is Ipecacuanha 30 or just "Ipecac 30" for short.
Unfortunately, many pass over this remedy. Their reasoning is that because they are not gagging all day with every cough, they must not need Ipecac. Let me clarify that no set of symptoms has to be perfectly consistent to match the remedy. You simply need the keynote symptoms to consider a remedy, and gagging, nagging are just that.
It's important to recognize that this remedy also lends itself to spasmodic coughs, which make it difficult to breathe between hacking.
For example, when morning ushers in coughing and gagging, this should most surely alert you to consider Ipecac 30. And if the gagging is accentuated, this is sufficient reason to try it.
But what if, after the morning passes, the urge to gag stops? Well, a presentation of this symptom, even if only during a portion of the day, is sufficient enough to consider Ipecac, regardless of whether the gagging continues throughout the day.
As the day progresses, you may notice moments of quiet and calm, followed by yet another coughing spell. Now you have sure footing to continue Ipecac. This is a nagging cough. Coughing that makes it difficult to catch your breath or brings about the urge to vomit is a slam-dunk for Ipecac. Watch closely and observe.
There are, of course, many other remedies for coughs. For example, liquid-y or even whooping coughs often call for Drosera 30, and coughs that sound like a saw grinding through wood point us to Spongia 30. I also favor Hepar sulph 30 for coughs that don't seem to fit any specific description or when all else fails.
Once you've selected the remedy, stay with it for a minimum of four doses and observe. If there's improvement at any time during or shortly after the last dose, then rest assured that you're likely onto the correct remedy. Then stick with it. It can be taken twice or thrice daily for the lingering cough. Consider using it every three hours or so if very severe.
Continue until these events are over.
Otherwise, stop and consider a different remedy. And as always, keep good records that include date, time, noteworthy symptoms and remedy choice. I guarantee that unless you have monumental memory skills, you're likely to lose track of what you've chosen and changed.
Always remember that the goal is not to mask symptoms but to uproot illness. And, of course, to stay as far away from steroids and antibiotics as possible. Each time you are successful at drug abstinence, you will have moved in a direction of not only wellness that is genuine instead of propped up but also a resolve that illness can be dealt with without drugs of commerce.
With nimble accuracy, homeopathy will make you the hero of your home. "Hey Mom, I'm not coughing anymore!" That's when you can nag in a productive way. "Okay then, take out the garbage."