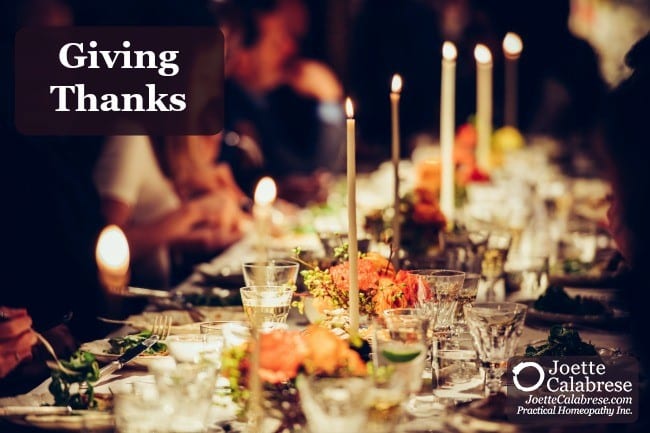 Thanksgiving first calls to mind the importance of family. I am thankful for my beautiful family — today and every day.
Through the years, my family has certainly enjoyed their share of traditional celebratory food.
But there was a time in my life when I couldn't touch the stuffing, because of the bread. I didn't dare enjoy the green bean casserole, because of the almonds.
And I certainly couldn't even nibble at the cannoli I had slaved weeks earlier, making the shells from scratch as any good Italian would. The cheese and wheat in those little treasures would have done me in.
Do you have any idea what kind of torture it is for a Sicilian not to eat a cannoli?
So today, around our Thanksgiving table, I will give thanks for a great many things — not the least of which is for the ability to enjoy all of the beautiful traditional foods with my family.
Thanks to homeopathy, my food intolerances have been uprooted. Which means  I no longer have them, so I can fill my plate with the bounty we serve at dinner, and yes, leave room for those little flaky tubes of deliciousness! 
Just like the meal, my life-long study, practice and teaching of homeopathy are all "intellectually" delicious. Thanks to you for joining me on this path. Your support and enthusiasm keep me not only bolstered but also passionate about my mission to bring homeopathy to 200,000 families by the year 2020. (We've already surpassed my goal of 100,000 just this year.)
Happy Thanksgiving to you and each member of your family, as you continue to pass on the good news of family and homeopathy!
Warmly,