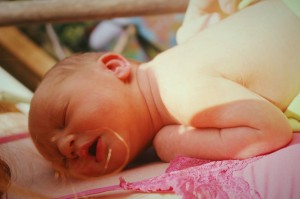 Back in the '80s when I was birthing my first child, it was difficult to find a doctor who would agree to the kind of experience I wanted.
My idea of birthing was one in which I did all the work, and the midwife or doctor stood by in case I needed them. No drugs. No procedures. No interference.
I did everything I knew to make that happen.
But just moments before I gave birth to our first child, a vigorous discussion with the OBGYN ensued while I was in transition.
You might know about transition: the component of birthing where you wonder if you'll make it because it's the most rigorous and painful phase of childbirth. Mine turned into a debate with hospital staff, thank you very much.
"Why don't you want a vitamin K shot for your baby?"  the nurses and doctor grilled relentlessly.
I confess that I don't have much confidence in hospitals and their procedures. It's not that I think they're scalawags; it's that I don't trust a measurable amount of medical research and the subsequent practice based on it.
Of all the interventions, in my considered opinion, vitamin K injection was one of the most superfluous, particularly given the homework I had done.
What I Learned
As usual, the arguments in favor of injecting a newborn with a vitamin K shot and those against contradict each other. Not unlike most medical squabbles, after reading both sides, you wonder how medical science could be called scientific.
The reason vitamin K is considered at birth is that low levels of it are blamed for internal bleeding of the infant's brain as a result of injury during birth, particularly in forceps deliveries.
According to some medical reports, anywhere from 1.8 to 5 out of every 100,000 babies who do not receive vitamin K injections suffer permanent injury or death due to bleeding in the brain from the trauma of birth, particularly around 3 to 7 weeks after birth. Of those babies that experience bleeding, 45% suffer permanent brain damage or death.
At first blush, this is scary, but let me remind you that the dangers are considered rare.
Nonetheless, this subject is worthy of our attention, particularly as protection from intracranial hemorrhaging is not difficult to prevent, and the injection itself poses risks.
It's important to recognize that atypical bleeding is generally the result of liver disease, likely undetected until the bleeding occurs, which is usually days or weeks after birth.
Certain liver problems can reduce its ability to make blood-clotting factors out of a normal amount of vitamin K. The theory is that large amounts of K could prevent this kind of a bleed.
Infants exposed to drugs or alcohol are particularly at risk for these liver disorders as well as those from mothers on anti-seizure medications.
Mothers with these histories skew the overall statistics, bringing the risk to those of us who don't fit that group even lower.
It is important to understand that newborns are born without vitamin K. They don't start manufacturing it until the proper bacteria are introduced into their guts via breast milk, which is of course a powerful argument for breastfeeding.
Though we may not understand why this is, it is the way nature intended and therefore ought to be trusted as long as we are prudent in our approach.
Dangers of Vitamin K Shot:
No one in the medical field warns you that there are dangers to newborns associated with vitamin K shot. Never expect full disclosure of the dangers of medical procedures from those who use them.
Danger #1: One of the most alarming threats is the reports of anaphylactic shock due to this injection. Some sources suggest that this is rare, but then so are the numbers on the other side of the argument.
Danger #2: In the 1980s the belief was held that the introduction of levels that are 20,000 times the usual newborn level, (the amount usually injected) are not without consequences. A possibility of 80% increased risk of developing childhood leukemia had been associated with the practice of injecting vitamin K at birth.
Danger #3: As always with vaccines, certain vitamins and drugs, there's the issue of preservatives that are included in the formulation.
Danger #4: Consider the effect of imposing pain, which has the potential of rummaging psycho-emotional damage at a most precious moment in my newborn's life.
Danger #5: In the last few years, media began reporting the sweeping problem of opportunistic MRSA and other dangerous infections rampant in hospitals. An injection site is the perfect breeding ground for such infections, particularly in an immature immune system.
What I Did:
Without the advantage of the Internet and only a handful of sources, it didn't take long to learn that certain greens eaten weeks in advance and in abundance could offer enough vitamin K so as to avoid deficiency.
Additionally, I reasoned that if scurvy could be prevented by eating foods high in vitamin C and we could be absolved of beriberi with the ingestion of foods high in vitamin B, then why would it be any different when it came to vitamin K?
I began a routine of drinking nettles and raspberry leaf tea from the time I learned about this, which was early in my first trimester.
I made it my drink of choice in my forthcoming pregnancies and nursing periods as well. Of course, I also ate dark leafy greens, especially wild greens frequently: cardoons, dandelions, purse lane, spinach, Brussels sprouts, beet greens, etc.
What I Know Today as a Seasoned Homeopath
Given the potential dangers of infections, questionable, unpronounceable preservatives, a remote, but nonetheless chance of leukemia and anaphylaxis, psycho-physical reaction and infection, the scales are tipped towards a gentler way of making vitamin K available to babies.
Even supplementation of low oral doses of liquid vitamin K can be taken by the mother a few weeks before birthing and administered to baby from birth for weeks. This was not my choice because I eschew synthetic vitamins.
Having said all of this about vitamins, homeopathic medicine is a method that transcends vitamin therapy. That is, in spite of the number of vitamins and nutrients that may be lacking, homeopathy often treats the disease anyway. Moreover, with alacrity.
Take Arnica montana 200C, for example.
It is one of the most powerful (yet extremely gentle) homeopathic remedies for head trauma and subsequent bleeding known to mankind. I've witnessed its ability time and again for injuries to the head in ski accidents, automobile accidents, vascular bleeds and other cranial traumas. European professional ski teams count on it.
It is routinely used in the ER for head and other traumas in a large hospital in my hometown, and plastic surgeons use it as a rule for hemorrhaging.
And if that's not enough, Arnica also happens to be an important medicine to administer to laboring moms for pain, bruising and bleeding and is inadvertently given to babies at birth for unseen traumas.
Something that has been used at birth for centuries to protect from hemorrhaging without any knowledge of vitamin K deficiency.
How encompassing!
How innately intelligent!
How like homeopathy.
Arnica montana 200C can be used during labor to not only aid in pain management but to protect against bleeding and bruising. Taken at the onset of labor and continued every 3-5 hours and especially just after birth is a well-established plan for both mother and baby.
Many homeopaths recommend giving the baby a dose twice daily for a week while the mother can take it every few hours for a few days for any soreness and overall well-being.
So, do your homework, drink your nettles tea, eat lots of fresh greens, don't drink alcohol or take drugs, make sure you have a gentle birth without forceps (the subject of another blog) and most importantly, get yourself a bottle of Arnica montana 200C.
And when reviewing the literature in favor of vitamin K shots remember, breastfeeding a child was considered unscientific and barbaric by the whole of the pediatric community only decades ago.
And they had their studies to demonstrate their posture.
______________________________________________________________________________________________________________________________________________________
I have been where you are now. I've dieted, taken supplements, bioidentical hormones, essential oils and herbs – but nothing, nothing has ever come close to the reproducible, safe, and effective results I and my clients have achieved with homeopathy. To see the full syllabus for my Feminopathy course and read the testimonials of other women who have been helped by my Practical Homeopathy® methods, click here.
_______________________________________________________________________________________________________________________________________________________
Some references
1. L.G. Israels et al., "The riddle of vitamin K1 deficit in the newborn," Semin Perinatol 21, no. 1 (Feb 1997): 90-6.
2. P. Reverdiau-Moalic et al., "Evolution of blood coagulation activators and inhibitors in the healthy human fetus," Blood (France) 88, no. 3 (Aug 1996): 900-6.
3. A.H. Sutor et al., "Late form of vitamin K deficiency bleeding in Germany," Klin Padiatr (Germany) 207, no. 3 (May-Jun 1995): 89-97.
4. L. Parker et al., "Neonatal vitamin K administration and childhood cancer in the north of England: retrospective case-control study," BMJ (England) 316, no. 7126 (Jan 1998): 189-93.
5. S.J. Passmore et al., "Case-control studies of relation between childhood cancer and neonatal vitamin K administration," BMJ (England) 316, no. 7126 (Jan 1998): 178-84.
6. E. Roman et al., "Vitamin K and childhood cancer: analysis of individual patient data from six case-control studies," Br J Cancer (England) 86, no. 1 (Jan 2002): 63-9.
7. M. Andrew, "The relevance of developmental hemostasis to hemorrhagic disorders of newborns," Semin Perinatol 21, no. 1 (Feb 1997): 70-85.
8. E. Bourrat et al., "[Scleroderma-like patch on the thigh in infants after vitamin K injection at birth: six observations]," Ann Dermatol Venereol (France) 123, no. 10 (1996): 634-8.
9. A.H. Sutor, "Vitamin K deficiency bleeding in infants and children," Semin Thromb Hemost (Germany) 21, no. 3 (1995): 317-29.
10. S. Bolisetty, "Vitamin K in preterm breast milk with maternal supplementation," Acta Paediatr (Australia) 87, no. 9 (Sep 1998): 960-2.
11. K. Hogenbirk et al., "The effect of formula versus breast feeding and exogenous vitamin K1 supplementation on circulating levels of vitamin K1 and vitamin K-dependent clotting factors in newborns," Eur J Pediatr 152, no. 1 (Jan 1993): 72-4.
12. A. Stewart, "Etiology of childhood leukemia: a possible alternative to the Greaves hypothesis," Leuk Res (England) 14, nos. 11-12 (1990): 937-9.
13. Journal of Maternal-Fetal and Neonatal Medicine
14. href="http://drbenkim.com/vitamin-K-shot-baby.html">http://drbenkim.com/vitamin-K-shot-baby.html
15. Vitamin K at Birth: To Inject or Not – Reprinted from the International Chiropractic Pediatric Association