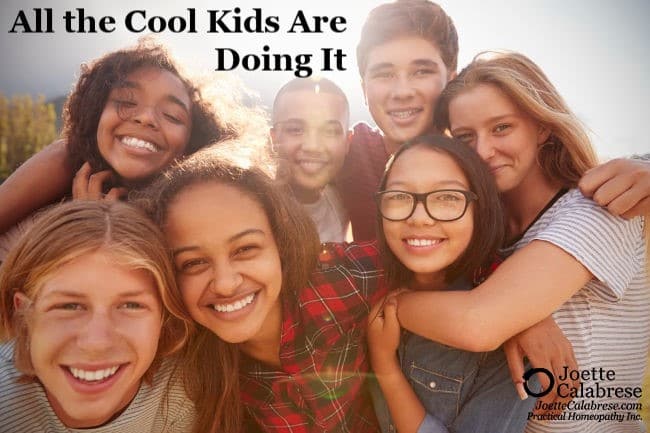 Once upon a time, there was a woman who wanted to raise her children without synthetic drugs and antibiotics.
She wanted them to grow up as independent thinkers.
She wanted to teach them to become "doers" instead of being helpless and waiting for someone else to take care of them.
But alas, there was no fairy godmother to help her.
She couldn't wave a magic wand or rub a genie's lamp to make this happen.
This woman had to accomplish all of her goals for her children with only guts, spunk and moxie — and homeopathy.
Okay, okay … you know this is not a fairy tale.
This is my story! I am that woman.
And now you can be, too.
For many years, you have requested that I share how I raised my own children to use and rely on themselves and homeopathy as adults. I've given a lot of thought to how I did this because at the time, it was organic and often unplanned.
But when designing my newest course for your children, I incorporated what I remembered teaching my sons with what I wish I had taught them, as well as the tips we still share with each other as a family today.
So, what I offer you is the calculable  method that I can attest has been successful for my three adult children, my husband  and me.
Soon, I will present my kids' course, The Ultimate Cool Kids' Guide to Homeopathy: Become a Revolutionary, Independent Thinker with Practical Homeopathy®.
My goal is to teach homeopathy in a way that kids will find both captivating and fun.
Your children will learn the basics of homeopathy. Plus, I'll discuss remedies for acute situations your kids — and their pets — often face.
For instance, suppose your child's cat makes a break for it. Sneaks out of the house when no one is looking. (This has happened to almost everyone. Someone accidentally leaves the door open, and Fluffy is suddenly out on the prowl.)
The weather overnight turns chilly — downright cold. First thing in the morning, poor Edith reappears on the doorstep shivering and a little stunned.
Imagine how empowered your kids will feel when they know how to heal the family cat!
Imagine the confidence they'll develop as they recall what they learned in my course: to use Aconite 200 as an SOS against the shock of exposure to extreme cold.
And imagine your pride. Through The Ultimate Cool Kids' Guide to Homeopathy, you will have taught your children vital lessons in taking care of themselves and others — lessons that will last a lifetime.
Lessons they will pass on to their children one day.
But this is not merely a do-it-yourself curriculum!  
Although there will be plenty of supplemental material provided (homework, quizzes and activities), this will be initially offered as a live course — just like the other courses I offer! With me as their teacher.
And while geared predominately towards the adolescents and teenagers in your family, this course will also be of interest to all members of your household. So, I hope you'll gather everyone — your tiny ones, your husband, your mother, your grandmother — and all learn together during this one course.
I'm going to be honest here. One of the most important benefits of this course is to learn and grow together.
Many parents feel guilty they can't spend enough time with their kids. So, I urge you to consolidate whatever time you are able to spend with your children by forwarding their knowledge along with your own.
I can't emphasize this enough.
Learning homeopathy together can strengthen the mother and child connection! Sharing your interest in homeopathy with your children can be something that is just yours — forever. An intimate, meaningful bond that can never be broken.
I can personally attest to how this has bonded our family.
After all, your children's knowledge of homeopathy will carry the family forward generationally. As you grow old, you'll perhaps need to depend on them as adults to administer homeopathic remedies to you — bringing your bond full-circle.
Now more than ever, we have seen the necessity of being able to care for ourselves when our accustomed infrastructure evaporates.
If we've learned anything from the past few months, it is that we must raise our children to think clearly, decisively and independently.
We need to raise a generation of critical thinkers! Of doers and self-starters.
Homeopathy does just that.
In addition to bettering your children's future health, understanding and employing the principles of homeopathy will help them become courageous, responsible, stalwart adults.
Think of it as a win for you, a win for your children, and a win for society.
More details about The Ultimate Cool Kids' Guide to Homeopathy will come in the days ahead. This short blog post is by no means a full view of the course, but I just couldn't wait to let you know the product you have requested — and waited for — is almost here. Keep your eyes on your inbox!
Help me pass on the good news of homeopathy — especially to the next generation!