As an employee of Johnson's Village Pharmacy, I've worked closely with Joette professionally. I was especially thankful to have access to her expertise last month when one of my family's dairy cows was paralyzed and on the floor with milk fever after calving.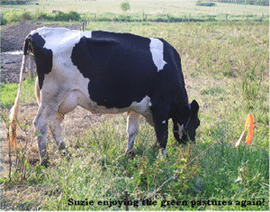 Unfortunately, with this condition, if the cow remains unable to stand up after some time it must be put down.
Our cow Suzie, had been down for several days after many doses of calcium and other methods. We had given up hope when I contacted Joette. Since it was a dire situation, Joette responded immediately with her timely information regarding Suzie's situation.
 I gave Suzie two doses of Calc carb that evening and after an additional dose the next morning, we found her standing up in the barn that morning! She had also been given a mixture of calcium, potassium and phosphorus in an IV, but she had been getting that for a day or so before the remedy, so it was definitely the remedy that worked so quickly.
And the next day, she was able to be led to pasture! Within a week, Suzie was back with the rest of the milk cows and has regained her strength thanks to homeopathy and Joette's knowledge!