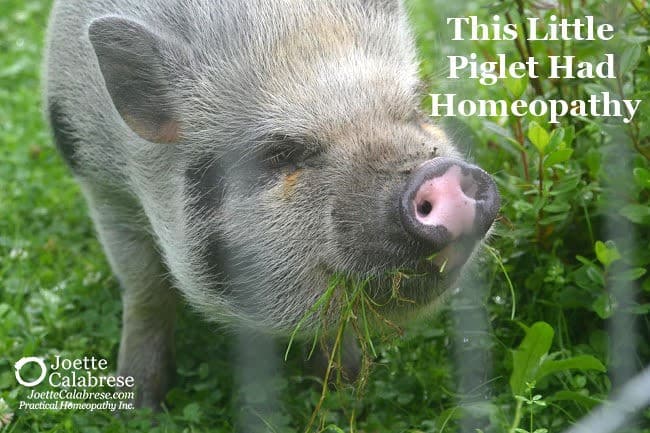 Hi folks! Eleanor Pigby, here.
It's been a while since we've chatted. I'm growing up and getting more independent and more curious. Even screen doors can't stop me from exploring! Did you know you can walk right through them?! It takes a little effort — and it sure gets Mom upset — but you can do it!
So, one day when I was exploring in Mom's office, I found a YouTube video that Joette had sent.
Have you heard of Dr. Liesbeth Ellinger? Well, she's a homeopathic veterinarian in the Netherlands who has spent her life helping animals with homeopathy and teaching farmers how to use it as well. I guess farmers want to reduce antibiotic usage in their animals. (Sounds good to me!)
You really should watch the video, because she explains it much better than I can (plus it's hard for me to type a lot of words with my hooves … I keep hitting a bunch of keys together).
Anyway, Dr. Ellinger did a scientific study to determine if homeopathy really works. And guess what? She did her research with piglets! Yes! Piglets … like me!!!!
We don't usually share this with humans, but we pigs are very interested in science. I nose through Mom's papers all the time! So, I think we would make great subjects for a study.
Here's the deal: Dr. Ellinger noticed a lot of piglets have E-coli-induced diarrhea when they're born, and farmers usually have to give them antibiotics in an attempt to save them. These days, farmers want to use fewer antibiotics, so they are more open to alternatives.
She decided to study the use of homeopathy as a preventative! So, she gathered a group of 52 momma-pigs and divided them in half: 26 were given homeopathy (potentized coli), and 26 were given a placebo (a similar-appearing substance not containing anything medicinal).
But here's the annoying part: Dr. Ellinger didn't tell the pigs which medicine they were receiving!
Unfair! Right?!
It's something called a "quadruple blind study." I guess that's important to keep the scientific findings pure.
So, the researchers didn't know which groups were receiving which substance; the farmers who gave the medication didn't know; the momma-pigs didn't know; and obviously, the newborn piglets didn't know.
But the results were convincing — astounding really.
The momma pigs produced 260 piglets. In the placebo group, 63 piglets got diarrhea. In the group that received homeopathy, only 10 piglets got diarrhea! Only TEN!!!!
Can you imagine? I'd say those results are oinktastic!
Just as importantly, the illness didn't spread throughout the individual litters that received homeopathy as it did in the placebo groups. Only the weakest in the litter seemed to get diarrhea, but not the rest!
Farmers are a critical bunch, but they were impressed and convinced.
This study should prove to even the most skeptical folks that homeopathy is not the placebo effect — it just plain works!!!
As Dr. Ellinger says in the video, "People who say homeopathy is impossible — I think they're just arrogant. How can you say that if we don't know how something works, then it's impossible? It's ridiculous to say that, and I think it's very arrogant.
There are many things that we don't know how it works, and still, it works! And if you're a real scientist, you should look with an open mind and be rational about it. … Are you just a fundamentalist who wants to state that he is right, or do you really want to see the truth? And if you are really seeking for the truth, then you should read all the scientific papers with an open mind."
I sure enjoyed that video. Dr. Ellinger seems like such a nice lady, and I sure am tickled pink that she's so enthusiastic about caring for us pigs!
Oh! Before I go, I meant to tell you another quick story. One of Joette's students told her about a similar experience she had with a farmer and his two newborn lambs. One had already died from diarrhea, and the other was about to die. The student suggested Veratrum album for the sick little lamb, and guess what? The little guy recovered!
The little lamb's farmer was so impressed, he then said, "By the way, I've got this hip problem. Can you do anything with that?"
What a perfect way, as Joette says, to "pass on the good news of homeopathy!"
Indeed, as I've nosed around in my mom's papers, I found lots of references where homeopathy works on humans, too — just the same as it does on animals. Isn't that amazing?
For instance, Joette wrote a blog post called Disasters, Diarrhea, Dysentery, in which she talked about using Veratrum album 200 mixed with Cuprum met 6 for people-diarrhea. It's what she called a "Banerji Protocol" that she used in India. (You can download the protocol in the Remedy Card below in case you ever need it.)
I remember Mom saying that there are many remedies that may be used for this kind of situation, and Dr. Ellinger chose homeopathic E-coli.  So today, I want to share these that Mom says Joette teaches.
And the next time someone tells you homeopathy is only a placebo, you tell them that Eleanor Pigby says otherwise!
If that's not enough for them, you can even send them this article which directs them to Dr. Ellinger's short, fascinating video. Perhaps, the hard work of my fellow-pigs (and Dr. Ellinger) will help convince them to try homeopathy.
But wait. Oh, look! The screen door is fixed again. I think I'll go test it out.
Until next time … 
Eleanor Pigby