I've just returned from the hugely successful Weston A. Price Foundation Annual Convention in Atlanta. meeting new friends, connecting with old, eating  gourmet nutrient-dense foods, listening to wonderful talks from top experts in their fields, and of course, the highlight for me: teaching a six-hour course on How to Raise a Drug-Free Family. If you have never been to one of these conferences, I urge you to try to attend next year.
Somewhere around 1200 people attended the keynote presentation given by  Andrew Wakefield, MD, the British gastroenterologist and vaccine expert who established the connection between vaccines, gut dysfunction and autism. One of the most noteworthy statements he made in relation to vaccine damage was, "We are here on this earth because of mothers' instincts. We need to pay attention to what mothers observe. "
Additionally, the message from Dr. Wakefield and other experts was to look to the gastrointestinal tract. I might add that those who have made the connection with their problems and gut dysfunction and are valiantly struggling to fix their ills with diet don't always realize that homeopathy is the trump card  that can help their bodies heal faster and with far less struggle.
It was these kinds of inspiring presentations that kept our tired bodies from crawling back to our room to call it an early night.
This culminated in a rather funny story. My husband, Perry, and I had driven 13 hours from Buffalo to Atlanta on Friday. Then on Saturday, we set up our table and spent 12 hours talking to hundreds of people who were eager to learn about homeopathy. By the time we got to the award and speaker's dinner, we were whipped. Poor Perry actually dozed off (sitting up!) at the dinner table after our meal and missed an exciting moment for me. Unbeknownst to me, after Dr. Wakefield's presentation, Sally Fallon announced that awards were to be presented, and my name was called as the recipient of the Activist Award. As I leapt to my feet from the dinner table and weaved through the crowd, I heard one of our table mates yell out to my sound-asleep husband, "Hey, Perry, your wife just won the Activist Award!"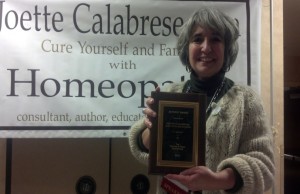 So do you think there's a remedy for that? For someone who is fast asleep surrounded by 1200 people? I'd call it simple exhaustion from long hours of good, honest work. However, I could have given him a little something (had I recognized how beat he was!).
It would have been Arnica Montana 200 because of the general physical demands on him for the previous three days. I didn't, but this little tip might just help you when your family has been subjected to heavy physical demands. It gently perks things up and assures that the next day isn't met by aches and pains from carrying boxes and standing for long periods of time. Had I given it to Perry every few hours or so, it would have gently nudged him. Indeed, a nudge was exactly what he got!
Every Weston A. Price Conference I attend tenders the same message: it's the gut, the gut, the gut. Much of what I do is work with folks who have gut issues as the main obstacle to cure. This is why I want to teach others how I do this so they can do it themselves. In case you are not aware, I'm offering a 4-week webinar course on this very subject. It is something I have never done, and I don't know any other course quite like it.
The reason it's so different is that I'll be teaching how to treat chronic conditions. This information is usually not offered until after many years of study in homeopathy, but after working with the likes of the Drs. Banerji, I've put together the chronic food intolerance protocols I learned while in Calcutta and am unashamedly offering them to anyone who will listen.
I say unashamedly because in the world of classical homeopathy this is sheer blasphemy! But I don't care because there are too many sick families that need this easy-to-follow method, and they need it now.
Should you be interested in my 4-week webinar course, Good Gut, Bad Gut: A Homeopathic Strategy to Uproot Seemingly Unrelated Illness in Body and Mind, feel free to follow this link to find out more.
I'm thrilled to have been awarded the Activist Award by the Weston A. Price Foundation. And I'm happy to teach you how to make up the balance between nutrient-dense foods and homeopathy. As of this writing, we have over 100 students enrolled. Join us if you can!