A mother is only as happy as her unhappiest child.
Mindful Homeopathy
Practical Protocols for Mental and Emotional Conditions
Anxiety…depression…bipolar…OCD…learning disorders…brain fog…PTSD…addictions…dementia…
Homeopathy has a history of uprooting these conditions.
These are my favorites that I guarantee you'll use.
I created an infographic to give you hope that real, safe, efficious alternatives to chemical drugs exists. Click here and read more.
This info-graphic contains some of my favorite remedies that I guarantee you'll use.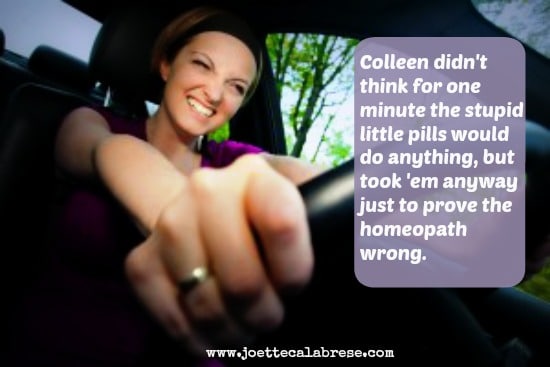 "Mom! Mom! Stop driving so fast. You're scaring us!" The van was bobbing and weaving in the late afternoon traffic. Colleen was on the verge of cutting off the Jeep ahead because he just wouldn't yield. She hollered out the window, "I've got a roast in the oven that will soon be glorified char, an orthodontist appointment at seven, and those insipid cookies to bake for tomorrow's meeting. What the #!%#* are you doing ahead of me?"
One hand grasped the wheel; the other clutched her fourth latte of the day.
"Mom, you're overwhelmed. You're going to get us all killed," breathed the voice of reason from the back seat. It was Colleen's fourteen-year-old who always saw things clearly. "Overwhelmed?!! Overwhelmed?!!"
Ever since Colleen had returned to her old decorative painting business, she found herself forever in a rush, fractious and aggressive. With four kids, how did she think she was going to run a business too?
But that wasn't all. She stirred every night at 3:00 a.m. to plaguing thoughts that were like a virus scan on a computer, going over every detail of the herculean list of tasks the following day.
And so was the life of Colleen. She knew her fits of anger were inexcusable for her kids to witness, particularly because she acknowledged her cursing had become a second language.
Yet it seemed her increasingly toxic, even derisive thoughts were beyond her control. Finally, after persistent persuasion from her business partner, Colleen sought the help of a homeopath.
Colleen's homeopathy appointment was scheduled on Skype, but not without Colleen cussing at her computer to get the connection set up prior to her appointment.
As usual, she was late and annoyed. Unfortunately, or perhaps providentially, the homeopath was already on the line and witnessed Colleen's self-indulgent tantrum.
"Hi, Colleen," said the homeopath. But Colleen's reply was barbed. "How irritating. Did you just witness my behavior? Well, that puts it all on the table, now doesn't it?
Here's the rest of my list: I eat too much, get nauseated with cramping in my right abdomen regularly, I'm exhausted every day, can't sleep, work too hard, and take antibiotics like candy for my urinary tract infections.
Oh, and add this in, too: I don't believe for one bloody minute that you can do a thing about any of this."
The homeopath was nonplussed. Her first inquiry was to ask Colleen about her work. "Certainly, I paint with toxic stuff. It's the only way to achieve the look I'm known for. In addition to oil-based paints for durability, I also use gold and silver leaf, and then shellac to give an aged look. I see where you're going here. Don't for a moment suggest that I give this all up because of toxins. I can handle it."
The body has only so many reserves, is the way the homeopath explained it. It wasn't only the paints and related products, but also the antibiotics, not to mention the years of birth control pills.
In fact, 3 a.m. is the most common time for the liver to process all of this stress, so it's not unusual to wake up at that time when the liver is so active. And that's just what Colleen suffered nightly.
The remedy the homeopath chose was Nux vomica 200, one dose every three days for a period of about six weeks.
Nux vomica is known for its ability to soothe a stressed liver and all signs that accompany that condition. Colleen found this explanation annoying because she was confident that nothing was going to change.
But she took the "stupid little pills" anyway, just to prove the homeopath wrong.
But it was Colleen who was proved wrong. Yet after having taken Nux vomica 200 for several weeks, it didn't even make her angry to admit that she was mistaken!
When she reported the changes to her homeopath two months later, her flagship sarcasm was appreciably omitted.
Perhaps she felt better because she no longer woke at 3 a.m. Perhaps because she had lost a few pounds since her appetite had normalized.
Whatever the reason, she felt lighter and happier. She even made an acquiescing decision to work only with milk paints on her jobs. Some of her clients had been complaining about the chemical odors anyway, but she hadn't cared enough to make the change in the past, having delighted in showing them who was boss.
Now, with this new approach, Colleen was willing to accommodate other points of view.
Even the constipation she'd forgotten to mention had vanished.
The most striking aspect of Colleen's recovery manifested in her attitude towards her kids. She barely reacted to the bickering and the messy bedrooms that would have sent her into a rage.
One day her son felt safe enough to speak out, "Hey, Mom, remember the time you whacked the car ahead and then the one behind, back and forth to get out of that parking spot, cursing the whole time?"
He hazarded, "You were a maniac mom."
"Yeah, I was, wasn't I?"
Liver Toxicity and Nux Vomica
The liver is one of four major organs that eliminate toxins from the body.
Colleen had been "poisoned" on three levels. First was likely the use of antibiotics that tinkered with, but never resolved her infections as well as the strong hormones in her birth control pills.
Her second level of chemical exposure may have come from the paint products used in her work, and the third was in her overuse of stimulants in the form of copious amounts of coffee.
Since its scientific proving from the early 1800s, it has been shown to uproot the problems that occur from poisoning, particularly when manifested in anger, road rage, impatience and insomnia.
In fact, many homeopaths find that since we live in a toxic world of med after med, Nux vomica is a good choice with which to "open" many a case. Indeed, the interpretation could be that the liver is taxed.
Nux vomica is also a leading remedy in hepatitis as well as for chemical sensitivities. Yet it is also of great aid in poisonings of other sorts, such as from spoiled food, MSG, street drugs, even sufferings from too many stimulants as found in coffee and chocolate.
Thus Nux vomica 200 was an excellent remedy choice for Colleen.
Small homeopathic pills had stimulated and then transformed her and had painted a new mother in a softer hue.
Now she colored herself Colleen, mom and artist. Her combative days were washed away like milk paint applied from a fine, mink brush.
---
I have been where you are now. I've dieted, taken supplements, bio-identical hormones, essential oils, herbs – but nothing, nothing has ever come close to the reproducible, safe, and effective results I and my clients have achieved with homeopathy. To see the full syllabus for my Feminopathy course and read the testimonials of other women who have been helped by my Practical Homeopathy methods, click here.