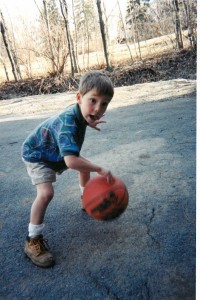 Have you ever noticed that when your child can't get on a bike and ride it, he's upset and frustrated? And soon after, he gets sick with a cold or fever or chickenpox? Have you ever noticed that when your daughter just can't get a handle on her math tables no matter how hard she tries, soon after, she comes down with a stomach bug?
Well, I have.
And if you know what to look for in holistic health, it can be an exquisite thing to behold. Childhood illness often appears right at the pinnacle of a developmental shift.
After the illness, comes the fruit. He can get on his bike and ride like the wind within a few days of the illness – something he couldn't achieve for weeks. Now, she can memorize her times tables with aplomb.
It begs the question that if we take away the signs of illness via artificial means, are we depriving our children of natural and significant events in their lives?
If I'm wrong, then I'll stand corrected. If I'm right though, then normal childhood illnesses are gifts: gifts of immunity and of development. Think about it…perhaps
it's better to grow the way Mother Nature intended than with concocted serums or chemical stews that hold back forward movement.
As we start the New Year, our focus is on progress and where the future might take us. I know that for my family and many other families like mine who have chosen to
take charge of their health care, real progress only came when we chose to give up our reliance on second-rate medical care that only suppressed symptoms and didn't
offer real cure.
Choose this year to embrace true wellness with homeopathy.
____________________________________________________________________
Is getting healthy a priority for you this New Year's? Why not contact our office to see how homeopathy could help.