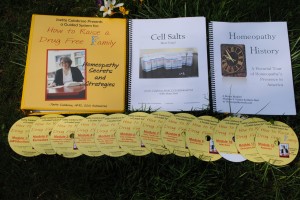 Teaching my year-long online class How to Raise a Drug-Free Family has been so enjoyable and rewarding as my students grow in their homeopathic knowledge that I just had to share one of their stories:
Elaine writes:
My husband, Rob, has been dealing with his health for some time now. He has finally figured out that his testosterone levels are extremely low. So now that he knows what is wrong with him and he is taking more action, he is in a much better place. Anyway, he was prescribed a new testosterone replacement because the one he had wasn't helping. He started using it on a Saturday, and that night he had a couple glasses of wine. 
Well, he woke up with the worst headache ever and was vomiting and rolling around all over the place. I felt so bad for him. As you taught me to do, I grabbed the text book from our webinar class and choose a remedy for him, and he was back asleep in 15 minutes. I remembered that when a person falls asleep soon after taking a remedy, it means that I picked the right one. Success!
His need for homeopathy didn't stop there. The next day, he grabbed the chicken I was cooking out of the oven. He wasn't thinking at all and grabbed it with his bare hand! Totally burned his hand and was freaking out because of the pain. It was so bad that I was getting the family ready to go to the emergency room. In between all of this, I took to our book searched for the injury module and chose a remedy for him to take for the burn pain. I also decided to make a little water mixed with the remedy to put onto the burn because you direct us in that module to spray the burn as well.   
The pain became manageable, and he decided to wait to see if the burn would blister before going to the ER. Wouldn't you know, the only spot that I didn't rub the water mixture on was the only spot that blistered! 
Rob was beside himself. He was ranting and raving about this stuff being a miracle cure. He couldn't believe how it healed him so fast – twice in one day! I just love when Rob gets it! He is my biggest skeptic because his mom, who's a nurse, is always telling him that drugs are good. So when he is amazed by homeopathy, I just love it!
One of my favorite parts of being a homeopath is that I get to hear amazing stories like this every day. Embrace homeopathy as your medicine of choice, and soon you'll have your own testimonials of cure to share. The word is spreading as savvy mothers and others determine to take back control of their family's health.
__________________________________________________________________________________________________________
Want to take responsibility for the health of your family but don't know where to start?  Contact our office to learn about homeopathy kits to fit any health needs.  With a kit, you'll be prepared with the remedy for any acute situation.