Stopping and Changing Direction
At what point along the road to health do we abandon a remedy protocol and try something new?
For vitiligo, the Banerji Protocols have been shown to alleviate this problem in a certain number of people, but it is generally a very long process with slow results. In musical terms, it might be called adagio adagio … that is, a snail's pace.
But, when we look at something like eczema, now we see a pace of recovery that is often commensurate with the length of time the person has suffered from the problem. It's often the pace of adagio, particularly in milder cases.
Here's how it often fleshes out (pun intended).
Let's take Joseph, who is ten years old. His skin is very itchy, and his mother Millie thinks he's probably allergic to something, but she's not sure if it's more than dairy and wheat.
He's on a GAPS diet (Gut and Psychology Syndrome).
Based on the information she found on this blog, she administers Antimonium crudum 6 mixed with Arsenicum album 6 twice daily for about 6 weeks. This is the Banerji Protocol that is pretty specific for itchy eczema. It's not the only one, but it's a good place to start.
Certainly, it was difficult to not want to check Joseph's skin day by day, even by the hour, but Millie understands that it's best to begin assessing at about 6-8 weeks in order to get a good overall view.
Millie notes that Joseph has a little less itching here and there, so based on the magic markers in determining the progress (from last week's article and podcast), she admits that the only change is that he is itchy less frequently.
However, at present, when he scratches, he goes into a frenzy. She fittingly concludes that there is no net gain in his condition. Nor is there any change in his demeanor.
Joseph was and is irritable and negative most of the time.
His tender skin has cracks that ooze and bleed a serous fluid. Millie is heartbroken, and his dad wants him to get steroids from a dermatologist.
Yet she resists because she too had eczema and experienced a lifetime of steroid use.
She's convinced that she can do this herself and protect her son from the sufferings she endured (and still does) from the fall-out of steroids that never really cleared up the problem and caused new ones.
Now that the 6 weeks has passed, she feels it's time to at least start looking at another protocol.
This is where I blatantly tell you that Millie took my course called Skin, The Ugly Truth. She also has my course Good Gut Bad Gut. To be honest, the reason I mention this is that I don't know where else she would have obtained access to these protocols in the U.S. — with the corresponding method I teach here — other than via this course. So, excuse me if I sound promotional.
Hence, referring to her notes, Millie remembers that Petroleum 200 is a remedy that is specific for eczema that worsens in the winter and that it presents with cracks.
Eureka!
This is something she hadn't realized until she read the description of Petroleum in her course notes.
Originally Joseph had gotten worse last December. She previously considered the cause to be the time spent at his grandma's, who routinely serves heaps of cookies, breads and soda.
Also, now it was evident that Joseph was not getting a full night's sleep because of the flare-up and that, indeed, Coffea 200 might be indicated because it is specific for itching that keeps the sufferer up at night.
This is when Joseph's mom decided to change gears. She stopped using Antimonium crud and Arsenicum album and switched to Petroleum 200 every other day and Coffea 200 once nightly.
She didn't take an interim step but should have. That is, Camphora 200 one dose for one day is part of the Banerji Protocol to clear the way and allow a smoother transition to the next remedies if the previous medicines didn't produce results. (I'll be writing on this subject in more detail soon.)
Not to worry. Millie's new choice of remedies was right on in spite of this misstep.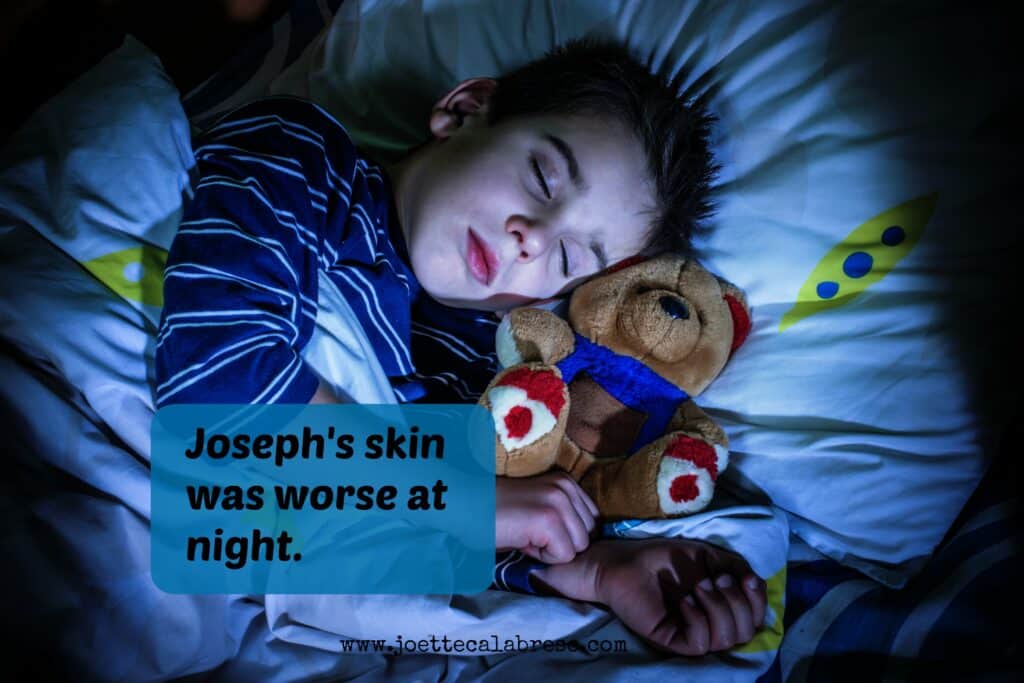 The first thing she noticed was that Joseph promptly fell asleep and stayed peaceful the very first night after taking Coffea 200.
And he pretty much stayed asleep all night.
Little to no scratching ensued. Joseph's mom knows this because she has always been able to hear him in the next bedroom over. The sound of his scratching kept her up nightly, worrying with motherly angst.
That first night, the only sounds audible were nothing but the velvety sounds of his sleeping breath drifting from his room.
Millie's shoulders relaxed, and she slept better herself.
That's the way we mothers are.
Millie, the now homeopathic mom, is happy to report that it has been two months of taking the new protocol (by the way, these are Banerji Protocols), and Joseph's skin is not what we'd call perfect, but the itching is now about a 2 out of 10 and the condition of his skin a triumphant 3.
What remains to complete the work is to address his food intolerances. His skin still responds to his diet, but remember, before he embarked on this method, it mattered not how carefully restrictive his diet was; his skin still tortured him.
Once the food intolerance remedies are in place (Millie plans to refer to Good Gut, Bad Gut), he will slowly be able to incorporate dairy. This would preferably be only high quality, raw and fermented to start and eventually occasional gluten.
This is what I call a return to traditional family values. Where mothers and grandmothers cure their families themselves and throw away the drugs of commerce that have never been shown to cure such conditions in the first place.
Remember, the first remedies Millie used didn't fail. They were simply ill-chosen.
Indeed, teasing out the telling and most important symptoms and conditions from the case is a skill learned, so even the wrong remedy choice can give us information that may have gone unnoticed or perhaps unavailable at the time.
The goal of a good homeopath is to give just enough guidance so that at some point (as soon as possible), you can gain the knowledge from the new protocols to be able to follow through on your own. That's my role.
Your role as a mother/grandmother is to do your homework and question, question, question.
Then, rummage up your guts, spunk and moxie.
Joseph's mom did that.
Now, perhaps you can, too.
___________________________________________________________________________
If you love what you learn here, please pass it on to your friends, neighbors, family and colleagues.
Let's get homeopathy in every medicine cabinet and every family empowered.