Chronic constipation, diarrhea, ADD, dairy and gluten intolerances, repeated respiratory infections …
This is just the beginning; I am going to teach you how you can uproot all of these yourself at your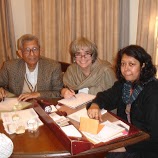 own pace in the comforts of your home.
Read on because I give you an example of two radical and powerful protocols that you could put to use today.
I am going to teach you the homeopathic Banerji Protocols that I learned while in India and use daily in my practice. For a fraction of what it would cost for private homeopathic consultation.  What you learn will immediately be useful and something you will pass on to your grandchildren.
How can my knowing the Banerji protocol help my family and me? 
You may have heard the name but likely do not know the whole story behind the Drs. Banerji.
In the world of cancer research at the finest research facilities in the USA:
The University of Texas M.D. Anderson Cancer Center

National Institute of Health – Washington, DC

St. Luke's Hospital – Kansas, MO

National Cancer Institute

Columbia University

University of Southern California

University of San Diego

City of Hope Hospital in Los Angeles

University of Kansas Medical Center

The V.A. Medical Center in Kansas City
Drs. Prasanta and Pratip Banerji are well known and highly regarded.
Now having published The Banerji Protocol, they will become household names in the field of Complementary Alternative Medicine, as that paradigm grows in popularity here in the States.
But the Banerjis can trace their homeopathic lineage back 150 years. Dr. Prasanta Banerji, now in his 80s, was introduced to the science of homeopathy by his father, his father by his uncle, and he by one of the original German missionaries, many of whom were students of Hahnemann (Father of Homeopathy) and all classically trained homeopaths. Can you imagine the knowledge passed down from generation to generation?
Four generations of homeopathic knowledge, treating masses of patients, generating data banks full of clinical results, stored and classified via scientific data collection under international standards became the incubator that allowed the Banerjis to modify and improve 150 years of classical homeopathic practice into a "concrete treatment form bringing lucidity and user-friendliness in homeopathy."
In other words, the Banerjis have had an uninterrupted 150 years of clinical experience with homeopathy, allowing them to distill classical methodology into specific protocols that are pathology dependent.
This sounds allopathic but what is behind it is years of clinical practice.
If you can teach an allopathic doctor with no introduction to homeopathy other than a weekend seminar on how to treat brain cancer, can you imagine what a mother with a little training in homeopathy can realize?
Let me give you some pathology-specific homeopathic remedies as an example of what I am talking about.
Arnica is good for blood in general. I have just completed the next article for Wise Traditions.  In it, I talk about my father's heart condition and therapy.
He has eliminated aspirin from his regimen and replaced it with Arnica 6X. In doing so, he eliminated the fear of prolonged bleeding, the presence of unsightly and alarming black and blue markings and chronic stomach pain.
Those of you who have a little training know that if one of your children comes to you suffering from a bee sting, what remedy would you reach for in your kit? Why, Ledum, of course, or maybe Apis — but only those two. Are you practicing classical homeopathy? Do you need years of study to know that? No!
Do you now see how a specific protocol can be established to treat a specific disease?
This is revolutionary — you don't have to undertake the rigors of classical training in homeopathy (unless you want to) to be effective with most problems, even chronic ones such as allergies and food intolerances.
So how does this information help you and your family?

Simple. I will teach you as much as I can squeeze into this course I have planned; as many Banerji protocols as possible. These are the protocols I observed and recorded during my six weeks of working with these two great doctors in Calcutta.   
Here is writer downer #1: Does anyone in your family experience rashes such as eczema or psoriasis that itch regardless of the cause? Start with Antimonium crud 6 two times daily until improvement is seen. In most cases, this is all that is needed.
These rashes can be triggered by food allergies, chemical sensitivities or even gut dysbiosis.
Here is writer downer #2: Ignatia 200 2X daily until improvement is the premier remedy for not all but most emotional problems: Anxiety before tests, sadness from an unidentified cause, angst from worry over the well-being of others. Imagine the other possibilities for this remedy.
This is revolutionary. Did I say that already? Specific, proven systems, useable strategies that allow you to measure your own results, scientifically proven, data-based, not theoretical or even anecdotal. I've incorporated these protocols into treating my family and teach my client students who report back to me with their remarkable results.
You probably cannot imagine it until you learn it. This may be the only guide of its kind.
Come to this when you are ready, but if you are ready now, I will hold your hand and guide you to a world of self-empowerment and freedom from the handcuffs of ill health and the shackles of drugs of commerce.
Watch my short, informative video, and you decide.