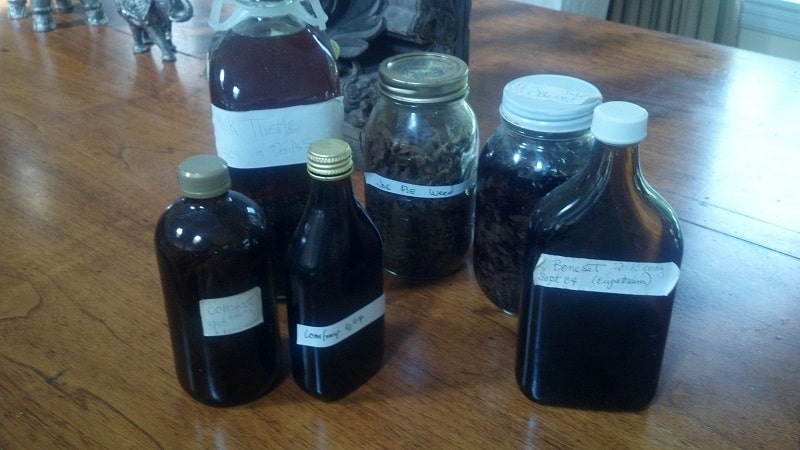 Before my first baby was born, I prepared myself. I was not interested in counting on a pediatrician and his synthetic drugs, so I studied botanicals and collected wild herbs from the meadows and lanes around the countryside of Western New York. I harvested, bottled and dried medicinal herbs. I learned what would protect the baby not only from ills but also from the harmful effects of pediatrics such as antibiotics and cough suppressants.
I stocked up for my mothering adventure – all I had to do was wait for a complaint such as flu, ear infection or teething pain to arise.
I was ready.
Meanwhile, I studied essential oils. I never made them, but I read many books on the subject so that when my newly budding family became ill, I could treat it myself.
So, when my baby got croup, I dropped lavender oil into my old-fashioned glass vaporizer and applied oregano oil and such to his feet. It felt like I was doing something of measure. I gave him garlic tincture and mullein oil.
But then I discovered something disappointing and daunting. This task made me feel better because I was on active duty and the room smelled swell, but the croup not only remained, it showed itself repeatedly over the coming months.
I was stumped and to be honest, a little scared. I had committed a lot of time and my limited financial resources to herbs and essential oils, but my results were disheartening. I had followed the directions in all the books I had invested in, and yet my results were only slightly better than nothing.
What was I doing wrong?
Meanwhile, I was beginning to dabble a bit in homeopathy because I needed to find curative answers. I had successfully stayed out of a doctor's office and had even seen some fascinating results (using Sulphur 30) when my baby was quite ill at 6 weeks old, but homeopathy seemed so complex and overwhelming.
Yet, if I was going to remain true to my decision to keep my kids out of the mainstream medical office and off the drug conveyor belt, I'd have to work at this homeopathy thing.
Just as I expected, the resounding bark of croup returned again one rainy autumn night not long after my resolution.
This time I was prepared with homeopathy. I popped 4 tiny pills of Aconitum napellus 30C into my baby's mouth between barks of seal-like coughing. I took him to the bathroom and ran a steamy shower to ease his breathing and finally just held him in my arms, fully expecting a long night of it.
I was wrong.
I gave him only one more dose about 3 hours later and that was the end of it … the end of that croup episode only to be followed by another?
My baby never got croup again!
To my happy surprise, the remedy also halted his accompanying anxiety and calmed his sleep from that time forward.
Now that's medicine to which I could make a lifelong commitment.
Around the same time, my husband got bronchitis. Still not willing to abandon my old paradigm, I employed my wild-crafted herbs and essential oils. He eventually got past the bronchitis … that is, until it returned with the next season change.
The reason I didn't use homeopathy for bronchitis at that point was that I didn't yet own a book that offered that information. You see, this was before the Internet and before I formally studied homeopathy.
When I finally learned the remedies for bronchitis, I chose the one that most closely fit his symptoms, gave him a dose every 3 hours for a 48-hour period of time and that was the last episode of bronchitis he has ever had. I honestly don't remember what remedy I chose, but it acted fully.
The last, most telling story that finally convinced me of homeopathy's superiority was when my aunt was suffering from arthritis. Her pain was so severe that despite the drugs insisted upon by her rheumatologist it frequently sent her to her bed for days and sometimes weeks.
I employed cat's claw, white willow bark and turmeric, but there was no change. I taught her how to apply essential oils to her joints and how to drop them in a vaporizer.
Again, this was before I fully grasped the breadth and depth of homeopathy. As time passed, frustrated with seeing her deteriorate in spite of what I offered, I learned about the homeopathic heavy hitter for arthritis, Rhus tox 1M. 
She dutifully took it every day for several days. A week or so later, she phoned me with a lilt in her voice and good news.
"It's gone!" she triumphantly announced.
The change was remarkable.
My aunt was not fully cured, but she was out of bed, no longer moaning in pain and had her life back. In spite of her age (about 80 at the time), she went about her daily duties and even gardened.
Interestingly, my aunt and uncle ate toast for breakfast and pasta for dinner almost every day. Their beverage was coffee and plenty of it. Butter was a naughty word in their household. Margarine and the like were treated with elevated respect as a result of my uncle's cardiologist's nutritional advice.
It became apparent to me more than once that on some level my aunt's rheumatism was likely a reaction to her daily fare.
Looking back, I could have given her Bovista 200 every other day for a period of many months for food intolerances. In fact, this is what I teach in my Good Gut Bad Gut Course … how keenly the gut is related to seemingly unrelated chronic illness.
Had I given her Bovista 200, a remedy I subsequently learned from my time with the Banerjis, it surely would have allowed her digestive system to better handle her less-than-whole diet and would have eventually brought her joint pains down to a 1.
In fact, we had numerous conversations about her diet, but it was evident that this was unlikely to change. The cardiologist had panicked my uncle into submission.
No problem. Indeed, in spite of her high-gluten, make-believe-fat diet and overuse of coffee, my aunt was able to function comfortably for years. With repeated doses of Rhus tox, her arthritis was brought down to a simmering 3 in pain, despite her inflammatory diet.
This, my friends, is the reason I converted to homeopathy and subsequently devoted my life to it for more than 27 years. This is why I stopped counting on herbs and essential oils and why I don't worry so much about gluten and dairy intolerances.
It's not that herbs, essential oils and dietary measures don't work. It's that they are simply not as efficacious, deep acting and reliable as homeopathy.
I went on a date with alternative medicine. But when I met homeopathy, I knew I had found a partner for life.