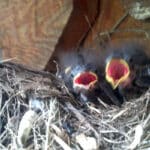 These cheeping babies outside my door have made me aware of their presence lately by their constant squawking.  Not to get too philosophical, but passing by them the other day made me stop and ponder our role as parents.
Like these little birds, our children are completely dependent on us.  If the mama bird doesn't bring back a nutritious dinner of insects and worms, these babies won't grow.
It's that simple; they are helpless without her.
We, too, have a crucial responsibility to provide our children with nourishment and care.  This idea seems facile, but how often do we really consider the enormous weight of our everyday decisions?
I'm thrilled that I knew about the discoveries of Dr. Weston A. Price since the time my kids were small. His invaluable nutritional wisdom and common sense continue to inspire and guide me in making healthy food choices for my family. 
Another thing that struck me about this humble robin's nest was the confidence of the mother bird.  She instinctively knew how to construct a safe dwelling for her babies.
The incredible ruckus she sets up whenever anyone approaches the nest illustrates how protective of a mother she is.
Why then are we as parents frequently afraid to stand up for the health of our children?
Whether it means questioning a doctor who assures us that the antibiotic prescribed for our child is really very "mild" or convincing Grandma that strawberry Pop Tarts don't count as a serving of fruit, we need to feel confident enough of our parental authority to take a stand when our gut tells us something isn't right.
Homeopathy has helped me more than anything else to feel secure in my God-given role as a mother.  Just knowing that I possessed the ability to cure an ear infection, or sore throat, or even halt an allergic reaction imbued me with a feeling close to euphoria.
You'll no doubt experience it too, the first time you witness the effects of your well-chosen homeopathic remedy.
Over the years, it has become my mission to empower moms and dads to do what this little bird has done and take the health of our children into our own hands.  It can be as simple as owning a homeopathic remedy kit and a comprehensive book and/or taking a good course.
If you're serious about increasing your knowledge, my year-long course for parents might be a good fit for you.  Classes have started, but we would be glad to get you up to date with the material.
We have no choice. If we bring them into the world, we must do what we know is right.
Committed parenting.
Once you know this, you have to do what's right.
That's all there is to it!
_______________________________________________________________________________________
Don't wait!  Start taking charge of your family's health now by checking out the many free downloads on my website http://homeopathyworks.net like this handy first-aid chart.