Welcome fellow preppers
Thanks for coming over to my site.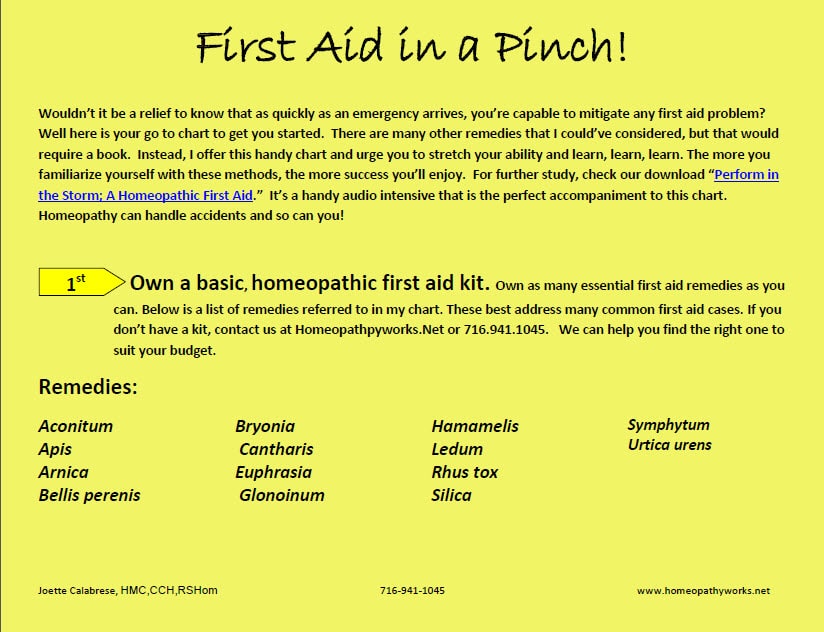 To get your FREE first aid chart, simply give us your first name and primary email address in the download box below. Then download your own FREE first aid chart immediately.
If you found yourself in a world without medical facilities, would you be able to treat injuries, infections, epidemics? Do you have the medical autonomy to truly live off the grid? Antibiotics have stale dates and long term cronic consequences. Psychotropic drugs weaken the will, just when you need it the most. While steroids only cover up the problem until it comes raging back at a later date.
Homeopathy is the perfect tool for a preppers medical strategy.
This powerful, effective medical method has been healing people for more than 200 years, and today it is the fastest growing medical paradigm in the world. And it is perfect for you because homeopathic remedies are inexpensive, easy to administer and can be stored away for years without replacing.
Most importantly, homeopathy can make you the healer for your family. All it takes is a little knowledge. I travel the world studying homeopathy, so I can bring knowledge back to you. I integrate my years of experience in my homeopathy practice with my personal methods of how I raised my family so that you can learn from someone who has taken homeopathy and self-empowerment all the way.
So, while you're here, take a look around:
√ Join our Community, so you can take advantage of more FREE downloads, as well our store of articles, research papers and informative links. We frequently add powerful new content and more tips and tricks on homeopathy.
√ Check out my informative blog. My staff and I work hard to come up with great tips and tricks that you can learn today and use tonight.
√ Download our popular FREE CD, Fizzy Lizzy, and let's get started on a world of self empowerment through homeopathy.
√ And watch for news about our upcoming one of a kind course called The Survivalist Guide to Homeopathy.
In joining our community, you can be assured that you are in the best place to govern your future by become the healer in your family.
Don't count on others. You need to take control. Homeopathy is your medical tool.
Warmly,

Ps: We will never sell your information or spam you.