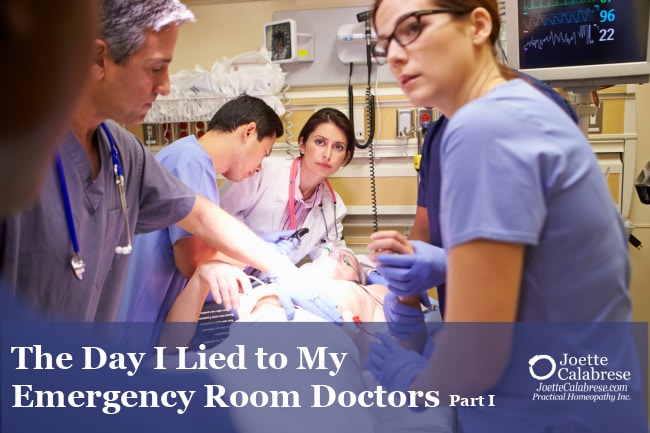 By Guest Author Paola Brown
Well, it wasn't a lie, per se. I was hemorrhaging and in need of emergency care, when in the hospital I … well, let's just call it a fib. I fibbed. I fibbed BIG time.
Let me back up for a moment to tell you how homeopathy saved me that day.
When I was 14 weeks pregnant, I learned that my baby had stopped growing at 12 weeks.
This was obviously a devastating time for my family and me, but one still has to make decisions, however difficult they may be, in the face of  loss. I decided to wait for my body to miscarry the baby naturally rather than scheduling a D&C surgery.
It took two long weeks for my labor to fully reach the appropriate strength and consistency necessary to complete the heart wrenching process of losing my child, and my midwife and OBGYN told me it was possible, though highly unlikely, I would experience hemorrhaging afterwards.
Upon miscarrying at home, I quickly realized I had, indeed, begun to hemorrhage.
The quick drive to the hospital proved to be life-saving.
I had already packed my "just in case" bag containing two homeopathy kits, which left me in possession of over 200 remedies. If you've listened to Joette's podcasts or read any of her blog posts, you know that your homeopathic abilities are only as good as the remedies you have on hand.
Based on Joette's knowledge and guidance that I gleaned through Joette's classes, my husband and I selected the following remedies to stop the hemorrhaging, and boy did they work!
Phosphorous 200, taken every few minutes, followed by Arnica 200, taken every few minutes.
It took a great deal of choreography on my husband's part to discretely administer these remedies without the hospital staff knowing he was dosing me with homeopathics, as they would have never approved of or allowed it to happen otherwise.
Out of respect for the hospital's liability fears and government mandated HIPPA laws, we chose to keep it a secret because most of the conventional medical community doesn't understand what homeopathy truly is, let alone appreciate that it is completely safe to use alongside any and all allopathic medications (which they most certainly planned on giving me.)
I use the term "choreography" because my husband literally had to dance around the room in order to sneak me these remedies.
"Let me get you a towel," the nurse would say, while turning her back to rummage through the closet.
Out came the Phosphorous 200 from my husband's pocket, as he gracefully threw a few pellets in my mouth.
"Let me check the status of your units of blood," said the nurse, as she dashed out of the room.
Pellets of Arnica 200 landed in my mouth as my husband yanked the curtain shut in a manner that would make even Bob Fosse proud, under the guise of our need for privacy.
As this "dance" continued, my husband and I just looked at each other with a knowing smile that we were effectively accomplishing our mission of restoring my health on our own, with none but us the wiser.
I was honestly surprised it took the hospital over 20 minutes to deliver the 2 units of blood my body required. That's an awfully long time to wait when you're hemorrhaging!
Obviously, there is a process involved in obtaining precious donated blood no matter the situation, and I understood that. (And for those of you who are wondering, no, they didn't offer organic, grass fed blood options…ha!)
I admit I was a little freaked out and did my best not to think about the McDonald's my gracious blood donor may have consumed prior to their donation, but I was (and still am) incredibly grateful for their selfless and kind sacrifice that helped save my life.
The doctor also wanted to start me on Pitocin to help speed the contraction of my uterus. Getting that medication took even longer … 45 minutes! "We have to get it from the OBGYN department," they explained.
Considering these delays, it was empowering and wonderful to know I had homeopathy on my side. My doctors and nurses were amazed by the fact that well before the Pitocin arrived, my hemorrhage had suddenly and completely stopped.
It was like turning off a faucet. No more gushing blood. Zip. Zilch. Nada.  
In the short term, my condition was under control; they just needed to monitor me for the next few hours.
Homeopathy clearly loves me. And I have to say, I love it right back.
I wish I could tell you our expertly executed plan to administer homeopathy behind my doctor's back was the fib I first referred to at the beginning of this post, but it's not.
In my next blog, I will confess my tall tale as I explain how homeopathy enabled me to navigate what was an even more difficult part of my visit to the emergency room. I had yet to realize that simply because my hemorrhaging had ceased, I was not quite out of the woods.
Stay tuned…
---
Interested in learning more practical, proven protocols for women's health? Well, you are in luck! My popular course, Feminopathy: How you Can Correct Female Ailments Using Save, Inexpensive and Effective Homeopathy, is ON SALE through Mother's Day! Order now and get additional freebies: http://feminopathy.joettecalabrese.com/mothers-day/