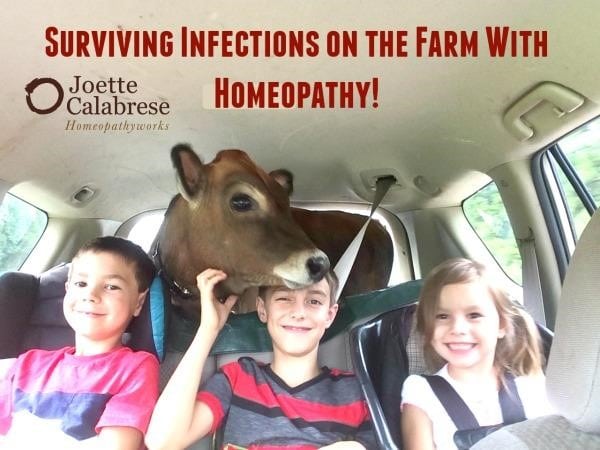 I'm not sure if it was the heat of the summer that complicated the surgery, or if it was the way that we did the castration, but all I know is that my little bull — Arnica Montana, or Monti for short — had a serious infection brewing.
Prior to this, we tried selling Monti as a sire to a local farm to breed new stock, but it seemed that nobody needed his — err — "donations." When we finally gave up on trying to find a buyer, we decided to "steer" him (castrate), so we could raise him for meat.
Generally, castrations don't have any complications, and veterinarians don't even prescribe antibiotics after this basic procedure.
After the on-farm surgery, to prevent infection, I dosed Monti with Joette's surgery protocol (which you can learn in either her Survivalist course or her Study Group Curriculum). But about one week after Monti's "boys" were removed, things did not look good for him.
He began to limp. The area looked extremely swollen and hard. Here are some photos taken one-week post-op:
Note: For those of you who find these photos unappealing, to you, I say, "Welcome to the farm."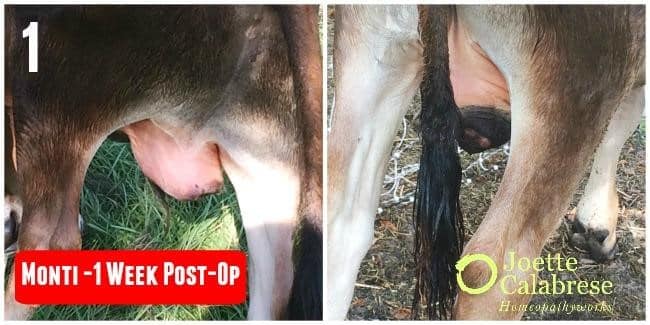 I had no idea what bull scrotum is supposed to look like after a castration, so every morning before the day got hot, I would check his temperature (the thermometer goes in under the tail, people). Soon he had a fever of 104 F, indicating an infection. The normal morning temperature for a cow is approximately 101.5 degrees F.
Homeopathically, I started giving him another Banerji protocol I had learned from Joette's Survivalist course. It was Hypericum 200 (be sure to use the discount code "Joette" for additional savings at checkout) mixed with Arsenicum 200.  I mixed a few pellets in a sterilized 2-ounce amber glass spray bottle filled with water, and I sprayed it under Monti's tail and on his nose.
Despite the homeopathic medicine, Monti continued to get worse and worse. I had to take him to the vet to get some advice.
I really, really, reeaally wanted to avoid this trip to the vet.
Why, you ask?
We are mostly wanna-be farmers and—big confession—we don't actually own a truck. But we DO own a lovely hatch-back Toyota Rav4.
Oh! The things that you can fit in a Rav4!
So after an athletic experience of pushing and pulling Monti up a makeshift ramp made from an old wooden door, my husband and I got Monti loaded, and I drove him to the vet.  
As I pulled up to the lot, my little car was puny compared to the assortment of Dodge Ram trucks. My car literally made a wimpy squeak! sound every time Monti shifted in the back seat. When my cowboy, large-animal vet saw me pull up, he laughed so hard he had tears streaming down his face and had to sit down.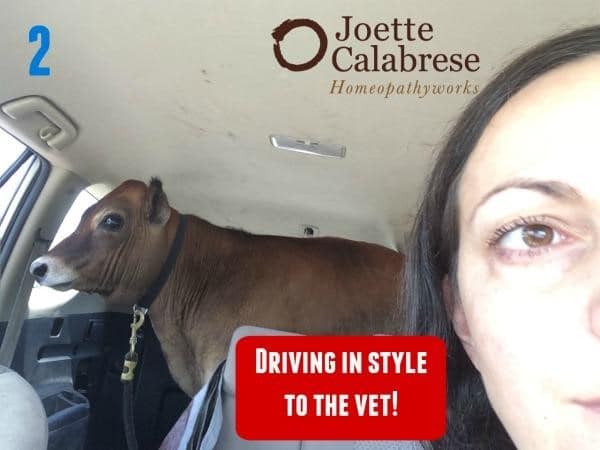 My vet told me that the heat of the summer likely sealed the incision shut and that the wound was not draining properly. Apparently, such drainage is essential in this type of procedure and is probably why it got infected in the first place.
After administering some pain medication, he reopened the wound and cleaned it out. He said if I could "hose it down twice a day" (hydrotherapy), it would help the wound heal and it would promote blood flow to the area. He wanted to administer antibiotics.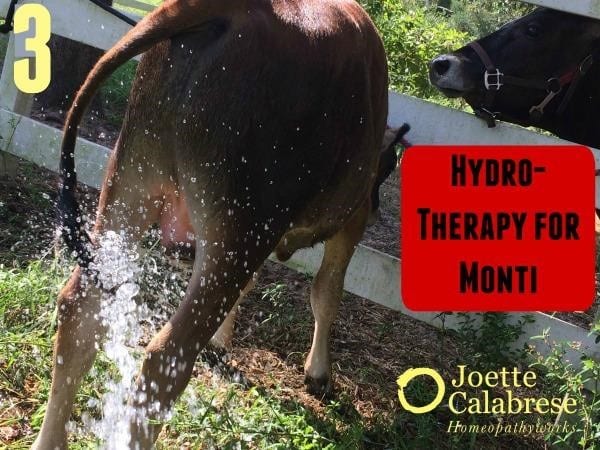 Soon we were back home, and I was hoping all would be ok.
Wrong again.
After about two days of trying a few other remedies for Monti such as Pyrogenium, the wound was not getting better. The area actually seemed to get more swollen. After further inspection, I realized that his wound had sealed shut again!
Ugh.
So rather than braving another trip to the laughing vet, I decided to do the surgery myself with the assistance of my 9-year-old son. I dosed myself with Gelsemium for my anticipatory anxiety and dove in.
I started by tying Monti up securely using three ropes. By the time I was done, he looked pathetic—standing and frozen in place with one leg reaching out backward like a gawky ballerina.
I slapped on the gloves and faced my challenge. "OK, Paola! Here we go!
I procrastinated, hosing down the wound to soften it.  After an hour of that, I knew it was time. I began to pull the scab off.  
Monti cried. I cried. Then poor Monti wailed.
In the background, my son kept saying "Oooo! Owie! Yeeeeesh…". I couldn't keep my shaking hands steady.
I kept thinking: "How did I get here? Sitting outside in smoldering heat, with my hands stuck behind a steer's scrotum?!"
After what felt like 10 hours of surgery, which actually lasted 20 minutes, I was able to rip the scab completely off. It looked like a murder scene. Blood. Lots of 'steer stuff.'
This time, I was prepared to keep the wound moist. I used some pink stuff sold at the feed store. Each morning and evening I would sneak up behind Monti, dab the wound, and scare the wits out of him in the process.
But after a few more days, things STILL did not look better.
They actually looked worse. Monti and I were both worn out. By then, Monti was not eating his hay anymore, but he was still drinking milk from mom. I was worried he would take a turn for the worst.
Finally, feeling defeated, I went to the farm store and bought some syringes and the antibiotic Penicillin. I felt so crushed. I couldn't believe I was bringing antibiotics to my farm. Given what you now know about a cow's rumen, you can deduce how damaging antibiotics are. It is no surprise that factory milk cows only live to be about 3-years-old, whereas family cows such as mine can live up to 15 years. I don't want Monti to die!
Before drugging him, my awesome husband encouraged me to try one more remedy. That's when it became clear to me what I should have used in the first place … good old Hepar sulph 200, another great remedy for infections which is thoroughly discussed in — you guessed it — the Survivalist Guide. I found it there, but later realized Joette had written about it on her blog too;  Hepar Sulph, The Homeopathic Antibiotic.
So, I gave it to him three times over several hours that evening.
By morning, I couldn't believe my eyes! The swelling had gone down by 50% and 24 hours after that, the swelling was even better! I went from feeling miserable to feeling like a total rock star!
That Sunday, I drove to church singing self-praise the whole way. I was swimming in my awesomeness.
After church, I went straight to Monti's pasture, church dress and all, just to pat myself on my back one more time. What I saw rendered me speechless (a rare thing).
Monti was giving birth … to … something.
Lest you forget, bulls should not be birthing anything at all.
HOLY COW! Behold the creepiness … [Beware! Gross pictures ahead!]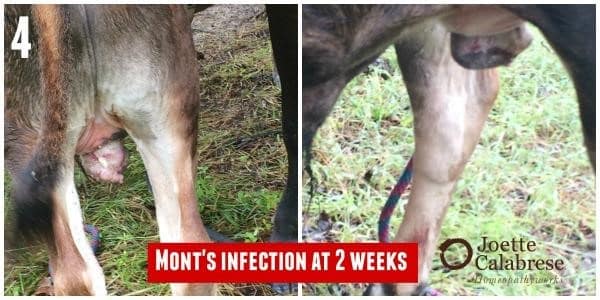 At 5 am Monday morning, me and a kind neighbor loaded Monti back into the Rav4. This time, I had all my kids in tow. I wish you could have seen the faces of the people who drove past us.
"Hey, Lady! That is some ugly-looking dog you guys have!"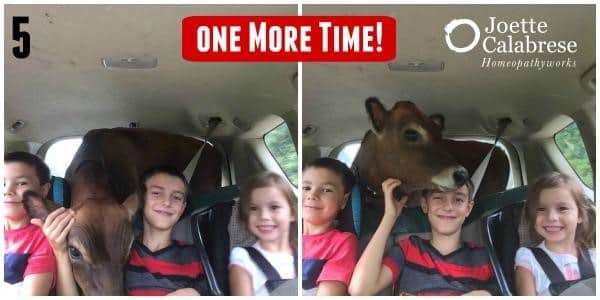 Interestingly, not only was Monti's fever gone, but my vet said, "This ball of tissue is infected, but the scrotum itself and the area inside of Monti is not infected. It's like his body is trying to purge the infection. How interesting!"
Yes. VERY interesting.
Since the mass was vascular, the vet simply banded it with a special rubber band.
Within three days, the creepy cow ball had fallen off and one week later, all was well … incredibly well.
And all I had to show for the entire ordeal was an unopened bottle of Penicillin sitting in my spare fridge. This time, I opted for a more humble celebration. My feelings of empowerment, accomplishment, and relief were overwhelming.
THAT, my friends, is what I love about homeopathy and Joette's counsel, as well as her Survivalist course. Instead of falling victim to circumstance, I had options. So if you're the kind of person who's willing to 'grab the bull by the horns,' homeopathy is for you. Like Joette says, with a little guts, spunk and moxie, you can get things done yourself.
-Paola
P.S. If you have a yearning to "grab the bull by the horns," join me and all the other mothers who have counted on Survivalist Guide to Homeopathy to better understand how to endure both natural and man-made disasters. If this isn't for you right now, no worries. Simply stay tuned to this blog because Joette's plan is to give all of us years' worth of free content right here every week.