A while back, I posted an article about measles. This issue has recently lit up the Internet, as many are concerned about potentially contracting this disease.
Today's post is a guest post by one of my staff members, Paola Brown, on her experience with measles.
---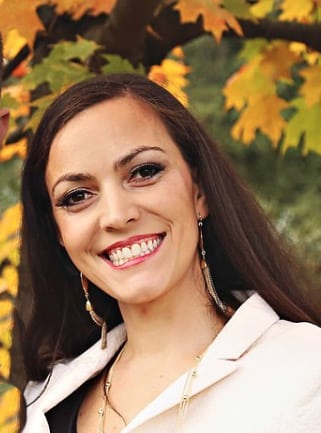 When I was about two years old and living in my native country of Brazil, I contracted measles. Cared for by my mom and dad, I overcame the disease and am now immune for life.
With the headlines inflaming the issue of measles, I called my parents and asked them what it was like treating a child with this disease. I hoped for some advice on how to deal with it in case any of my own three children caught it. Their response was:
"I don't remember," and "I don't know," respectively.
I'm the kind of gal that likes to learn from the experience of others, and I was pretty annoyed when they couldn't recollect ANYTHING from my and my older brother's run ins with measles. Even with prodding, they simply could not recall a smidgen of detail on this experience.
Determined to get some firsthand wisdom on this issue, I called my grandma in Sao Paulo. "What was it like when Mom had the measles?" I asked. Again, I got the same blank response.
Each of them, in their own words, explained to me that while measles carries some minor risks, it wasn't a concern like it is made to be today. It was just a childhood disease that one gets and overcomes.
My father relayed that when I was growing up, and a child would come down with the measles, the mothers in the neighborhood would gather together all of their kids and stuff them in a room with the person who was contaminated. So they would play and giggle during their big measles play date, and all the while those measles germs would fly all over the place. Before they knew it, everyone had caught it. He explained to me that the children would be one step closer to someday having a healthy immune system. "I'm sure many communities in Brazil continue this practice even today" ,he pondered.
Wow. So what's the problem?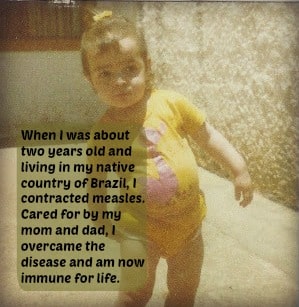 The interesting part is that when I was younger, my mom was accustomed to using homeopathy. When I prodded her about whether or not she used homeopathy on my measles, she responded that she is sure she did, as she purchased her first kit when she was pregnant with my eldest sibling.
Today, I'm grateful for the Banerji protocols, which bring me yet another step closer to being prepared for my family.
Joette cited in her previous article that the Banerji Protocol for measles is: 
First Line Remedies
Bryonia alba 30C pellets, two doses daily
Belladonna 3C  for a high temperature, one dose every 30 minutes until the temperature is stable
Ipecac 30C, for accompanying cough, one dose every hour may be given if necessary
Second Line Remedies
Bryonia alba 30C alternated every hour with Antimonium crudum 6C
While I am not interested in minimizing the concerns that may arise when one contracts the measles, such as encephalitis (as many doctors, the media and the CDC emphasize), I am interested in knowing how homeopathy can help one overcome this disease gently and fully, as it helped my siblings and me when we had the measles all those years ago.
P.S. Would you would like to learn more about how to be prepared for epidemics and other crises, as well as all types of first aid situations and sourcing these remedies?  Then you need my course The Survivalist Guide to Homeopathy. Learn more about how homeopathy is THE medicine for when the SHTF. For more information on how YOU can Think Outside of the Box, click here >> SurvivalMedicine.JoetteCalabrese.com.